A Greensboro car accident has left two people hospitalized, and a toddler has died as the result of his injuries following ejection from the vehicle. On Thursday morning, North Carolina Highway Patrol responded to an accident near the Alamance-Guilford line on I40/85. The driver of the vehicle, Sherika Chandler, lost control of her vehicle, left the roadway, and flipped several times before coming to its final stop off of the roadway. Witnesses to the crash believe the front end of Chandler's vehicle was in close proximity to the rear of a tractor trailer truck, but that there was no impact.
Troopers report that three of the vehicles six occupants were ejected from the vehicle. The injured passengers were initially taken to Alamance Regional Hospital, but were ultimately airlifted to other local hospitals, including Moses Cone Hospital. One of the 2 year old passengers has died from his injuries, having been ejected from the vehicle. Chandler, who has prior charges for speeding, driving with license revoked, and multiple charges for possession of drug paraphernalia, possession with intent to distribute a schedule III substance, sale and delivery of a schedule III substance, and possession with intent to distribute a schedule IV substance, has been charged with Driving with Revoked License, Failure to Maintain Lane Control, and Failure to Restrain a Child.
North Carolina law requires that the driver of a motor vehicle "shall not follow another vehicle more closely than is reasonable and prudent, having due regard for the speed of such vehicles and the traffic upon and the condition of the highway" and "the driver of any motor vehicle traveling upon a highway outside of a business or residential district and following another motor vehicle shall, whenever conditions permit, leave sufficient space so that an overtaking vehicle may enter and occupy such space without danger." The general rule, and that which is promoted by the AAA Foundation for Traffic Safety, is that drivers should keep a distance of 1 car length for every 10 mph the vehicle is traveling. State Troopers report that Chandler was traveling 70 miles per hour at the time of the crash, and accordingly, should have left 7 car lengths between her vehicle and the tractor trailer truck.
Under North Carolina law, all occupants of a moving motor vehicle are required to be properly restrained, no matter where in the vehicle they are seated. The National Highway Traffic Safety Administration (NHTSA), reports that the leading cause of death for children in the 3 to 14 year old age group is car accidents, and that of the nearly 5,600 children below the age of 14 that were killed in car accidents in 2008, 46% were unrestrained. The study also found that fatalities in children between that ages of 1 and 4 were reduced by 54% with proper use of safety seats.
If you or a family has been injured while a passenger in a vehicle that was at fault in causing a car accident, the injury attorneys at Auger & Auger can help. Call (704)364-3361 for your free consultation.
A North Carolina drunk driving accident has left 3 teens hospitalized after being ejected from a vehicle Sunday night. North Carolina State Troopers report that 17 year old Keegan Robinson, a junior at East Carteret High School, was under the influence of alcohol when he was driving too fast, ran off the roadway, and over corrected, causing his pickup truck to strike a ditch and flip. Robinson and his two passengers, also high school students, were ejected from the vehicle. Charges against Robinson are pending.
All three teens were initially transported to Carteret General Hospital but were subsequently airlifted to New Hanover Regional Medical Center for treatment of multiple broken bones, internal injuries, and head injuries. As of Wednesday, Robinson was still unconscious and in critical condition.
Hundreds of people attended a prayer service Tuesday at Cedar Island United Methodist Church. Hopefully, the members of this tight-knit community can identify the person who provided alcohol to these teens so that they can be held accountable.
This is the third North Carolina car accident this month that involved teens being ejected from vehicles for their failure to buckle up. In the early morning hours of January 7, 2012, Millbrook High School student Elizabeth Molloy was killed when drunk driver Garrett Prince crashed into a tree at a high rate of speed. Molloy was not wearing her seatbelt. On January 20, 2012, Riley Laymon was killed when the vehicle he was a passenger in flipped after the driver overcorrected after taking a turn too fast. Laymon was not wearing a seatbelt.
In the alcohol related accident that took the life of Elizabeth Molloy, police have arrested Anthony Du Juan Geter for his role in providing alcohol to the teens. Perhaps if more adults were held criminally responsible for providing teens with alcohol, there might be fewer teens dying in drunk driving accidents. There have been no reports as to whether police are investigating the source of the alcohol for the teens in this latest wreck.
The car accident attorneys at Auger & Auger urge you to discuss these above accidents with your teens and remind them they are not invincible, and it can happen to anyone. Even the best kids make mistakes. For a free consultation, call (704)364-3361.
In a completely preventable tragedy, a car accident in Union County took the life of Weddington High School student Riley Laymon. Four other students suffered serious injuries in the crash.
According to North Carolina State Troopers, a group of high school students were traveling on Antioch Road when the driver, 17 year old Robert Cooke III, lost control of the vehicle, a pickup truck, causing it to flip two times. Roads were wet Saturday, and Troopers believe Cooke was traveling too fast for conditions when he rounded a curve and went off the roadway, causing the truck to roll.
Cooke, who still had his provisional drivers license, was only lawfully allowed to have one passenger in the vehicle. He has been charged with Failure to Wear a Seatbelt, Failure to Comply with License Restrictions, and Misdemeanor Death by Motor Vehicle.
Four of the five passengers in this Cooke's pickup truck were not wearing seatbelts. Three of the teens were completely ejected from the vehicle, and a fourth teen was partially ejected. Only the belted teen was not ejected, and she only suffered minor injuries and has already been released from the hospital.
Under North Carolina law, every occupant of a motor vehicle is required to use a seatbelt when the car is moving. It does not matter where in the vehicle the passenger is seated–the law requires all passengers to be belted. The National Highway Traffic Safety Administration estimates that at least 13,000 lives each year are saved due to seatbelt use. Proper seatbelt use prevents the ejection of a vehicle occupant in a serious collision or rollover. It is a mystery why four out of five of these teens did not wear their seatbelts.
North Carolina law also requires that holders of a provisional license may not have more than 1 passenger when driving unsupervised. Robert Cooke only held a provisional license at the time of this accident, and by law, was limited to only 1 passenger, yet there were 4. The limitation on the number of passengers allowed in the vehicle of a provisional license holder is intended to reduce driver distraction. It is a mystery why Robert Cooke exceeded the legal number of passengers he was allowed to drive with his provisional license.
Troopers believe that Cooke was driving too fast for conditions when he rounded the curve of a wet Antioch Road on Saturday. This is simple inexperience. Often times, teen drivers believe that if the speed limit on a particular road is 45mph, that they must drive 45mph, and will fail to take into consideration other factors, such as weather or road conditions.
It is heartbreaking to read about the factors surrounding this incident, but how do we get our teens to buckle up and to follow traffic laws? That is what is really a mystery. We do our very best to instruct, guide and teach our children, but the bottom line is that even the very best and brightest kids make mistakes. Our sincere condolences go out to all the families involved in this tragedy.
A drunk driving car accident in Raleigh left one teen dead, another teen facing multiple criminal charges, and charges against the man who provided the alcohol that caused the wreck.
The accident occurred when 16 year old Garrett Prince rounded a curve in a residential neighborhood at a speed of 75mph and lost control of the vehicle, crashing into a tree. His 17 year old passenger, Elizabeth Molloy, died as the result of this crash. Neither Prince nor Garrett were wearing seatbelts.
Our North Carolina drunk driving car accident lawyers have learned that Prince has been charged with Felony Death by Motor Vehicle, Possession of Marijuana, Open Container of Alcohol, Driving While Impaired, and Driving After Consuming Alcohol While Anderage.
Also charged in connection with this fatal accident is Anthony Du Juan Geter, who has been charged with three counts of Aiding and Abetting Persons Under 21 in Possessing or Purchasing Alcohol. Police report that Geter supplied Prince, Molloy and 2 other teens with two (2) 1.75 liter bottles of rum. North Carolina Alcohol Law Enforcement agents are considering more charges.
According to US Substance Abuse and Mental Health Services Administration, most teens who consume alcohol get it for free. The study found that only 6.5% of underage drinkers got their alcohol from a store. The rest stole it from their homes, or got it from family members, other underage teens, or non-related adult. Nearly 15% of teens admitted to sneaking alcohol from the parents home, almost 16% had the alcohol given to them by a parent and 14% received the alcohol from another family member.
Many parents who provide their teens with alcohol believe that it their teen is going to drink, that it would be safer for them to drink at home. But it is still illegal, and if their teen, or a teen they allow to drink, gets hurt or hurts someone else, that parent is responsible, both criminally and civilly. Even if the parent does not supply alcohol but is aware that there is underage drinking going on in their home, they will be held responsible.
If you or someone you care about suffered injuries or death due to a drunk driver car accident in North Carolina, contact an experienced car accident attorney at Auger & Auger for your free consultation.
The North Carolina workers' compensation attorneys at Auger & Auger have learned from the North Carolina Department of Labor that fatal accidents in the workplace are on the rise.
According to the Department of Labor, 53 people were involved in fatal work-place accidents in North Carolina in 2011. This is an increase from 2010, when 50 people had died in work related accidents.
There were 5 deaths in Mecklenburg County in 2011, down from 7 in 2010. Wake County led the state with 6 fatal job site accidents.
The majority of work place fatalities involved men (52 out of the 53 were men) and occurred in construction jobs (16 fatalities), followed by agriculture, forestry and fishing (10). Next were transportation and public utilities (5), government (5), and wholesale trade(5). There were 4 fatalities in retail trade and the service industry. There were only 3 fatalities in the manufacturing field. No fatalities were reported in the fields of real estate, insurance, and finance.
One third of fatal work place accidents involved a vehicle or equipment striking an employee, and another third happened when a worker fell from a height. Heat related accidents accounted for 4 deaths in 2011, and this was following a heat safety initiative from the Department of Labor.
The Department of Labor acknowledges that these fatalities could have been avoided and recommends that all employers take advantage of the services (safety training) that are offered by the Department of Labor. The Department of Labor has also speculated that some of these accidents were caused by distraction. But it is more likely that these fatal workplace accidents happened as the result of cost cutting by employers, and failure to have and maintain proper safety gear.
If you or a loved one has been injured at work, free consultations are available by calling Auger & Auger at (704)364-3361.
Newly licensed teens are at a much higher risk for being involved in a car accident in North Carolina. A new study shows that a newly licensed teenage driver in North Carolina is 2 times more likely to crash during their first month of solo driving than they are following 2 years driving experience. The University of North Carolina Highway Safety Research Center was commissioned on behalf of the AAA Foundation for Traffic Safety to study the driving behavior of newly licensed drivers.
The study looked at 50 North Carolina families with teenagers applying for a learner's permit. Cameras were installed in their vehicles and recorded activity inside the car, and also activity in front of, and behind the vehicle. Parent interviews were conducted 10 times over the course of a year. The cameras monitored the teens while they were driving with their parents while they had their permits, as well as the first 6 months of solo driving with their provisional license. The study also analyzed the cause of crashes for newly licensed drivers in North Carolina.
In their analysis of the reasons why teens were crashing, they found 3 common behaviors:
-Failure to Reduce Speed
-Not Paying Attention
-Failure to Yield
Their analysis also found that certain types of crashes, such as failure to yield or crashes with left hand turns, occurred with far greater frequency during the initial solo driving experience, but quickly declined as the driver learned and gained experience. Other types of crashes, however, did not decline so quickly and were attributed to the teen not having mastered particular driving skills.
The cameras found several near accident situations resulting from the teen driver's inexperience, but also noted a few instances of passing red lights, texting, and interaction with passengers. Ironically, the behaviors that relate to teenage car accidents were not present when the parent was accompanying the teen. Testers found a very high rate of seatbelt use, and almost no distractions in the vehicle, such as cell phone use, eating or music.
In the study, parents reported that their teens drove an average of 1.6 hourse per week, and that the range of weekly driving was from a mere 20 minutes per week, up to almost 5 hours per week, with 13% of parents reporting no driving by their teen at all. Most driving with parents was found to take place at the same time of day and along the same routes, denying the teen the opportunity to experience more challenging driving conditions, such as heavy traffic or poor weather. Parents also seemed to focus on basic instruction, such as "don't wait so long to hit the brakes", and failed to provide more meaningful instruction, such as "look down the road a bit for brake lights so you know when you need to slow down."
The results of this study puts a great value on the importance of continued parental involvement in the driving learning process, even after the teen has obtained a license.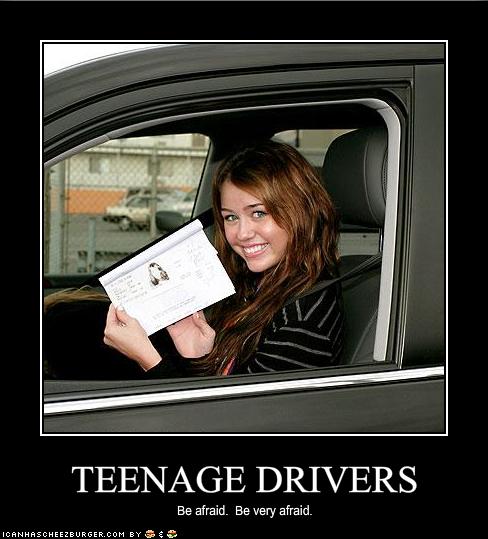 In effort to reduce the number of North Carolina car accidents that involve newly licensed teenage drivers, a new law recently went into effect which requires that a driving log with evidence of at least 60 hours of driving be presented by teens between the ages of 16 and 18 when applying for their provisional license.
The new provision requires that all teens who obtain their limited learner's permit on or after October 1, 2011, maintain a logbook detailing at least 60 hours driving, with at least 10 of those hours being nighttime driving. The supervising driver is required to sign the log, and the log book must be presented to the Division of Motor Vehicles at the time of the applicants road test. But beware-if the clerk thinks you have falsified your log book, you will not be permitted to take your road test, and will have another 6 months in which to complete a legitimate logbook.
Additionally, teens between the ages 16 and 18 who obtain their limited provisional license on or after October 1, 2011 will be required to keep a logbook detailing at least 12 hours, with at least 6 of those hours being at night, and must be signed by the supervising driver for the nighttime hours. As with the limited provisional license requirements, if the Division of Motor Vehicle thinks your logbook has been falsified, you will not be eligible for your full provisional license for another 6 months, during which you must complete a legitimate logbook.
These changes come on the heels of a study conducted by the AAA Foundation for Traffic Safety which found that newly licensed teens have a 50% greater likelihood of crashing during the first month of having a drivers license than they are following an entire year of solo driving experience.
The study identified specific areas in which parents can improve the safety of their teen driver:
-Continue practicing skills with their teen, and introduce them to more difficult driving conditions, such as heavy traffic and bad weather.
-Limit passengers. The risk of a teen driver crashing multiplies with additional teenage passengers.
-Limit driving at night. For a newly licensed, inexperienced teen driver, the decreased visibility at night increases risk of wrecking.
As the parents of two teenagers that will soon be getting their provisional drivers licenses, the Charlotte, North Carolina car accident attorneys at Auger & Auger are acutely aware of the dangers teenage drivers face, and urge you to stay involved with teaching your teen safe driving skills, even after they obtain their license.
A Raleigh drunk driving car accident has left one teenager dead and another in jail. The Raleigh Police Department has charged 16 year old Garrett Prince, a student at Millbrook High School, with Felony Death by Motor Vehicle, Driving While Impaired, Open Container of Alcohol, Possession of Marijuana, and Driving After Consuming Alcohol While Underage.
Fellow Millbrook High School student Elizabeth Molloy was killed when Prince rounded a curve at a high rate of speed and struck a tree. Police estimate that Prince was driving at approximately 75 miles per hour when he crashed. It is likely that Molloy would have survived the crash had she been wearing her seatbelt. Prince, who was also not wearing a seatbelt, was ejected from the vehicle.
The accident occurred around 2am Friday morning after the teens left a party in the neighborhood where Prince crashed. Police found several empty alcoholic beverage bottles in Prince's vehicle.
This accident is a tragedy that could easily have been prevented. It has been reported that Prince was driving with a provisional drivers license. Holders of a level 2 provisional license are prohibited from driving after 9 pm unless they are driving to or from work.
Neither teen was wearing a seatbelt. North Carolina law requires every passenger of a moving motor vehicle to be properly restrained. The fact is that seatbelts do save lives. According to the National Highway Traffic Safety Administration, seatbelts save more than 13,000 lives annually.
There has also been speculation that Elizabeth Molloy knew that Garrett Prince had been drinking alcohol in the hours leading up to the crash. Under North Carolina law, if the passenger in a drunk driving accident new the driver had been drinking, that passenger will be considered partially responsibly, and may be prevented from recovering damages from the drunk driver.
It is always difficult to read about lives lost, particularly when it can be prevented. As parents, we can make sure our children have the car home by 9 if they hold a provisional license. Although there is no curfew in Raleigh, parents can set and enforce a reasonable curfew for their teens. As for our teens, in spite of our best efforts, they are still capable of making poor choices. Like not wearing a seatbelt. Like getting into a car with a driver that had been drinking.
For your free consultation about a drunk driving accident in North Carolina, call Auger & Auger at (704)364-3361.
Car wrecks occur in Charlotte every day. Most will not involve catastrophic injury, but those that do often involve unrestrained drivers. Drivers who refuse seatbelts always have an excuse-pregnancy, discomfort, or the presence of airbags . The car accident attorneys at Auger & Auger want you to know that pregnant women are advised to wear seatbelts, the "discomfort" of a seatbelt is far less than the discomfort of a catastrophic injury or death, and airbags are intended to work with seatbelts, not instead of seatbelts.
The National Highway Traffic Safety Administration (NHTSA) recommends that pregnant women use a seatbelt in the normal fashion, with the shoulder belt across the chest, not across the neck and NEVER under the arm or behind the back. Do not disable your airbag Rather, position the front seat as far from the steering wheel as possible while still able to comfortably use the pedals, keeping a minimum of 10 inches between your chest/abdomen and the steering wheel.
Airbags are designed to work with seatbelts, not instead of seatbelts. Are bags are not designed to deploy in all types of accidents. They are equipped with sensors that measure the location of the crash and the rate at which the vehicle is slowing down. Accordingly, the speed and amount of physical damage present is NOT an appropriate measure of whether an airbag should deploy. There is no guarantee that the accident you may be involved in will meet the criteria that would cause your airbag to deploy. Further, airbags can only be deployed once, and they rapidly deflate. So if there are multiple impacts, they will be useless in a subsequent impact. The seatbelt, however, ensures the vehicle occupant is in the best position to maximize the benefit of the airbag.
In the event of a crash, the car is quickly decelerating and the frame is absorbing most of the force. An unrestrained occupant, however, will continue to be propelled forward at the same speed the vehicle was originally traveling at until their movement is stopped, such as by impact with the steering wheel, gauge panel, windshield, or, worst case scenario, ejection from the vehicle. The proper use of a seatbelt will more evenly distribute the force of the impact through the body, helping prevent the upper body or head from striking the interior of the vehicle.
Airbag injuries are typically in the form of a minor abrasion or burn. Serious injury, or death, is extremely rare, but can occur in a particular circumstance, specifically, sitting too close to an airbag, or a child in the front seat. The force of an airbag explosion is around 100mph. If an occupant is sitting too close too, or in contact with, the airbag module when it opens, serious injury can occur. The National Highway Traffic Safety Administration recommends that drivers keep at least 10 inches between their chest and the middle of the steering wheel. Children under 12 should always be in the back seat, and NEVER use a rear-facing child restraint in the front seat of a vehicle equipped with front airbags UNLESS it is specifically designed to be used as such.
North Carolina law requires that all occupants, regardless of where they are seated in a vehicle, to wear a seatbelt when the car is in motion. The law also requires that children under 8 years of age, and under 80 pounds, be properly seated in a weight-appropriate child restraint system. Children under the age of 5 and below 40 pounds are required to be properly seated in a weight-appropriate child restraint system in the rear seat of the vehicle, unless the car seat is specifically designed to be used in the front seat (with airbags).
2012 literally started off with a bang–dozens of North Carolina car accidents. Until this cold snap, we had been spoiled with above average temperatures until the New Year freeze reminded us it really is winter. From 5pm Monday, January 2, 2012, through 5pm Tuesday, January 3, 2012, North Carolina Highway Patrol answered 267 calls for help in the counties of Yancey, Transylvania, Swain, Rutherford, Polk, Mitchell, McDowell, Madison, Macon, Jackson, Henderson, Haywood, Graham, Clay, Cherokee, Buncombe, and Avery.
The Charlotte car accident lawyers at Auger & Auger wish to remind you to exercise caution when driving in winter conditions. The most frequent cause of weather related accidents is driving too fast for conditions. In Charlotte, black ice is a particular problems on freezing mornings. With that in mind, we would like to share these safe driving tips:
Prepare Your Vehicle:
-Assess tires for excessive wear
-Check battery levels
-Check level of antifreeze
-Equip vehicle with spare tire, lug wrench, and jack
-Keep a shovel/ice scraper
-Jumper cables
-Bag of salt or kitty litter for traction if stuck in ice
-Blanket, water bottle, non perishable snack bars
-Flashlight with spare batteries
-Extra windshield washer fluid
Adjust Your Driving For Conditions:
-Slow down
-Put your lights on
-Increase distance between yourself and next car
-Apply brakes gently so you don't skid; if you begin to skid, ease off brake
-Clean windshield as often as necessary
-Remember that bridges/overpasses will freeze before a more heavily traveled road
-Four wheel drive and front-wheel drive vehicles are not immune from trouble in winter conditions
Characterization of Winter Weather Advisories:
Winter Storm Warning: means a confirmed storm that will likely bring severe wind chill and snow or heavy precipitation
Winter Storm Watch: nearly 50% chance that winter storm will hit your area
Winter Weather Advisory: hazardous conditions are expected, such as snow and ice, and extreme caution is urged for any travel
Wind Chill Warning: high frostbite risk and expected wind chills of -25F and lower
Wind Chill Watch: chance for wind chill dipping below -25F
Heavy Snow Warning: anticipation of more than 7 inches of snow
Here in North Carolina, we are bombarded with endless newscasts predicting when and where the first flake will fall. Heed the warnings, and if possible, avoid driving or give yourself more time to get where you are going. Stay safe.