Don't Drive if you are Under the Influence of Prescription Drugs!
N.C. statutes say that you're still DWI even if your Rx was legal

11% of drug-impaired drivers in fatal accidents tested positive for opioids

Half of older adults say they take multiple prescriptions yet still drive
Many North Carolina drivers have the false impression that they can legally drive after taking drugs so long as those drugs were legally prescribed. In fact, North Carolina DWI law dictates that driving under the influence of any "impairing substance" is a crime, and having legal permission to consume that substance is not a reasonable defense.
Driving under the influence of prescription drugs is an extremely common problem, not just in North Carolina, but also in the United States as a whole. A report from the Governors Highway Safety Association found that in 2016, 44% of drivers who died in car accidents were flagged as positive when tested for drugs in autopsy.  Roughly 11% of these drivers tested positive for opioids.
Opioids and many other types of prescription drugs can have dangerous side effects on par with (and sometimes worse than) the effects of alcohol or controlled substances. When drivers make the mistake of taking these drugs before getting behind the wheel, they put all North Carolinians at risk.
Victims of car accidents caused by these drivers can receive major injuries and rack up huge medical bills. The unfortunate circumstances surrounding injury accidents often influence the decision to hire a car accident attorney in Charlotte to represent their claims against at fault drivers and their insurers. Experienced injury attorneys are tasked with fighting hard for their clients in order to recover their full compensation that the law provides for injury victims.
You should already know that it is never a good idea to drive if you are under the influence of any drugs, alcohol or other substances that are going to affect how you drive. It is worth noting that the problem of intoxicated driving is still a huge problem!  Consider the following facts about prescription drugs and North Carolina law.
North Carolina DWI Statutes Make No Room for Legally Prescribed Drugs
Even though North Carolina's DWI statutes don't mention prescription drugs specifically, the laws are still quite specific about the fact that a legal prescription doesn't make it ok to drive under the influence.
North Carolina General Statute § 20-138.1. states that, "a person commits the offense of impaired driving if he drives any vehicle upon any highway, any street, or any public vehicular area within this State while under the influence of an impairing substance."
20-4.01.

defines an "Impairing Substance" as follows: "Alcohol, controlled substance under Chapter 90 of the General Statutes, any other drug or psychoactive substance capable of impairing a person's physical or mental faculties, or any combination of these substances."
More importantly, the statute goes on to mention a specific "Defense Precluded" clause, which refers to a defense that will automatically be regarded as invalid by the court. The clause states: "The fact that a person charged with violating this section is or has been legally entitled to use alcohol or a drug is not a defense to a charge under this section."
In other words, North Carolina DWI laws make no exception for any prescription drugs that are "capable of impairing a person's physical or mental faculties." The fact that they have been legally prescribed does not make any difference, as far as the law is concerned.
If you are driving under the influence — whether the substance was legally acquired or not — you are breaking the law.
Many Prescription Medications Can Impair Driving
Most people tend to think of legal drugs and illegal drugs in separate categories. The thought goes: "As long as I am not over the legal limit for drunk driving or under the influence of illegal drugs, I can't possibly be too impaired to drive!"
This thought process is an unfortunate result of a lack of information given to the public regarding the dangers of some prescription medications — and many over-the-counter remedies, as well. While many of these products contain warnings, they are usually not given with the same sense of gravity as a bartender worrying about a patron driving home. Perhaps their manufacturers do not want their drugs to be associated with the same kinds of psychoactive or impairing effects that illegal drugs create, but the result is uninformed decision making that leads to driving under the influence.
The U.S. Food & Drug Administration (FDA) cautions people to be aware that a broad range of prescription and over-the-counter medicines can negatively affect drivers' abilities, including: "prescription drugs for anxiety, some antidepressants, some cold remedies and allergy products, sleeping pills, and pain relievers."
Side effects to watch out for include drowsiness, blurred vision, delayed reaction times, fainting, or disorientation. Some more serious side effects can dramatically affect coordination or create distorted thought patterns that make driving nearly impossible.
Older adults are particularly at risk for these types of side effects because they may be prescribed multiple medicines, some of which may have unanticipated side interactions with each other. AAA reports that nearly 50% of older adults say they take seven or more medications yet still drive regularly. They go on to caution that medicines with impairing side effects or drug interactions can raise a driver's risk of an accident by 300%.
Ask Your Doctor About Side Effects to Avoid Unsafe Driving
To avoid raising your risk of an accident, avoid taking medications that say "Do Not Operate Heavy Machinery" as a warning label. "Heavy Machinery" includes cars.
Also, ask your physician about whether the medication can result in the inability to drive safely.  It is also always a good idea to make sure that all of your doctors and your pharmacist knows all of the drugs you are taking because of the risk of  unsafe drug interactions if you take multiple prescriptions.
Note that some medications affect different people in different ways, and these effects can also fluctuate based on whether you have eaten, whether you have gained or lost weight recently, and several other variables. You can also develop habits that allow you to take your prescriptions as recommended while following a schedule that makes unsafe driving less likely.
Have You Been in an Accident with a Driver on Rx Drugs?
Not every driver knows that they should not drive on prescription medications, but ignorance is no excuse or defense when you break the law.
If you have been injured by a driver who has tested positive for impairing prescriptions or who may have been using them at the time of the accident, you can work with a car accident attorney in Charlotte, North Carolina to build your case. The impaired driver may be liable for your damages, including medical bills, lost income, vehicle repairs, and pain and suffering.
You can speak with a North Carolina car accident attorney during a free case evaluation when you schedule your free case evaluation today by calling 704-364-3361 or our convenient online contact form.
Charlotte's Mecklenburg County ranks #1 in overall car accident fatalities as well as DUI-related deaths

Mecklenburg County has a high rate of deaths related to people not wearing proper restraints

Efforts by the city, county, and state intend to reduce these deaths by enforcing laws while also educating drivers of these risks
In terms of overall traffic-related fatalities, Charlotte, North Carolina's Mecklenburg County ranks first — or last, depending on how you look at it. The most populous county in the state also had the highest number of drunk-driving related fatalities as well as fatal accidents involving occupants who didn't wear their seatbelts.
These facts were compiled over several years by the state's Governor's Highway Safety Program and the National Highway Transportation Safety Administration (NHTSA). The 2018 Highway Safety Plan Report for the state recorded incidents that occurred as recently as 2015. Our Charlotte car accident lawyers want you to be mindful of these statistics and we also want you to be aware of efforts taken by the state to reduce fatal road accidents in Mecklenburg County and throughout North Carolina.
By knowing what's at stake and how our state intends to fix it, we hope that you will take steps of your own to reduce deadly serious accidents in North Carolina's biggest city.
Charlotte: North Carolina's Deadliest City for Road Accidents
According to the 2018 North Carolina Governor's Highway Safety Program Report, Mecklenburg County ranked at the top of the list of North Carolina counties for overall road fatalities in 2015. The county had 80 overall deaths stemming from motor vehicle crashes that year, beating the #2 county (Wake) by 15.
On the other hand, Mecklenburg happens to be the state's most populous county. In 2015, census estimates put the entire county, which includes the city of Charlotte, at 1,035,605 people. From that perspective, it makes sense that the county with the most people and likely the most cars on the road would by extension have the highest overall volume of motor vehicle accident fatalities. Looking solely at the county's rate of car accident deaths per 100,000 people, Mecklenburg has 7.72. This figure means it ranks 90th out of 100 counties.
By comparison, rural counties in North Carolina tend to have a low number of overall road fatalities but a high rate relative to their population. Robeson County, for instance, which includes the cities of Lumberton and Pembroke, had 53 road fatalities in 2015. Compared to its population of 133,375 people, the county had a fatality rate per 100k population of 39.74: over five times the rate of Mecklenburg! Robeson also had the fifth-highest number of overall motor vehicle crash fatalities, making it somewhat of an outlier.
Other, smaller counties had more exaggerated fatal accident rates. Sampson County, with just 63,993 people in 2015, had 25 total road accident deaths, making it #2 in the state by rate.
Mecklenburg County Ranks High for Alcohol-Related Crash Deaths and Unrestrained Occupant Deaths
While one might be able to give context to Mecklenburg's high accident fatality volume given its high population, but the county has no excuses when it comes to drunk driving and especially seat belt use.
Statistics from the report indicate that between 2011 and 2015 the county had 127 total fatalities in crashes where alcohol-impaired driving was a factor. That figure accounts for nearly 7% of all such fatalities in the state and gives the county a death rate of 1.23 per 10,000 people.
Again, rural areas in the state do tend to have higher rates than that. Hoke County, for instance, accounted for just over 1% of all DUI-related road deaths but had a rate 3.7 times higher than Mecklenburg's. Robeson again topped the charts with its rate, which was an alarming 4.95.
In this case, even a relative comparison still makes Mecklenburg County and the city of Charlotte far from blameless. DUI-related deaths are entirely avoidable, yet they tend to cause an anguish-inducing amount of fatal accidents per year.
Even more alarming is the fact that Mecklenburg County has had a very poor record of seatbelt use, which directly contributes to the volume and rate of fatal accidents in the region. The report indicated that 44.6% of all road fatalities in the area happened to individuals who were not properly restrained. This figure includes both adults not wearing seatbelts as well as minors who were not given the proper restraints. In total, Mecklenburg saw 90 such fatalities between 2011 and 2015, accounting for just under 5% of the state's total.
Reduce the Number of Car Accident Deaths in North Carolina!
The purpose of the state's highway safety report was not just to scare individuals into making smart decisions — although that was certainly part of it. Alongside these grim statistics comes a ray of hope in the form of action-oriented programs designed to improve road safety and prevent avoidable deaths.
For example, the Charlotte-Mecklenburg Police Department will continue its DWI task force project for the fifth straight year. The program aims to reduce alcohol-related fatalities, traffic crashes and injuries through both enforcement and education efforts. This task force includes seven dedicated officers who cooperate with other local offices to set up DWI checkpoints during peak hours at night, on weekends, and during holidays.
Mecklenburg County has also participated in concerted efforts to improve proper restraint use. 2016 data from the seat belt survey indicates an observed seat belt use rate of 92.7% in Charlotte and the county at large.
Drivers can help with these efforts — and reduce their risk of being part of a fatal crash — by practicing smart, safe driving techniques. Always use a seat belt, never drive impaired, and obey all road laws including posted speed limits.
You Need Charlotte Car Accident Lawyers on Your Side
Every accident can be serious, but the dangers are increased when drivers engage in reckless behavior such as DWI. Even the most careful driver may suddenly find themselves the victim in a life-changing accident.
If you or a loved one has been involved in a motor vehicle accident — remember that you have the right to get legal representation to assist you with your injury claim. You could be eligible for not just medical bill reimbursement but also compensation for your lost wages, pain and suffering, and other damages.
You can contact our Charlotte car accident lawyers today if you have any questions or want to find out how you can have someone fighting for your rights as soon as possible. Get in touch, and we will try our best to answer your questions and see how we may be able to help.  Your first call starts our initial case evaluation process. Call us today! Our phones are answered 24 hours per day, 7 days a week! (855) 971-1114
Auger & Auger is happy to announce that Amauri Bowman is one of the recipients of our 2018 Fall Semester Disabled Scholar Award. These $1,000 scholarships are presented twice a year to high-achieving students across America who have worked hard to overcome the perceived limits of their disability. They have achieved excellence in and out of the classroom, and they have made a positive impact on their community.
Amauri was born with sickle cell anemia, a blood disorder that can cause tremendous pain and serious health problems. When she was 7 years old, her sickled cells clotted an artery, and she suffered a stroke. She underwent an emergency blood transfusion, and has received transfusions once a month since that incident.
Now in her third year at Francis Marion University in South Carolina, Amauri has had to learn how to cope with her pain and prioritize her school work, extracurricular activities and doctor's appointments. However, he's always made sure her grade point average was at or above 3.0. Amauri's always strayed away from using her disability as a hindrance or a crutch, but rather she takes the fullest advantage of life she can.
After graduating from Francis Marion University, Amauri plans to start her nursing career at the Medical University of South Carolina (MUSC). She wants to work at MUSC because that's where she has been taken care of for the last 20 years.
Amauri plans to further her education and become a Pediatric Doctor of Nursing Practice. With this higher education, she wants to give back to those who aren't able to afford the best healthcare.
She believes her chronic illness and the lessons it's taught her, including how perseverance, courage and maturity, have prepared her for college and for her career as a nurse. She believes that, because she has sickle cell, she will be able to relate to patients on a different level and be an advocate for them when they're in pain.
Ultimately, she wants to open as many free health service clinics she can around the globe to provide more than the bare necessities of healthcare. She wants to make sure that every child, woman, man, and elderly person with a chronic illness has access to the proper healthcare for their specific needs.
To those who are also facing disabilities, especially "invisible disabilities" like sickle cell anemia, Amauri's advice is to "always keep your head up and find the silver lining in situations."
"My mother always reminded me when I was down about being sick, that there is always someone who is in worse conditions, and that even though we go through things, we are always blessed in some way or another," she says. "The obstacles that you face in life are put there for a reason, whether it be a lesson to be learned or to make you stronger; whatever you're going through, just remember that all things work together for your good."
Even though having sickle cell anemia is challenging, and the pain can sometimes be unbearable, Amauri would never trade the life lessons it's taught her. She says that having a chronic illness has made her look at life and enjoy even the bad days, because every day spent on this earth is precious — and should be treated as such.
Auger & Auger is proud to support the Adam & Matthew Group 4 Dads, also known as AMG4D.  Auger & Auger attorney Herb Auger recently donated $500.00 to this outstanding organization.  AMG4D was started by Brian Wulf and it is an organization formed to support fathers of children with disabilities.
After spending many years as father to two severely disabled sons, Brian Wulf felt a vision of what kind of possibilities could be there to support and empower other fathers to special needs children. He saw a lot of men struggling with discouragement, overwhelmed by the challenges not only to their children but to their marriages and relationships with other people, all while balancing jobs and community responsibilities. How much more could each man accomplish and how much more successful could his efforts be if he had empowering support from other dads who know what this kind of life is like? With that concept in mind, Brian has worked to develop a diverse program of supportive services ranging from financial planning to group interaction to personal coaching as means to help each father fulfill the challenging role handed to him.
As Founder of AMG4D Brian has dedicated his future to raising awareness of the needs and challenges to fellow fathers with special needs children, and providing services to meet those needs. Brian writes and does public speaking on  behalf of AMG4D and its programs and events. For more information about AMG4D and to learn about how you can support their very important mission, please check out their website at https://www.amg4d.org
The communities that we serve are very important to our law firm.  Auger & Auger is proud to support organizations such as AMG4D and we thank them for the very important work that they do and we wish them continued success.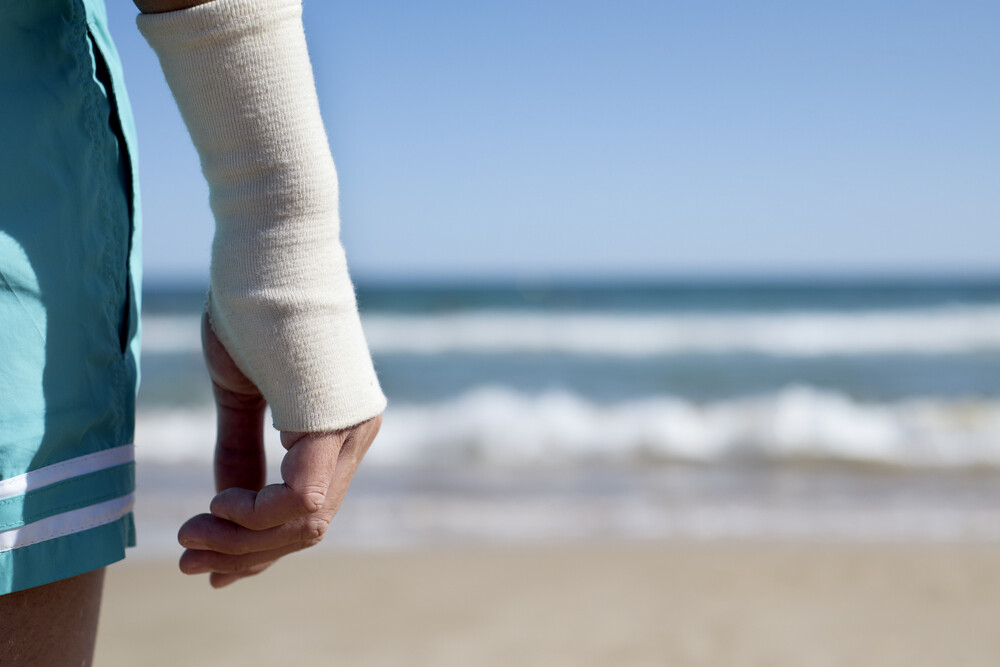 Tourist season is kicking into full gear. If you are in the Carolinas, chances are you may be heading to the beach for your much deserved vacation. No one ever wants to get sick or hurt; especially on a trip.  Knowing how to avoid common vacation injuries and accidents can help ensure that you and your family have a wonderful time from beginning to end. Keep you and your family safe and happy by protecting yourselves from the most common accident and injuries that occur during family vacations.
Allergies
You may know what you are allergic to in your own backyard, but flora and fauna that you aren't used to can make you a victim of hay fever, hives and plenty of other issues. Nobody wants to deal with allergies while on vacation. Before you take a trip out of your home city, research your destination and check out the allergy reports for where you are heading.  Knowing what you may encounter will help you know what to expect before you get there.
Once you arrive at your destination, pay attention to the weather reports. Chances are high that the forecaster will give you the expected pollen or other allergen count for the day. If the allergen or pollen count is going to be high, stay indoors until late afternoon or evening. Change your clothes when you come in from outdoors, and wipe your skin off with a baby wipe or wet towel. This will help get the pollen off of your body which may prevent your allergies from flairing up.
Car, Golf Cart and Bicycle Crashes
Driving on two or four wheels can be dangerous. Driving becomes even more dangerous when you are cruising along unfamiliar roads. Locals will drive the way they feel comfortable driving, and tourists will often drive in a hurried, rushed or distracted fashion. Often, these two driving styles don't match up and can lead to car accidents. If you are driving through unfamiliar territory, do not exceed the speed limit and be sure that you understand how to get where you are going before you set off on your journey.
If you are riding a bicycle through a tourist area, make sure you are wearing a helmet. Any bike rental stand or company should have them available for your use. If you are driving an unfamiliar vehicle, get to know the controls before you put it in drive and hit the accelerator.
Similar to bikes, most people consider golf carts to be relatively safe, it's important to remember that they are still vehicles and that accidents do happen. You can have a lot of fun on a golf cart, but you can also end up seriously injured or injuring someone else if you don't act responsibly.
Whether you are driving your golf cart on a city street or riding a bicycle down the side of the road, you are considered to be operating a vehicle. Golf carts and bicycles are often subject to the same traffic laws as typical passenger motor vehicles.  Make sure you know and obey the laws at all times! Say no to reckless driving, tailgating, speeding and operating ANY vehicle if you are under the influence of alcohol or drugs.
Swimming Accidents
Swimming is a fantastic part of summer. Whether you are in a hotel pool or the calming waves of the ocean, swimming accidents can happen in a split second. If you are a parent, keep an eye on your children at all times. If you are swimming in natural waters, heed any warning signs and obey the lifeguards at all times.
If you aren't a strong swimmer, wear a life vest. Your children should wear safety items like inner tube rings, arm floats or life vests. These things may inhibit your ability to actually swim in the water, but they can prevent you from drowning which is definitely more important.
Food Poisoning
Some may find it surprising that food poisoning is a main cause of injury and illness during vacation. It's completely normal to want to try a bit of the local cuisine if you are in a new place, but ask for a few tips before you do. The locals can tell you what restaurants are worth visiting and which are best to avoid. Also, if you decide to cookout, follow food safety rules to ensure that you don't make yourself or your family ill.
Sports Injuries
Sports related injuries while on vacation are all too common. Who hasn't enjoyed football or volleyball on the beach before?  If you decide to be active and play a game, ride a jet ski or jump in the hotel pool, make sure you are doing so with safety in mind.  
Before you participate in any kind of physical activity, take a moment to stretch and warm up your muscles, especially if you aren't quite used to exercise. This can be really important when you are traveling to warmer climates and haven't been able to get outside at home in the recent weeks before your trip. Also, know the rules of the game you are going to play and, if you are riding on any type of machinery or recreational vehicle, ask the rental agency or owner about safety rules and requirements before you hop on board. It is also the best practice to avoid mixing alcohol and athletic activities
If you or a member of your party gets ill or is injured on vacation, stay as calm as possible. If the issue is a minor one, take care of it and go about enjoying your vacation. If the injury or illness is severe, stay calm and seek emergency medical assistance as soon as possible.
Speak with a Carolina Injury Attorney Today
If you are injured in Charlotte or elsewhere in the Carolinas — whether you are visiting or a resident, know your rights and your options! If your injury was caused by someone else's negligence, call our office and schedule a free case evaluation. We will review the circumstances of your injury and advise you of your options and how we may be able to help.  We wish you a safe and fun time during your travels.
Auger & Auger is proud to announce that Jacob Custer is one of the recipients of our 2017 Fall Semester Disabled Scholar Award. These scholarships are presented twice a year to high-achieving students across America who have overcome their disability and achieved excellence in both the classroom and in their community. Recipients of the award receive $1,000 to assist them with their educational expenses.
Jacob is a wonderful example of the hard work and dedication that is required to overcome life's challenges.  Born without the ability to hear sounds, Jacob received a cochlear implant for his right ear when he was 2 years old, and one for his left ear when he was 8.  Being unable to hear is a significant challenge and even with the aid of cochlear implants Jacob has to utilize his fine-tuned communication skills to meet the demands of the life of a busy and goal oriented student.
Early in life, Jacob joined the Boy Scouts. Scouting requires dedication, team work and focus. Not always being able to perfectly understand what scout leaders and fellow scouts were saying certainly presented a challenge. Through his parents, Jacob learned how to advocate for himself and to not be embarrassed when he needed to ask someone to repeat themselves. Jacob did not run from this challenge, but instead he learned how to flourish under challenging circumstances.  
Jacob described his experiences of learning to effectively communicate as a process that took time, effort and patience.  Being bold enough to be open about his hearing impairment and to express himself has paid great dividends to this young man as he eventually received the great honor of becoming an Eagle Scout – the highest rank a Boy Scout can receive. Additionally Jacob has experienced some outstanding adventures with the Boy Scouts including camping, boating and canoeing among many other activities.
Jacob also advocates for other hearing impaired individuals. He previously participated in program that does activities for students who are deaf and hard of hearing, and he has created bonds with others that face the same difficulties he does. Jacob has found support and inspiration from many different people; especially his parents. "They've been there for me, and continue to push me to be better for myself," Jacob says. "I wouldn't be where I am without them."
Originally from Nebraska, Jacob is now a student at the Rochester Institute of Technology, where he is studying economics and public policy. The future is bright for Jacob as he continues his studies and considers his potential career options.  He has even mentioned an interest in politics which could give him plenty of opportunities to help others.
Auger & Auger is proud to announce that Rachel Blevins is one of the recipients of our Fall Semester Disabled Scholar Award, worth $1,000 each. These scholarships are presented twice a year to high-achieving students across America who have overcome their disability and achieved excellence in both the classroom and their community.
Rachel was born with a rare disorder called Epidermolysis Bullosa (EB). This condition causes her skin to be very fragile; even the slightest trauma can cause blisters. During one such blistering episode as a newborn, the surface of Rachel's eyes were damaged. As a result, she is visually impaired due to corneal scarring. Before she even reached kindergarten, she had 10 reconstructive surgeries to improve her mobility.
Yet, Rachel refuses to use these hardships as a tool to elicit sympathy from those around her. Rather, she reflects on these challenges to see the struggles she's already overcome and how those experiences shape her goals. She's always been a science-minded student. In elementary school, she won first place in state science fairs two years in a row.
Now, she plans to pursue a degree in psychology at the University of North Carolina in Greensboro. Though earning this degree will be a difficult venture, Rachel lives by the mantra that, "Quitters never win and winners never quit!" This ideal was instilled in her as a child by her parents, who Rachel says have been the most inspirational people in her life.
"My parents have always encouraged me to do my best and compete with my peers," she says. Their faith in God has inspired me as well, I feel my life has a greater purpose and that God has a plan for me."
Rachel says she's also grateful for the doctors, therapists, teachers and others who have helped her succeed in life. It's these people that have inspired her to get her degree in psychology, then pursue her master's degree in counseling with a minor in American Sign Language. After she earns her degrees, she wants to work with vision-impaired students at a school like the Governor Morehead School for the Blind in Raleigh.
Though Rachel has pushed through great adversity in her life, she has seen how her disability has affected how she's viewed by society. But, she says, that view from society has shown her who her true friends are. Her relationships mean everything to her. She does hope, however, that our society as a whole can look on disabilities with kinder eyes.
"Those of us with disabilities are constantly judged, and first impressions are made based on our bandages, damaged skin, etc.," she says. "If society could look beyond our disability, whatever it is, and see that we are just ordinary people, overcoming extraordinary obstacles to be contributing members of society, the world would be a better place."
Auger & Auger is proud to announce that Francesca Holborn of Murrieta, California has won the Spring 2017 Disabled Scholar Award, worth $1,000.
Since she was a child, Francesca (Frankie) knew her life would not be as easy as that of her peers. Growing up, she would ask her mother questions like,  "Why can't I tie my shoes like everyone else, Mom?" "Why doesn't my hand do what I want it to?" "Why can't I see what everyone else sees?"
Her mother's answer? "You're special babygirl."
And Frankie is a special young woman. She was diagnosed with cerebral palsy, compounded with vision loss. This made even simple tasks much more difficult. Yet, Frankie never let her disabilities keep her down. Her biggest struggle growing up with cerebral palsy and a vision impairment was accepting that there are obstacles that her body cannot conquer.
Yet, she overcame her disability by  learning that, even though she cannot do some things she is faced with, she can do so many other things. She knew she would likely never excel in activities like sports, so instead she focused on what she was good at: her academics. Yet, even though she graduated in the top ten percent of her class, she knew there was more to her identity than just being smart.
In high school, Frankie was invited to participate in the Youth Leadership Foundation Camp in Sacramento for teen leaders with disabilities. It was there she finally found people to whom she felt connected. It was there she learned that all people have their unique challenges and abilities — it is how we deal with what we are given that makes a person great. She knew from that moment that she wanted to leave an imprint on the world.
She found a way to live out her life's mission when she was introduced to a volunteer organization called EQUU8, which uses horsemanship and horseback riding as a form of therapy for children with disabilities. For the first time in her life, Frankie was working with a therapist — but wasn't the patient. Her experience with EQUU8 helped Frankie decide what she wanted to do with her life.
Now, Frankie is a student at Western Oregon University, working toward her undergraduate degree in psychology with a minor in special education. After she earns her bachelor's degree, she plans to pursue a master's degree in the same field with the ultimate goal of becoming a therapist for children with disabilities. In addition, she plans to create a support group for children and teenagers with disabilities.
Frankie believes that society can be more accommodating to disabilities by being more aware of the issues, and being more open to asking questions. She lives by one mantra: I can do anything until proven otherwise. She gives every experience a shot, and she is not willing to let her disability define her. She likes to work hard and surprise people with the results.
Though accomplishing this goal can be difficult, Frankie relies on her mother for support. She showed Frankie what it is truly like to be strong. Her mother had some medical problems different than Frankie's, but with that experience her mother showed showed her to not not let her take the easy way out. She pushed Frankie to always be the best version of herself through whatever challenge she faces throughout life.
With her mission before her, Frankie looks to make the world a better place in whatever way she can, in spite of — and, to some degree, thanks to — her disability.
Learn more about the Auger & Auger Disabled Scholar Award here.
A man in Denver, North Carolina was shopping with a friend in a local Lowe's gardening center to surprise his wife with new flowers for their landscaping. While he was shopping, he was bitten by a 3 foot long poisonous copperhead snake while reaching to pick up a plant. He suffered from extensive swelling and was rushed to the hospital. His wife had to miss work to be by his side.
He was transferred to ICU the intensive care unit when the swelling in his arm was stopping blood flow to his fingers and had traveled down his right side to his hips, lower back and abdomen. He is being treated with anti-venom and is currently on three pain medications.
The victim has hired Auger & Auger to represent him. It is the law firm's contention that Lowe's Home Improvement, its managers, employees and/or suppliers were negligent, careless and reckless in failing to implement and/or carry out reasonable safeguards and processes to prevent this kind of injury.
Attorney Herb Auger said his firm is investigating two issues. One, did Lowe's have a plan or process implemented to inspect plants at the time of delivery? It would seem reasonable for any retailer to have a process in place for inspecting products for defects upon delivery from a third party vendor.
Inspecting not only for dead, diseased or damaged plants, which would be in their own financial interest, but also having a plan for inspecting for foreseeable dangers to their customers with the infestation of venomous snakes being their number one concern. If they did, the 3 foot snake should have been spotted.
Second, Lowe's has snake repellants on its shelves for sale to the public. Why would they not use this in their own facilities?
You can learn more about the incident here.
About Auger & Auger:
For over 26 years, Auger & Auger have been providing top quality representation for victims of personal injury in Charlotte and throughout North Carolina. Since 1995, the firm has won over $50 million for our clients in a wide range of case types, including: car accidents, dangerous drugs, golf cart accidents, workers' compensation and many others.
Auger & Auger has offices in five locations throughout North Carolina. They provide free consultations to prospective clients and Auger & Auger will never charge a legal fee unless they win.
Here at Auger  & Auger Law, we enjoy charitable giving. Although we are proud supporters of MADD, or Mothers Against Drunk Driving, each of our staff members have organizations or causes that are near and dear to their hearts. We know that members of our readership may want to give of themselves but don't know where to start or even where to locate a charity that they would be happy to support. On that note, here is a list of some prominent charities in North Carolina that are always accepting donations in the way of money, goods or time.
1. Food Bank of Central and Eastern North Carolina
People fall on hard times and feeding their families should never have to be a concern. Food banks around the country work to ensure that people always have something to eat.
2. The North Carolina Partnership for Children
This charity is perfect for anyone who wants to support children. The Partnership has a variety of programs that are designed to ensure that kids get a healthy start to life and maintain that health. There are also educational initiatives designed to help children enjoy success at school.
3. Easter Seals UCP North Carolina
Easter Seals is a charity that works with the focus of helping children and adults with disabilities gain a greater sense of independence within the community. There are a variety of programs designed with the needs of people with disabilities in mind.
4. The National Cancer Coalition
The NCC works to deliver relief from cancer and other chronic diseases throughout the state and around the globe. Anyone who has been touched by cancer should be proud to support this charity.
5. MADD
Mothers Against Drunk Driving is a fantastic organization with chapters across the country. The group holds meetings and has educational opportunities for members of the public. We are always happy to give to this group, and we are happy to tell others how they can give as well.
Giving to any one of the many charities in North Carolina can be worthwhile. If you would like more information about any of these charities, please visit their websites. If you would like more information about Auger & Auger, you can browse our site at your leisure and, as always, if you need assistance, give us a call.