Charlotte Hit & Run Accidents Lawyer
It is a violation of North Carolina law for the driver of a motor vehicle to fail to stop after being involved in a wreck, regardless of whether there is injury to person or property. It is a Class F felony for a driver to leave the scene of an accident that has resulted in serious injury or death. Statistics indicate that more than 10% of motor vehicle accidents involve hit and run. Involvement in an accident with a hit and run driver can be very frustrating. Victims can suffer serious or fatal injuries and have no one to hold accountable.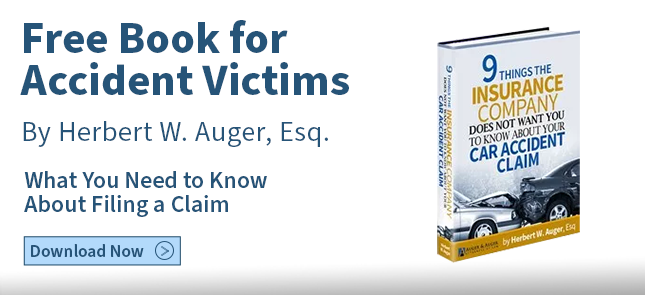 HIT & RUN LAWYER IN CHARLOTTE
The Charlotte auto accident lawyers at Auger & Auger will fight to get you the compensation you deserve. In cases involving a driver who has fled the scene of an accident, every effort is made to identify the at-fault party. Often times, a driver may flee from an accident if they were driving a stolen car, were drunk, had outstanding arrest warrants, lacked a valid driver's license or legal status, or lacked insurance. Depending on the location of the accident, surveillance cameras might capture the identity of the hit and run vehicle, which in turn can lead to insurance information.
Who Pays In A Hit and Run Accident in Charlotte?
When there is no information, not even a license plate number, Auger & Auger will pursue your claim through the uninsured motorist provision of your personal auto policy. But just because the claim is made against your personal insurance, do not be fooled into thinking that the insurance company is on your side. When you make an uninsured motorist claim, your insurance company "steps into the shoes" of the at fault drivers insurance. This means they will act as if they are the insurance company for the hit and run driver, and you still have to prove liability and your injuries.
A common misconception about filing an uninsured motorist claim following a hit and run accident, is that your insurance premiums will increase if you file a claim against your own policy. This is not the case. When someone else is responsible for your accident and injuries, your premiums are not affected.
Charlotte Car Accident Lawyers For Serious Injuries And Wrongful Death
Auger & Auger Accident and Injury Lawyers is dedicated to providing personal service and aggressive legal representation to victims of hit-and-run accidents who have suffered serious or fatal injuries. We have more than 40 years combined legal experience in exclusively handling injury cases. One of our attorneys has worked as a defense attorney for several large insurance companies, and we know how to maximize the value of our cases.
With three offices in Charlotte, as well as offices in Greensboro and Raleigh, our attorneys and staff will aggressively pursue your case and handle all aspects of your claim.
Free And Confidential Consultation
When you call or email the Charlotte personal injury attorneys at Auger & Auger Accident and Injury Lawyers, your confidential consultation is free, regardless how long your consultation lasts. When you hire Auger & Auger, there is no fee unless we obtain compensation for you.