Indian Trail Car Accident Lawyer
Very few residents of Indian Trail are prepared for the aftermath of a car accident, because most people never expect tragedy to strike. The Indian Trail car accident lawyers atAuger & Auger Accident and Injury Lawyers hope that you and your loved ones are never involved in a serious motor vehicle accident; but if you find yourself injured, with mounting medical bills, and property damage, it is imperative that you have the guidance of an experienced car wreck attorney on your side. Often, the repercussions of a car accident are worse than one first realizes. Besides costly medical bills and property damage, you may be dealing with prolonged medical treatment and lost wages due to an inability to work. It may be difficult to take the next step in the insurance claims process or deal with the complications of your accident that was caused by someone else's negligence.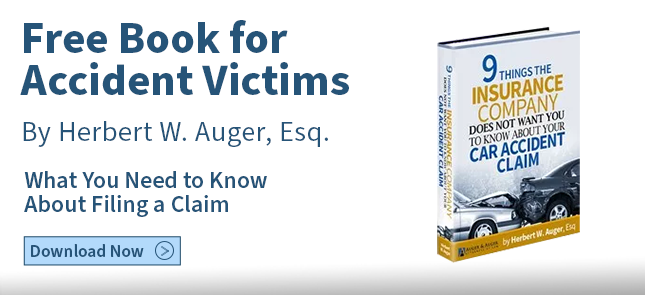 What to do after a Car Accident
Usually, victims of negligence-based car accidents that call our office for their free, no-obligation consultation have more questions than answers when it comes to taking the next step. The hours and days immediately after the car accident is crucial for your health, your legal rights, and your mental well-being. To ensure that you take the right steps after your car accident, call an experienced motor vehicle accident attorney today.
Seek necessary medical attention. Sometimes, your injuries are not apparent immediately after the accident. It is not unusual for muscular aches and pains to set in until several hours later.
Call a lawyer before speaking with the insurance company.The earlier you contact a personal injury attorney, the better. A lawyer can guide you through the claims process, including any recorded statements needed by the insurance company, collecting your medical bills and records, and prepare your case for negotiations and trial. Your initial meeting with one of our attorneys is always free no matter how long consultation lasts. Once retained, we will immediately begin working on your case.
Speak only to your attorney about the case. Refer all calls from an insurance adjuster to your lawyer. No matter how friendly or sympathetic and insurance adjuster may seem, they are not on your side.
Save all evidence including photos of your property damage or injuries, and prescriptions related to your accident.
Follow your doctor's medical advice. Continue with your treatment, and heal both physically and emotionally. Leave the rest to us.
What Our Indian Trail Car Accident Attorneys Can Do for You
Our goal is to maximize your settlement, and settlements typically increase after you hire a seasoned personal injury attorney. If you or a loved one was injured in a car accident through no fault of your own, dealing with the insurance company by yourself can be a nightmare. Insurance companies usually offer a cheap and quick settlement because they want to close your car accident claim as quickly as possible. Unfortunately, most people injured in a car accident are in desperate need of settlement money to take care of the numerous, unexpected bills.
At Auger & Auger Accident and Injury Lawyers, we strongly encourage you to not accept a settlement for your bodily injury claim until after you have completed all medical treatment related to your accident. Once you accept a settlement you will be unable to receive more money for your injuries, even if it is necessary to undergo additional future medical treatment. Seek legal advice before accepting a car accident settlement from the insurance company. Often times, there is more money available to you than what the insurance company initially offered. With over 40 years of combined experience, our attorneys know the tricks and strategies used by insurance companies. Attorney Arlene Auger understands these tactics first hand, after initially working for an insurance company before becoming a partner at Auger & Auger. We can help you understand the settlement you were offered, and will tirelessly work to optimize your settlement.
We urge you to take advantage of your free consultation today. Remember, in the state of North Carolina you have three years from the date of accident to file a lawsuit. While it is possible to go through the insurance claim process without an attorney, you may not receive the full compensation you are entitled to.
Your Consultation Is Free, and We Do Not Collect a Fee Unless Recovery
When you call or email the attorneys at Auger & Auger, your case will be evaluated by one of our lawyers. Appointments can be scheduled for evenings or even weekends, and if you are unable to come to one of our conveniently located offices, we can meet you at your doctor's office, your job, or your home.