Pineville Car Accident Lawyer
Pineville is a small, vibrant community, where fender benders are not unusual. These types of accidents are usually nothing more than an inconvenience. However, accidents involving injuries can alter your life for years to come. Serious car accidents involving catastrophic injuries can devastate families physically, mentally, and financially. Often, the consequences of a car wreck can include debilitating injuries, property damage, skyrocketing medical bills, financial issues, permanent scars, disability, and even the death of a loved one. At Auger & Auger Accident and Injury Lawyers, we hope you and your family never has to go through the hardships of a major motor vehicle accident. In the event that tragedy strikes, it is important that you know your rights and options under North Carolina law.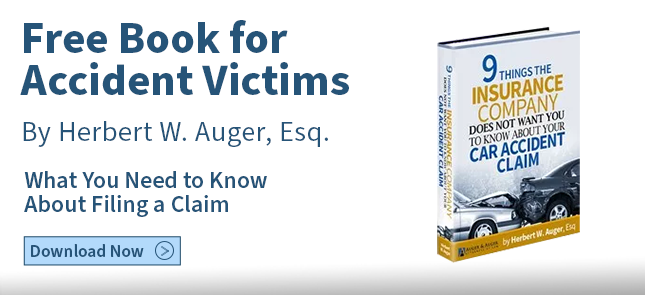 What is a Personal Injury Case?
To prevail in an action for motor vehicle negligence in North Carolina, you must show that the other party was 100% at fault, and that in no way did you contribute to the accident. It is critical that you contact an attorney before speaking to the insurance company. Often times, the adjuster for the insurance company will try to get you to indicate that you might have been partially at fault, that you could have prevented the accident, or get you to minimize your injuries. They will use your words against you to deny your case or make a minimal settlement offer. It is also important that if you are injured, that you immediately seek medical attention. The longer you wait to seek medical attention, the greater the likelihood that the insurance company will question the delay. Even though you may think you are doing the right thing by waiting to see if you will feel better, the insurance company is likely to hold that against you and question whether you were really injured since you waited to get medical treatment. During your free, no-obligation consultation, one of our experienced Pineville car accident lawyers will go over your rights and options specific to your accident. This consultation is always free, no matter how long the meeting lasts. If we feel as though we can help you, we will use all of our resources to fight for the compensation you deserve.
How Auger & Auger Pineville Car Accident Attorneys can help you
We will handle all aspects of your Pineville auto accident claim, the only thing we ask of you is to follow your doctor's treatment plan and heal. We will file all claims, assist you with your property damage claim, help you locate medical treatment, and handle all correspondence and negotiations with the insurance company. There are no upfront costs and we work on a contingency fee, meaning we do not collect a fee for our services unless we win. Below is a quick preview of how the claims process works:
Meet with one of our experienced car accident attorneys for your free consultation
Once retained, we will file all property damage, bodily injury, and no-fault medical claims on your behalf
While you are treating with your doctor, we will collect all photos of your accident or injuries and all medical records from your physicians
We will communicate with you on a regular basis to follow up with your treatment progress
Once treatment is complete, we will aggressively negotiate with the insurance company on your behalf in order to maximize your settlement
If we are unable to settle your case to your satisfaction, we are prepared to litigate
Auger & Auger has helped thousands of victims rebuild their lives with the resources and experience we have achieved. Call us today for your free, no-obligation consultation.
Your Consultation Is Free, and We Do Not Collect a Fee Unless Recovery
When you call or email the accident and injury lawyers at Auger & Auger, your case will be evaluated by one of our lawyers. Appointments can be scheduled for evenings or even weekends, and if you are unable to come to one of our conveniently located offices, we can meet you at your doctor's office, your job, or your home.