Huntersville Car Accident Lawyer
Since founding the firm in 1994, Huntersville auto accident lawyer Herbert Auger has been helping victims of motor vehicle accidents obtain compensation for their damages. Even though each car accident is unique, the insurance companies use the same tactics and tricks to delay, deny, and defend. At Auger & Auger law firm, we advise you to talk to us first before the insurance company talks you into accepting less than you deserve.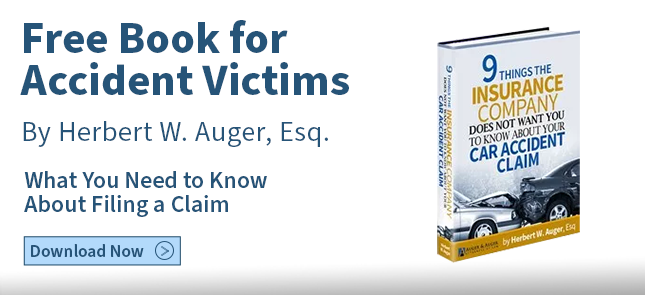 Common Causes of Auto Accidents
There are many reasons why your car accident may have happened, but having knowledge of the top causes for negligence-based car accidents may help prevent tragedy striking your family. Protect yourself and your family by educating yourself about reckless driving. Listed below are some different types of negligence:
Drunk Driving
Distracted Driving
Texting while Driving
Talking on a cell phone or to another passenger while driving
Eating or Drinking while Driving
Speeding
Putting on makeup or grooming
Playing with an IPod, MP3 player, radio, or navigation system
Reckless Driving
Distracted driving is dangerous. As the driver of a motor vehicle, you have the responsibility to manually, cognitively, and visually focus on the road. All three components are necessary for driving a motor vehicle keeping our roads safe. In the unfortunate event that strategy does strike you or your family, it is important to know what your rights and options are under North Carolina law.
What to Do after a Serious Car Wreck
If you were involved in a bad accident, seek medical attention immediately. Documenting your injuries and testing for more serious injuries-such as internal bleeding or small fractures- is vital for your health and your claim. For example, many people make the mistake of thinking head pain is nothing more than a headache when instead, it is a concussion or other closed head injury that leads to cognitive deficits. Instead of seeking urgent medical attention, the victim waits a few days, causing the injury and pain to worsen. When you wait to seek medical attention, the insurance adjuster may question why you waited a few days to seek medical treatment, thus negatively affecting your claim for compensation. If you or a loved one was injured in a car accident caused by another person's negligence, you may be able to recover for pain and suffering, lost wages, prolonged medical treatment, medical bills, permanent scarring, and disability or death.
Free Consultation with a Huntersville Car Accident Attorney
Auger & Auger law firm recommends that you call our office for a free, no-obligation consultation so that we can discuss your rights, options, and injuries with you. Many victims of negligence-based auto accidents do not even realize that they have medical payments coverage on their car insurance policy that will help cover their medical bills. The insurance company is not on your side, and will try to close your claim as fast as they can by offering you a measly settlement check. We know you deserve more, and we have the tools, experience, and strategies to maximize your settlement. Typically, settlements are higher when you have an experienced car accident attorney fighting on your behalf. So take advantage of your free consultation. Even if you decide no to retain our services, we hope that you will be better informed of the claims process and what your specific options are. Remember, seek medical treatment immediately after your accident and talk to an attorney before you speaking with an insurance company. Once you retain an attorney, focus on healing mentally, physically and emotionally, while we fight for the compensation you are entitled to.