Matthews Car Accident Lawyer
According to the U.S. census, the population in Matthews jumped 21% in the past ten years and is expected to climb in the coming years. Current residents of Matthews know that it is a great area to raise a family, but more residents mean more cars on the road, and further traffic congestion increases the likelihood of a car accident. The attorneys at Auger & Auger Accident and Injury Lawyers sincerely hope that you or a loved one never has to experience the devastating consequences of a car wreck. The financial, emotional, and physical tolls can linger years after your accident. However if you were involved in a wreck, our dedicated team of Matthews car accident lawyers and staff will ease you through every step of your claim. We will do our best to help you piece back what has been lost.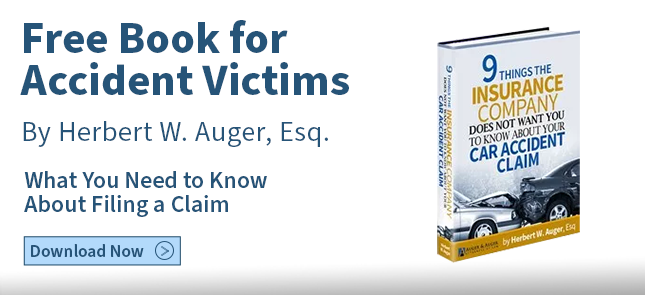 Understanding Your Rights
There are many different types of car accidents. Most are minor fender benders that cause nothing more than property damage. Some accidents, however, result in severe injury or death. In these types of accidents, the first step for all parties involved is to seek medical attention. The most serious accidents can be a result of the following types of negligence:
Distracted Driving
Drunk Driving
Hit & Run
Speeding
Texting & Driving
Reckless Driving
After you receive medical treatment, call one of our Matthews personal injury attorneys for your free consultation. If you were involved in a car wreck due to another party's negligence, you may be entitled to compensation for your past and future medical bills, lost wages due to an inability to work, property damage, and pain and suffering. One of our seasoned attorneys will discuss your accident and injuries with you during your free consultation. We will thoroughly analyze your case, and if we can help you, we will aggressively pursue your claim. Time is of the essence. Our investigators need to prove the other driver was negligent as soon as possible.
What Auger & Auger Matthews Car Accident Attorneys can do for you
Our personal injury attorneys cannot stress this enough: speak to a personal injury attorney before giving the insurance company a statement. Insurance companies are not on your side. They do not have your best interests in mind, only the interests of their stockholders. They will use all available resources to reject, postpone, or reduce your claim. Once retained, our attorneys will handle the following aspects of your claim:
Property damage, such as vehicle repairs or replacement
Medpay, PIP, or no-fault medical claims
Assist you in obtaining medical treatment
Handle all communication with the insurance company
Negotiate a with the insurance company
Litigate when necessary
Our goal is to fight for the maximum compensation you deserve. The attorneys and staff at Auger & Auger Accident and Injury Lawyers will work tirelessly to accomplish a resolution that allows you to recover completely from your accident. Every auto accident is different. Your injuries, losses, and damages are unique and personal to you, which is why we will personalize your case to your needs. Call us today for your free, no-obligation consultation. We will provide you with answers on how to recover the damages you deserve.