North Carolina Truck Accident Attorney
Has a truck accident caused you to be hurt or caused the death of someone you love? North Carolina law provides protection to victims of truck accidents, and you may be entitled to compensation for the harm you've endured. A Charlotte truck accident attorney at Auger & Auger is here to help protect your right to monetary payment for losses.
Within hours of retaining our services, we will send our team of truck accident investigators to gather evidence to support your case. The truck companies and their trained insurance adjusters will already be gathering evidence to minimize the amount of money they will have to pay. Time is critical to gathering evidence, so let us provide you with the assistance you need. Call now to schedule a free consultation and get a truck accident attorney in Charlotte, NC working for you.
Our attorneys will not only come to you and begin putting together a strong claim, but we'll also answer questions you may have including:
What do victims need to prove to get compensation after a Charlotte truck accident?
When can you pursue a truck accident case?
How can a Charlotte truck accident attorney help you?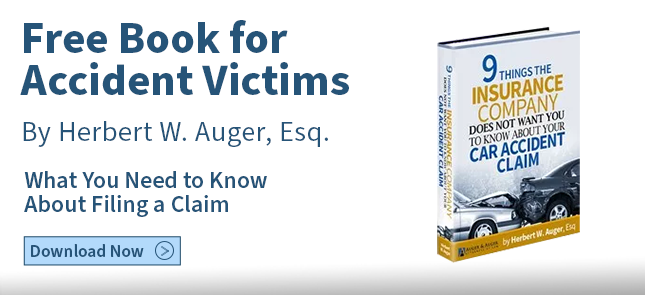 What Do Charlotte Truck Accident Victims Need to Prove to Get Compensation?
Truck crash victims can file a personal injury claim, but must prove that they are entitled to compensation because of the negligence or wrongdoing of a trucker or trucking company. To be able to make your case, you need to gather data after the accident.
The sooner you hire an attorney, the sooner we can take the necessary steps to preserve the critical information stored on the truck's computer. There could be up to 30 critical types of data for our investigators, such as:
Speed of the semi at the time of the wreck
Maintenance issues with the 18-wheeler
Sudden brake application by tractor-trailer operator
Emails between at-fault trucker and the trucking company
Driver seat position prior to crash
Whether the truck driver exceeded regulated hours on the road
The truck's route before the crash
The accident and injury lawyers at Auger & Auger have extensive experience dealing with the trucking companies and their insurance adjusters. We know how to gather the necessary evidence to make sure our clients put together a strong claim to receive the highest award possible.
When Can You Pursue a Truck Accident Case?
You can pursue a truck accident case in court, or negotiate a settlement, if a driver's actions or inactions were the fault of the crash or if a trucking company's negligent policies and procedures caused the accident to happen. Truck accidents occur for many reasons including:
Inexperienced Drivers
Tired Drivers
Drivers on Drugs or Alcohol
Lack of Proper Brake Maintenance
Lack of Proper Safety Devices (reflectors, lights, etc.)
Speeding
Overweight Trucks
Poor Weather Conditions
Insufficient Federal Safety Inspection
Commercial motor vehicles are subject to the rules and regulations set forth by the Federal Motor Carrier Safety Administration (FMCSA). The main regulations pertain to requirements for vehicle inspection, maintenance, and repair as well as the requirement of documentation that daily inspections are being conducted, and the findings of each inspection. Other important regulations include driver qualifications, training, and hours-of-service; and transportation of hazardous materials. The goal of these rules is to prevent common crashes.
If a trucker or trucking company violates FMCSA rules or is unreasonably careless, this can give rise to a claim for compensation. A Charlotte truck accident attorney will carefully evaluate how your accident happened to help you determine if you have grounds for a claim for compensation.
How Can a Charlotte Truck Accident Attorney Help You?
North Carolina is home to nearly 1,300 miles of interstate highways. Auger & Auger Accident and Injury Lawyers provides representation to victims of trucking accidents on all major highways in NC including truck accidents on I-40,  I-95, I-85, I-74, I-26, I-73, and on all of the auxiliary interstates including I-485 and I-540. Whether your accident happened on highways or local roads, we can investigate, deal with the insurer on your behalf, and represent you in court if necessary to get compensation.
Commercial vehicles are required to carry insurance, and unfortunately adjuster do not have your best interest at heart. It is the insurer's goal to pay as little compensation as possible, so make sure you have a dedicated advocate helping you to fight the insurer and pursue a claim for the full and fair compensation you need and deserve.
With over 40 years of combined legal experience, Auger & Auger is ready to stand up to the insurer on your behalf. Call us today to schedule a free case evaluation and learn more about how we can help.