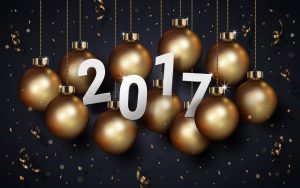 People are starting to think about how they will spend New Year's Eve, if they haven't made the decision already. If you are looking for a great place to eat, drink and make merry, there are several places in Charlotte that will be holding bashes to welcome in the New Year in style. Here is a list of not-to-miss parties around town this year.
1. Romare Bearden Park
This is the official party of the city. Head to Romare Bearden Park at 6 p.m. for this family-friendly event. You and your loved ones will enjoy fireworks, food trucks, crafts, a DJ and games, not to mention the raising of the Charlotte Crown. The event is open to the public and is alcohol-free. Purchase tickets here.
2. The Westin
This event is one of the most popular among adults. The all-inclusive package at The Westin gets you a night filled with music and dance. Playlists spun by DJ Lebron will feature hip-hop, techno-house and rock. Welcome in the New Year with your dancing shoes on.
3. Zomboy at The Fillmore
This party is sure to be as unique as it is entertaining. Presented by Disco Donnie & Sugar Society, the dance party will ensure that you are welcoming the New Year in an exciting way. This DJ is in demand across the globe, and you have a chance to witness the magic right here in Charlotte.
4. McGlohan Theater
Billy Jonas Concert Experience is being held at The McGlohon Theater this year. Bring along the whole family for this interactive music experience. It is rare to see a musician play not only traditional instruments, but make beautiful music using buckets, bells and even the human body.
5. Howl at the Moon
There are several different party packages at Howl at the Moon this New Year's Eve. Choose Standing Room for guaranteed admission, two drinks and a champagne toast. If you are feeling a bit more play in your budget, choose the Champagne Supernova package for seating, a buffet, drinks and a midnight toast. Packages for the party range from $40 to $100.
6. Leroy Fox's A New York
Maybe you dream of a New Year's Eve spent in New York City, but don't have the means or desire to travel. Stay right here in town and attend the New York New Year's Eve Event at Leroy Fox's A New York. You and your guests will enjoy a five-course meal with an amazing selection of New York City-themed cocktails. Tickets for the event are only $70 per person.
No matter how you choose to spend New Year's Eve, make sure that you arrange for a sober ride home if you will be drinking. If you happen to be involved in a car accident in Charlotte during the season or after, call our experienced team of accident attorneys. We will help you schedule an appointment for a free case evaluation at which time we will advise you of your options. In the mean time, browse our website for more information about our firm and the types of cases we have successfully handled.