Charlotte Drunk Driving Accidents Lawyer
A drunk driving accident attorney can provide you with help after you are in a crash with someone who is impaired.  You deserve to be fully compensated for all losses caused by a driver who was irresponsible enough to drive drunk.
Auger & Auger is committed to helping clients who have suffered injuries or wrongful death in North Carolina drunk driving accidents. We will fight for your rights, so give us a call as soon as possible after a collision occurs.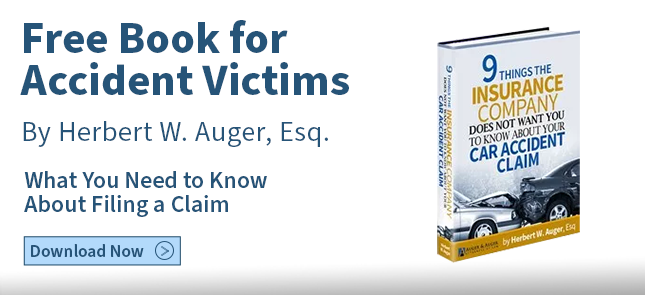 Drunk Driving Accident Statistics in Charlotte
The National Highway Traffic Safety Administration reports that one person is injured every two minutes in an alcohol-related accident, and one person is killed every 31 minutes in a drunk driving crash.
Motorists in Charlotte have a significant chance of being involved in a car accident with a drunk driver. Insurance.com unfortunately ranked Charlotte as having the 3rd highest percentage of motorists with alcohol-related traffic convictions in the country.
While drunk driving is common in Charlotte, it is still against the law. In the years following the creation of MADD (Mothers Against Drunk Driving), the National Minimum Drinking Age Act was passed. This law required every state to make it illegal to purchase alcohol before the age of 21. All states have also made it illegal to operate a motor vehicle with an .08 percent or higher blood alcohol concentration.
Because the laws prohibit drunk driving, it can be easier for crash victims to take legal action against a drunk driver. You don't have to prove the driver was negligent to get compensation. You can recover monetary damages for medical costs, wage losses, pain, and emotional distress as long as you can show the other driver caused the crash because he was intoxicated.
DUI VICTIMS ARE ENTITLED TO PUNITIVE DAMAGES
When a drunk driver hurts you, you are not only entitled to compensatory damages for actual losses. North Carolina law also allows punitive damages after DUI accidents.
Punitive damages punish the defendant for his actions and are awarded in addition to compensation for actual financial loss.  Because of the availability of punitive damages, it is usually possible for victims of DUI accidents to negotiate higher settlements when pursuing injury claims.
Most consumers are not aware of their right to punitive damages in a drunk driving accident claim and can be taken advantage of by an insurer. The attorneys at Auger & Auger know the value of personal claims involving DUI drivers and our drunk driving accident attorneys will fight hard to make sure their clients get the highest settlement possible.
Getting Help from a Drunk Driving Accident Attorney in Charlotte
After a car accident involving a drunk driver, it is critical that you speak with an experienced drunk driving accident lawyer so a proper investigation can be conducted on your behalf. The insurance company for the drunk driver will conduct their own investigation and will try to minimize their losses. You need someone on your side.
At Auger & Auger Accident and Injury Lawyers, our attorneys have represented alcohol-related accident victims for over 25 years.
We know that when someone suffers a serious injury or wrongful death due to a drunk driver, the result is significant physical, emotional, and financial hardship. Our job is to handle all aspects of your claim to get full compensation for these damages. We try hard to take the pressure off your shoulders, help you heal faster and give you some peace of mind.
To find out more about how our car accident lawyers in Charlotte, NC can help you, contact us now for a free case evaluation. Your consultation is free, no matter how long it takes.
Appointments can be scheduled at our office, at the hospital, at your doctor's office, or in your home. Give us a call now to learn more.