Charlotte Accident Lawyer For Rear end Collisions
Rear-end collisions are the most common type of Charlotte accident and can cause serious injuries throughout North Carolina.  If you or a loved one is hurt in a rear-end accident, you should get help. You may be entitled to compensation and Auger & Auger can assist you in getting the money you deserve.
For decades, our experienced Charlotte rear-end accident lawyers have been fighting for the rights of victims. Give us a call if you or someone you love was harmed in a rear-end accident. We'll schedule a confidential, free consultation with a member of our legal team so you can learn more about your options for recovering monetary damages for crash losses.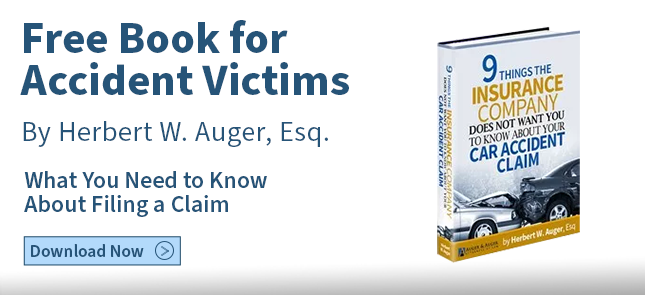 CHARLOTTE INJURY ATTORNEYS / REAR-END ACCIDENTS
Charlotte has seen a steady population growth. This rising population has resulted in excessive traffic, as new roads can't be built fast enough and old roads can't handle the volume. With heavier traffic congestion comes more rear-end accidents.
When a rear-end accident shatters your life, Auger & Auger Accident and Injury Lawyers is devoted to helping you get back to normal. In the aftermath of the crash:
You may need medical attention but could be worried about who will pay the bills
Your car may not be drivable
You may be worried about missing work and about whether you can afford to take time off
The insurance companies know that you are vulnerable at this time, so they may try to take advantage of you. They can do this by taking your recorded statement and trying to get you to say something you don't mean, or by offering you a low-ball settlement offer.
You need an experienced attorney on your side to make sure you don't jeopardize your right to compensation. At Auger & Auger, we have over 40 years combined legal experience dealing exclusively with car accident injury cases. We will deal with the insurer on your behalf, so you do not have to.
Distracted Driving Usually The Cause of Rear-end Collisions
Rear-end collisions usually come without warning. Drivers typically focus on their front and sides, not the rear of their vehicle. Even if a driver is aware of an impending impact from the rear, there is often no evasive action that can be taken to avoid a crash.
Most rear-end collisions happen when the at-fault driver is:
Distracted or not paying attention
Following too closely
Trying to beat a changing light
Changing lanes unsafely,
Speeding
Intoxicated
In hazardous driving conditions, such as heavy rain, snow or fog, a rear-end collision can occur when a driver does not adjust his speed for the conditions.
Normally, it is the driver of the rear car who will be found liable for injuries and damages. The exception to this general rule is when three or more cars are involved and there is a chain reaction collision. In that case, the driver of the car that started the chain reaction that would be responsible.
WHIPLASH, NECK & BACK INJURIES IN CHARLOTTE CAR ACCIDENTS
Rear-end accidents frequently cause neck injuries, back injuries, and whiplash.
Whiplash, which is a hyperextension/hyperflexion injury, results from the head being violently forced forward and then immediately whipped backwards. This happens often in rear-end accidents and the force stretches the neck structures beyond the normal range of motion, causing pain and stiffness. Symptoms may not appear until a day or two following an accident.
Back injuries occur when stress is placed on the muscles and ligaments that support the spine, forcing abnormal range of motion.
These injuries can affect your range of motion, cause missed time from work, and can be costly to treat. You need to get compensation for all of these damages if another driver was to blame.
Free & Confidential Consultation
If you or a loved one has been injured in a rear-end collision, the personal injury lawyers at Auger & Auger can provide the help you are looking for. For your free and confidential consultation, contact Auger & Auger Accident and Injury Lawyers to discuss your rights.
If you or a loved one has been injured in a rear-end collision, the car accident lawyers in Charlotte and throughout North and South Carolina at Auger & Auger can provide the help you are looking for.