How an Automobile Accident Attorney in NC Can Help
When you suffer an injury in an auto accident in NC, you may be tempted to handle your claim on your own. You may have concerns about legal fees and talking to an attorney. However, with 35 years combined experience handling car accident injuries, the lawyers of Auger & Auger understand the importance of communication and qualified representation.
First, we work on a contingency basis—this means we receive no payment until we have won a settlement for you. More importantly, we listen to you and explain what to expect from every step of your case.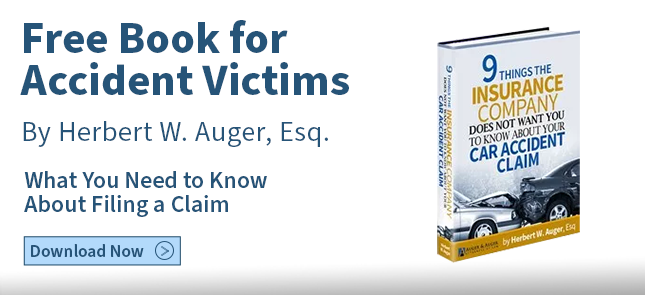 The most important purpose of hiring North Carolina automobile accident lawyers is to make sure that you receive the full and just compensation that the law entitles you to receive. North Carolina law allows you to seek damages for the following after an auto accident:
Damaged property
Future estimated expenses
Lost ability
Lost wages
Medical bills
Pain and suffering
Any other costs
If you speak with an insurance agent or the negligent party, you may accidentally make a statement that costs you some or all rights to damages. Do not admit fault or sign any paperwork without at least a free consultation with Auger & Auger.
NC automobile accident attorneys are familiar with the local courts
Since the inception of the firm in 1994, Auger & Auger has represented auto accident victims in Charlotte and throughout North Carolina. During this time, our attorneys have become familiar with the local court representatives and the procedures necessary to settle your case efficiently.
With more than 35 years combined experience, the NC automobile accident lawyers of Auger & Auger have earned the respect of our peers and the judiciary. With three offices in Charlotte, and satellite locations throughout the state, we offer solid representation for all of North Carolina.
An automobile accident attorney in NC guides you through the process
Our NC auto accident lawyers can begin helping injury victims as soon as an accident occurs. We collect evidence, prevent errors, and offer you the advice you need to make an educated decision on how to proceed.
When necessary, we utilize our working relationships with the following experts and have them testify as to the facts in your case:
Accident reconstructionists
Accountants
Doctors
Physical therapists
Contact experienced automobile accident lawyers in NC
After an auto accident injury, you need representation you can count on. Auger & Auger has numerous locations in Charlotte and throughout North Carolina to serve you. You can schedule a free consultation at any of our offices, or our lawyers can come to you.
Call Auger & Auger today at (704) 364-3361, or contact an automobile accident attorney in NC online.