What to Do after a Car Accident
Car accidents can be traumatic, confusing, and stressful. At Auger & Auger, we understand how challenging the aftermath of such a crash can be to drivers and their passengers. As personal injury attorneys with more than four decades of combined experience, we have helped thousands of car accident victims throughout North Carolina facing every imaginable consequence that can follow.
No matter what type of car accident you are involved in, handling yourself calmly and intelligently at the scene can be challenging but remains vitally important. You will need to engage in basic steps to facilitate the insurance claim process as well as to ensure that your health and that of others is protected. Keeping your cool and understanding what is required at this critical time can make the task easier.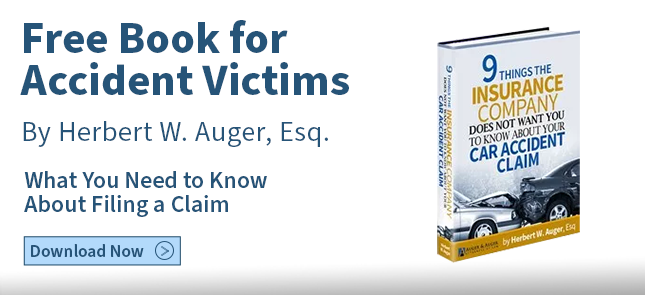 Stop at the Scene
In any type of accident, your first step is to stop at the scene and render aid and assistance to anyone who may have been injured. Even in a minor fender-bender, you won't know if anyone is hurt unless you stop. Leaving the scene of an accident can be considered a hit-and-run, leaving you open to criminal penalties. Once you stop, you need to ensure that medical attention is provided for anyone who is injured by calling 911. In cases of physical injury, death, or vehicle damage, the police will normally arrive to make a report. It's a good idea to request such a report so you have an official written record of the accident. You should also obtain the name and badge number of the officer making the report.
Information Required at the Accident Scene
Auto insurance is mandatory in most states with minimum coverages outlined by law. The Division of Motor Vehicles [open nofollow link in new window/tab] lists the minimum coverage requirements for North Carolina. Obtaining the personal identification and car insurance information from other drivers in any accident is therefore necessary. Information to collect includes:
Name, phone number, address
Driver's license number
License plate number
Insurance company and policy number
Vehicle identification numbers (VIN)
While doing so, remain polite and businesslike. Don't yell, accuse, or apologize. Don't discuss liability issues such as saying the accident was your fault, that you didn't see the other driver, or that you did anything wrong which can leave you open to legal action. Leave the liability issue to the officials and insurance companies. In fact, don't discuss the accident at all with anyone. Answer questions from the responding officer or your insurer only.
It is also important to get any witnesses' names, addresses, and phone numbers. It's also a good idea to take pictures of the accident scene including skid marks, the roadway, vehicle debris, and nearby street signs, damage to your car, and any visible injuries you may have sustained. These photos can provide important documentation to your insurance claim.
Medical Care Following an Accident
Ensure that you get proper medical care. In many cases, physical effects such as whiplash, bruises, torn ligaments or muscles, and other injuries may not surface for 24 hours or even days afterward. Keep track of your injuries and get medical help as soon as you realize you have been injured. Request medical reports and keep a log of the treatments and medications you receive as well as how your injuries affect your daily life.
Protect Yourself against Insurance Representatives
Don't discuss the accident with the insurance company. Anything you say could later be used against you. Protect yourself by having them deal with your attorney or your own insurer. Don't sign any settlements or agreements because you may wind up signing away future rights to legal recourse.
Consult with Auger & Auger
If you've been injured, get experienced legal advice from Auger & Auger Accident and Injury Lawyers. You can discuss your case in a free consultation with one of our skilled attorneys who can review your situation, advise you on what to expect, and represent you throughout the claims process. Contact us at (855) 971-1114 to get started today.