Auto Accidents Litigation
The Process for Filing an Auto Accident Lawsuit in NC
While you are recovering from an auto accident in NC, you may not be thinking about how to protect your rights and receive compensation for your damages.  The lawyers at Auger & Auger understand your concerns and we handle your accident claim while you focus on getting better.
A NC automobile accident lawsuit can get you the compensation you deserve for the following:
Damaged property
Estimated future medical expenses
Medical bills
Lost wages
Pain and suffering
Rental car costs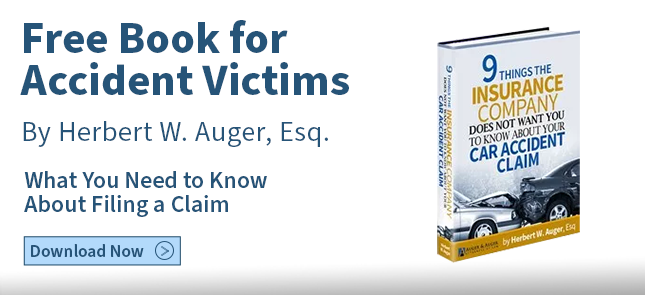 Reaching a settlement before filing a North Carolina car accident lawsuit
A lawsuit can be time-consuming and expensive. Whenever possible, Auger & Auger negotiates with insurance companies and negligent parties to reach a settlement that meets your needs. We collect evidence and prepare each case for litigation, showing the insurance companies that we are prepared to take your case all the way if necessary.
However, some insurance companies can be unreasonable and others may simply view the facts differently. In either case, they refuse to compensate you for all your damages. In those situations, we aggressively litigate your case before a judge and jury.
An overview of the litigation process
It is important to us that our clients remain informed throughout the claim process. A typical lawsuit usually involves the following steps:
Discovery
Depositions
Motion hearings
Mediation
Trial
A NC auto accident attorney from Auger & Auger provides guidance throughout a car accident lawsuit. With our advice and experience, you can make an educated decision about the best way to handle your accident claim. We make sure you never feel alone throughout the claim process.
Get help with an automobile accident lawsuit in NC
Even the smallest mistake can jeopardize your claim. Guidance from an experienced law firm such as Auger & Auger prevents an error from costing you the compensation you deserve.
Allow us to discuss your options during a free initial consultation. We have three offices in Charlotte and satellite offices throughout North Carolina. If your injuries prevent you from traveling to our office, our NC car accident attorneys can meet you at the hospital or your home.
There is no risk to you. You pay no upfront costs or attorneys fees. We receive payment after we win a judgment or settlement for your damages. Call Auger & Auger Accident and Injury Lawyers today at (704)364-3361 or use our web form to get help with an NC automobile accident lawsuit.