Greensboro Truck Accident Lawyer
The Greensboro truck accident lawyers at Auger & Auger have been representing victims and their families in truck accident claims for over 20 years. With two major interstate highways crisscrossing through Greensboro, massive 18-wheeler trucks are common on the road and because semi-trucks cannot accelerate, decelerate, or maneuver like a car, truck accidents can be very serious and even fatal.
After an accident with a tractor trailer truck, box truck, or other large utility truck, victims are left not only with physical injuries, but often times with the psychological scars of being hit by something so massive, and perhaps narrowly escaping with their lives. At Auger & Auger Accident and Injury Lawyers, we are compassionate to all of our client's injuries, and can even help you find the medical care you need. We provide every client with personal attention and handle all aspects of their case so that they may concentrate on their recovery.  While clients are focusing on their medical treatment, we immediately begin conducting our own investigation into the facts surrounding their case. With so much at stake, you can be sure that the insurance company for the at-fault truck will be conducting their own investigation in effort to minimize any potential settlements. Our Greensboro truck accident attorneys will work to protect your rights and get you the settlement you deserve.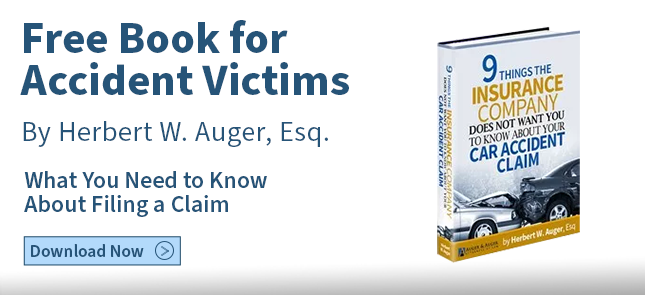 How Dangerous Greensboro Truck Wrecks Happen
Jackknifing occurs when the cab brakes, causing the weight of the trailer to push the cab forward and then distorting it backwards. The truck driver therefore loses all control of the vehicle.
Rear-end collisions occur when the cab tries to brake, but the weight of the trailer pushes the cab forward into the vehicle in front.
Turning a corner in an 18 wheeler can be difficult, especially on narrow roads. Some truck drivers miscalculate the space they have to make a turn or fail to see other cars or pedestrians.
Trucks are more vulnerable to rolling over because the weight of the trailer is not low to the ground.
Unsecure loads can fall of the truck, causing major damage or serious accidents to surrounding vehicles.
Truck Accident Claims Are Complex
Tractor trailers were involved in 3,432 North Carolina accidents in 2012 alone, with 991 of those accidents involving injuries, as stated by the North Carolina Traffic Crash Facts. The sheer size and weight alone can make an accident with an 8-wheeler deadly. If you or a loved one was involved in a truck accident, you need to act fast. Because many tractor trailers are owned by larger trucking companies, they often have the resources to hire investigators and lawyers to gather evidence in a case against you so the trucking company does not have to pay what can a large amount of damages. Truck accident claims can be even more problematical if other parties are involved, such as the truck driver or the company that leases the trailer to the trucking company.
Fighting your case on multiple fronts is something that our team of Greensboro truck accident attorneys is experienced with. Auger & Auger has been providing victims of truck accidents with the assistance they need when navigating through messy accident claims. Our staff understands that injuries from a semi-truck accident can be critical and that you are entitled to compensation for your medical treatment, medical bills, lost wages due to your injuries and property damage. We always have your best interests at heart and are committed to obtaining a fair settlement on your behalf.
We Only Charge If We Win
When you call Auger & Auger Accident and Injury Lawyers, you will speak with one of our attorneys specializing in truck accidents at no cost to you. Once retained, we will gather evidence to build up your case, handle the adverse insurance companies and fight for a fair settlement. In the meantime, our dedicated staff will make sure you receive the proper medical treatment you need and that you heal from your injuries. We believe that our clients deserve nothing but the best; that is why we only charge a legal fee when we win.