Greensboro Motorcycle Accident Lawyer
If you or a loved one is a victim of a motorcycle accident in Greensboro or surrounding areas, the Greensboro motorcycle attorneys at Auger & Auger Accident and Injury Lawyers can help you navigate through the tough days and weeks ahead. "Our biker clients usually sustain serious injuries following a motorcycle wreck. The hours and days following the crash are critical to protecting our clients' rights. Our job is to help them find them quality medical care, send our investigative team to the scene to lock down the investigation and deal with the insurance company and their adjusters," says attorney Herb Auger.
North Carolina's climate offers the perfect opportunity to enjoy riding throughout most of the year. Unfortunately, accidents do happen. In 2012, 3,472 motorcycle accidents in North Carolina involved injuries, while 161 motorcycle wrecks were fatal, as indicated by the North Carolina Traffic Crash Facts. In the event that you or a loved one is involved in a motorcycle accident, it is imperative that you contact an experienced Greensboro motorcycle accident attorney. Auger & Auger has been helping victims of motorcycle accidents and their families receive fair settlements for over 20 years.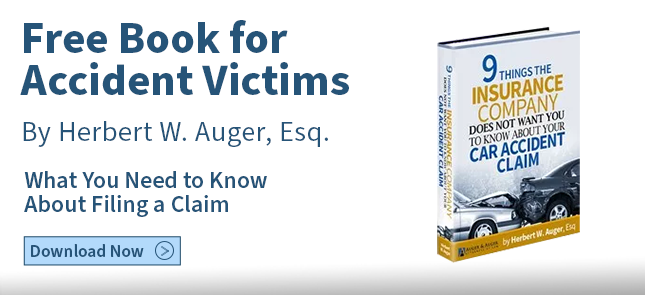 Motorcycle Wrecks Can Involve Serious Injuries
We understand that injuries as a result of a motorcycle crash can be more severe because motorcycles offer less protection, making drivers and passengers susceptible to careless car and truck drivers. Because motorcycles are smaller than a passenger vehicle, they are often difficult to see, especially at night. Oftentimes, other motorists fail to treat riders with the same rights on the road. Texting while driving, driving while impaired, speeding and other distractions by fellow motorists can mean a fatal accident for motorcyclists.
Fortunately, our Greensboro motorcycle attorneys have years of experience when it comes to protecting the rights of accident victims. The sooner you speak with one of our Greensboro motorcycle wreck attorneys, the faster we can begin conducting our own investigation into the facts surrounding your particular case. In order to recover damages, the other driver must be found to be 100% at fault, and you can be sure that the insurance company for the other vehicle will try to prove that you were at least partly responsible for the wreck. With over 20 years' experience handling only injury cases, Auger & Auger can help you recover damages for:
Pain and Suffering
Lost Wages
Unlike some of our sister states, North Carolina requires the use of a helmet. Helmets saved the lives of 1,617 motorcyclists in 2011 and could have saved 703 more lives if a helmet had been worn, as indicated by the NHTSA. In many cases, wearing a helmet is a matter of life and death. Even if a biker is not wearing a helmet at the time of the crash, they may still have a claim for their head and brain injury. Call us before you speak with the at-fault driver's insurance company. This call could save you thousands of dollars.
Free Consultation with a Motorcycle Accident Attorney in Greensboro
When you call Auger & Auger Accident and Injury Lawyers, one of our motorcycle injury attorneys will speak with you about your case at no cost. Once retained, we will start gathering evidence to build your case, deal with the insurance companies and make sure you get the proper medical treatment you need. We represent both victims of motorcycle crashes and family members who lost a loved one in a motorcycle accident. We do not charge our clients a legal fee until we reach a settlement on your behalf. We understand the emotional and physical toll a motorcycle accident can present, which is why we have been dedicated to fighting for victims rights since 1994.
Call Us Today at (336) 589-6035
No Fee Unless We Win!