NC Texting Law Attorney
Driver distraction is the most common cause of car accidents involving serious injuries and fatalities. In the old days, driver distraction was usually due to tuning in a radio station. Today, there are countless gadgets to distract drivers, from GPS devices to SmartPhones and even social media. Drivers paying attention to these gadgets can cause serious harm to other motorists.
The car accident attorneys at Auger & Auger help victims of accidents caused by distracted drivers. We can help you, regardless of whether you are dealing with your own insurance company or the insurance company of the driver who caused your wreck. Give us a call now to find out about the assistance we can offer.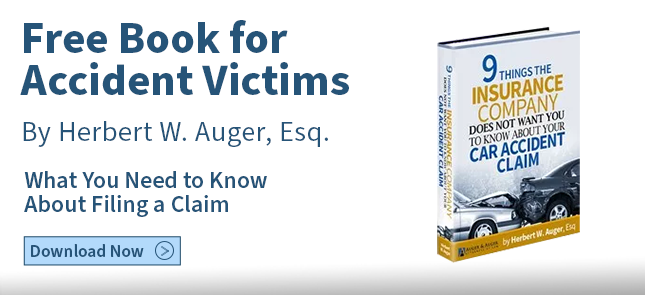 North Carolina Texting While Driving Laws
If a car accident victim can prove a driver violated a safety law, this creates the presumption the driver was negligent. This presumption can make it easier for crash victims to make an injury claim.  Car accident victims need to know the laws on distracted driving in North Carolina so they can determine if the person who hurt them violated the rules.
In the absence of an emergency situation, North Carolina law prohibits anyone under the age of 18 from using a cell phone while driving a vehicle that is in motion.
For motorists over the age of 18 the law prohibits texting while driving, as well as the reading of any texts or emails behind the wheel.
Unfortunately, a good amount of motorists are ignoring these distracted driving laws.
An informal study conducted by State Farm Insurance Company in 2012 found that almost 20 percent of drivers admitted to using their cell phone to access the Internet while driving.
The National Highway Traffic Safety Administration (NHTSA) also estimates that at any given moment of the day, more than 800,000 motorists are using a hand-held cell phone.
When someone violates distracted driving laws and causes an accident and injury, monetary damages are appropriate. A North Carolina car accident attorney can help.
Using Cell Phone While Driving is Similar To Drunk Driving
Using a cell phone while driving can have a major impact on a motorist's abilities. In fact, the National Highway Traffic Safety Administration warns that distracted driving is similar in important ways to drunk driving.
Drunk drivers usually experience a delayed reaction time when their blood alcohol content reaches the legal limit of .08 or higher.  Drivers who are on a phone experience a similar delay in reaction times.
This slower reaction time doesn't just happen when physically holding the phone either.  Both drivers who are using a handheld device and drivers who are using a hands-free device have slower reaction times and are more likely to cause crashes as a result.
North Carolina Car Accident Lawyers Can Help
If you get into a car accident with a distracted driver, you need legal help to make sure you get the compensation you deserve from that motorist's insurer.
Contrary to the commercials you see on television, the insurance company is not on your side and your are not in "good hands," even with your own insurance provider.
Insurance adjusters are rewarded for how much money they "save" the insurance company. This savings comes from giving you the least amount of compensation possible. When you are not represented by a seasoned injury attorney, you may end up accepting a minimal settlement offer from an insurance company, or may overlook additional compensation you might be entitled to.
The accident and injury lawyers at Auger & Auger have over 40 years of combined legal experience in handling exclusively personal injury cases. We can help you obtain compensation for:
Medical Bills
Future Medical Treatment
Lost Earnings
Pain and Suffering
Property Damage
Let a car accident lawyer fight to get you the settlement you deserve.
Talk To A Car Accident Attorney For Free
Auger & Auger Accident and Injury Lawyers is ready to get started on your case today if you have been hurt by a distracted driver. With three offices in Charlotte, as well as offices in Greensboro and Raleigh, we are available at your convenience. To learn more about how we can help you, contact us now to schedule a free consultation with a North Carolina distracted driving lawyer.