Eight unrestrained children between the ages of 5 and 15 were injured in a Charlotte car accident and were transported to CMC on Monday after the car they were passengers in went through a red light, crashing into a car in the right-of-way. Tonya Hamilton was issued traffic violations for No Insurance, No Child Restraint, No Inspection, and Revoked Tag, and police charged her with causing the accident by disregarding traffic signals. Independent witnesses observed Ms. Hamilton run the red light at the intersection of Nations Ford Road and Arrowood Road at an estimated 35mph.
Police found that 7 of the children were in the second and third rows of the SUV Hamilton was driving, yet those rows are only intended to accommodate 6 passengers. Police also found that there were no child booster seats, no child restraint systems, nor any visible lap belts for any of the children.
North Carolina law requires that children under the age of 8 and less than 80 pounds to be secured in a weight-appropriate child passenger system, and all other passengers under the age of 16 to be secured in a child passenger restrain system of seat belt that meets federal standards. In fact, North Carolina law requires all occupants of a moving vehicle, regardless of their position in the car, to have a seatbelt properly fastened about their body.
Car Crashes the Leading Cause of Death in Children Over the Age of Three
According to the National Highway Traffic Safety Administration (NHTSA), car accidents are the leading cause of death in the United States for children over the age of three. NHTSA has published an easy to follow guide on the age appropriate restraints for children. NHTSA estimates that nearly 3 out of 4 parents are using their child restraints incorrectly. For a child safety restraint system inspection near you, click here.
Photo courtesy of Tracy Benn
In our North Carolina Car Accident Attorney Blog, we recently wrote an article, New Approach to Teach Teens Danger of Texting While Driving. In that article, we described a video that was shown to teens participating in the program, illustrating the danger of texting while driving. AAA Carolinas has announced that it will be airing the video over the upcoming July 4th holiday weekend. That video can be seen by clicking here. WARNING: This video is graphic.
Monday morning, WSOC-TV reported that an early morning crash in Charlotte, NC closed Harris Boulevard at Grier Road for several hours. The accident involved a woman driving the wrong way on WT Harris Boulevard. Police closed the roadway for several hours while investigators tried to determine the reason for the crash, as well as for clean up efforts.
Witnesses report seeing a woman driving eastbound in the westbound lanes of WT Harris Boulevard shortly after 4:00am. Witnesses state that before crashing, the woman was seen nearly striking three other cars and weaving from lane to lane before ultimately striking an SUV head-on.
Police have not release the name of the wrong-way driver, nor the names of the victims. The at-fault driver remains in Carolinas Medical Center with critical injuries.
Minimizing your risk for a head-on crash
While oftentimes, it will be nearly impossible to avoid a head-on collision, there are steps you can take to minimize your risk.
*Allow a safe distance between you and the car in front of you
*Watch 15-20 seconds ahead for cars braking and entering and exiting the roadway
*Watch all directions as you enter an intersection
*Maintain appropriate speed-going too fast decreases the time to take evasive action
*Always be aware of the spatial relationship between your car and others
A North Carolina motorcycle accident left the motorcycle driver and passenger critically injured. According to witnesses, a motorcycle driven by 24 year old Bruce Offenbacker, was traveling over 100 mph when he crashed head-on into a pick-up truck. The force of the collision caused Offenbacker to be thrown 97 feet, and his passenger, 20 year old Jasmine Shope, was thrown 154 feet.
According to investigating officers, the pick-up truck was making a left turn into a gas station. At the point where the pick-up truck driver stopped to make his left turn, officers measured approximately 550 feet of visibility down the road before visibility was lost due to the peak of a hill. An Iredell County Trooper was immediately behind the pick-up truck and confirmed that he never saw the motorcycle until the crash. Witnesses at the gas station estimate Offenbacker's speed at over 100mph.
Offenbacker is no stranger to the criminal justice system. He has multiple prior convictions for both speeding and drug related offenses. He is currently awaiting trial for yet another speeding offense as well as possession of a fictitious vehicle title/registration/tag. If it is proven that Offenbacker was in fact traveling as fast as witnesses claim, it can give rise to a claim for punitive damages to anyone injured in this accident.
Punitive Damages
In North Carolina, victims who are injured by a reckless driver may be entitled to recover Punitive Damages. Punitive Damages are money damages that are separate and distinct from compensatory damages. Punitive Damages are intended to punish a defendant for "egregiously wrongful acts and to deter the defendant and others from committing similar wrongful acts." The injured party must prove one of three things before recovering Punitive Damages: fraud, malice, or willful or wanton conduct. Operating a motorcycle at such excessive speeds would indicate a reckless disregard, or wanton conduct, on behalf of Mr. Offenbacker.
North Carolina State Highway Patrol Officers acknowledge the difficulty of enforcing North Carolina's ban on texting while driving. In their efforts to teach teens the danger of texting while driving, troopers are visiting North Carolina high schools with a program designed to deter the illegal act.
The students watch a video that re-enacts a traffic fatality involving a teenage girl texting while driving, and then drifting into oncoming traffic, ultimately killing the occupants of her vehicle, as well as those in the oncoming vehicle.
Following the video, the students participate in an obstacle course while driving a golf cart. On the first run, students navigated through orange traffic cones without texting. During their second run through the course, they were instructed to read and respond to a text message while driving through the course. One of the teens hit 15 cones while texting and driving through the course.
The results were no different in White River Junction, Vermont, where troopers, following the program initated in North Carolina, ran students through a similar program. One of the Vermont students readily admitted to striking 11 cones while texting and driving.
The aim of the program, of course, is to save lives. The captain of the Vermont Department of Motor Vehicle enforcement found a 400% average increase in driving errors and dramatically decreased reaction time.
The National Safety Council (NSC) estimates that cellphone use, whether talking or texting, is responsible for 1.6 million crashes, or 28%, per year. They also report that people who text while driving are 8 to 23 times more likely to crash. These are exactly the statistics troopers hope to reduce through their "dnt txt & drv" program.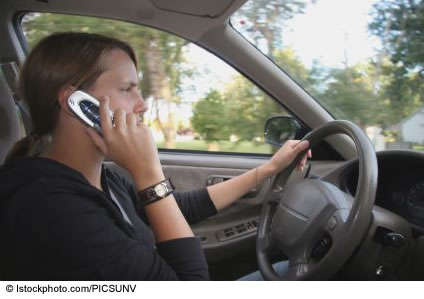 North Carolina law prohibits motorists under the age of 18 to use a cellphone, yet a study by the Insurance Institute for Highway Safety (IIHS) has found that since the enactment of this law, teen cellphone use in North Carolina has actually increased.
As part of its study, IIHS watched teen drivers as they drove away after school in the afternoon. Before the law went into effect, researchers noted that 11% of teen drivers were using their cellphones as they drove away from school. A few months after the law took effect, researchers found that almost 12% of the teen drivers were using their cellphones as they drove away from school.
Ironically, the study also found that teenagers were more likely to even be aware of the ban on cellphone use for drivers under the age of 18, than their parents. The study reported that 39% of parents knew of the ban, while 64% of their teens knew about it.
Not surprisingly, however, teenagers did not support the ban as strongly as their parents. Of the parents and teens that were aware of the ban on teen cellphone use while driving, 95% of parents supported the ban, while only 74% of teens supported it. Eighty-eight percent of the parents surveyed reported that they restricted their teenager's cell phone use, but only 66% of teens admitted that their parents restricted their cellphone use.
Despite the ban on cellphone use for teens under the age of 18, almost half of the teens surveyed by IIHS admitted that they still used their cellphone while driving.
With enforcement nearly non-existent, teens are likely to continue to use their cellphones while driving. If you have been injured due to a driver who was distracted by cellphone use, you may be entitled to recover damages. Contact our North Carolina accident and injury lawyers today for more information.
Five middle school children were recently injured when their bus rear-ended an SUV. Driver, Charles Wynn, was found to have a blood-alcohol level of .20, which is five times the legal limit for the operator of a school bus. He was charged with DWI of a Commercial Vehicle, Operating School Bus after Consuming Alcohol, and Driving While Impaired. His license was immediately revoked and a trial is set for August 12, 2010 for the outstanding charged.
Injuries resulting from school bus accidents are very infrequent. In fact, according to the National Highway Traffic Safety Administration (NHTSA), a school age child is 61 times more likely to die in a crash in a passenger vehicle than on a school bus. That study also found that in a 10 year period, almost 5,600 school age children were involved in fatal accidents while in a passenger vehicle, whereas in that same 10 year period, 37 fatalities occurred while a passenger on a school bus.
Drunk Driving
Accidents involving drunk drivers occur far too often. It is most shocking when the people we entrust to safely transport our children, their school bus drivers, are the ones who are driving drunk.
A teenager, who witnesses say could not swim, drowned Saturday in a public pool in High Point, NC. It is unknown why the 17 year old Anthony Hayes was in nearly 13 feet of water when it has been reported that he was unable to swim.
North Carolina law requires that there be a minimum of 24 square feet of water surface area, per person, in areas of the pool that are deeper than 5 feet. Investigators also report that there were 5 lifeguards on staff at the time of the incident. One of the lifeguards noticed the teen under water in the deep end and he retrieved the teen and immediately started CPR.
The American Academy of Pediatrics (AAP) reports that drowning is the second leading cause of death in children ages 1 through 19, with toddlers and teenage boys being the highest risk. The AAP recommends that children above the age of 4 learn how to swim.
Our North Carolina attorneys are familiar with the laws governing both public and private swimming pools.
Records show that Daniel Burton Wilson, II has a prior arrest for Driving While Intoxicated, back in 2009. Wilson plead guilty to Driving After Consuming an Alcoholic Beverage Under Age 21, and the judge gave him a Prayer for Judgment Continued. In 2008, Wilson was convicted of Possessing a Malt Beverage/Unfortified Wine by Someone who is 19 or 20. He has also been convicted twice for No Operator's License. All of this begs the question, was Wilson drunk again when he hit the six cyclists on May 19, 2010? Perhaps we will never know. Wilson did not turn himslef in to the Cabarrus County Sherriff's Office until several hours later. Did he go home to sober up before turning himself in? One can only speculate. He is scheduled to appear for a probable cause hearing on June 15, 2010. Stay tuned for more updates.
Twenty-eight states, including North Carolina, have made it illegal to text while driving, yet some drivers are still doing it, sometimes with devastating consequences.
Early on the morning of May 30, Jedadiah Allen Woodcock struck 2 North Carolina pedestrians in Wrightsville Beach. Wtinesses observed Woodcock speeding in the direction of the pedestrians, strike them, and then flee the scene.
Investigating police officers found Woodcock's cell phone on the floor of the car with a partially written text message appearing on the screen, as well as marijuana and rolling papers. Investigators say that Woodcock blew .09 in a breathalyzer test.
In addition to violating the no texting law, Allen was also charged with driving while impaired, possession of up to ½ ounce of marijuana, and two counts of aggravated felony with serious injury by vehicle. If convicted, it will be his second DWI conviction in less than a year.