Car Accident With Inanimate Object? Call A North Carolina Car Accident Attorney
A car accident in North Carolina involving an inanimate object can cause as much property damage and serious bodily injury as a car wreck caused by a drunk driver. Crashing into a tree, a lamp post or a guard rail may raise questions, but that does not mean that you cannot file claims with your insurance company or with a court to recover your losses. If you have been involved in a car accident with an inanimate object, whether your vehicle hit the object or the object struck your car, contact the experienced car accident attorneys at Auger & Auger Accident and Injury Lawyers. The legal team at our North Carolina law firm has over 40 years of combined experience in helping clients pursue compensation and other benefits for which they are eligible.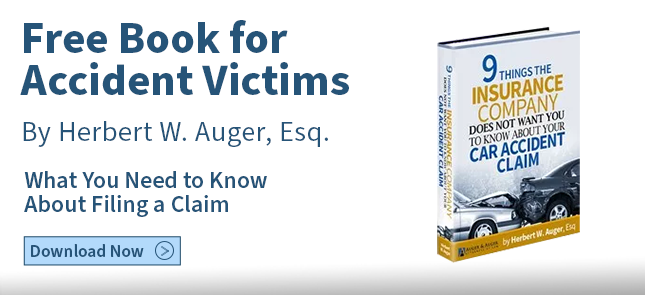 Our esteemed lawyers, Herbert W. Auger and Arlene P. Auger, understand the dilemma drivers find themselves in after their vehicles are damaged or totaled. Auger & Auger provides legal advice and legal representation to clients who have to deal with insurance companies and questions over who is actually responsible for the accident.
Your Auto Insurance Company Will Investigate
Insurance companies treat single-car collisions just as they do wrecks involving two or more vehicles. If you have collision coverage, your auto insurer will investigate the incident prior to taking care of damages to your car. Inanimate objects that have been known to cause accidents or damage autos include:
Roadway debris, such as dead animals, blown-out tires, objects fallen off of trucks
Fallen trees or electrical poles
Fallen traffic signs
Fallen rocks
Guard rails
Fences
According to the North Carolina Department of Insurance, state law does not require vehicle owners to have collision coverage. However, if you have a loan on your auto, your loan company will require that you carry collision coverage on your vehicle until the loan is paid off.  Check your auto policy to determine whether you have collision coverage.
Depending on the circumstances, a local or state government responsible for maintenance may be held liable if roads or highways were not cleared of the debris that caused an accident. The governmental entities could also be held responsible for failing to monitor or cut down rotten trees, tree limbs or damaged or fallen traffic signs that pose a threat to motorists. Additionally, a private individual or business owner may be liable for a fallen or rotten tree or other object that was not removed and caused damage to a vehicle or injured a driver.
You May Not Be At Fault
Auger & Auger attorneys may discover that your vehicle has a safety defect that caused you to lose control. In 2014, GM recalled  thousands of vehicles due to a faulty vehicle part that caused single-car accidents resulting in drivers either suffering serious bodily injuries or death. In one fatal incident, a driver lost control of the vehicle due to the defective auto part and hit a sign post, guard rail and two trees. You may be eligible to pursue a claim against the manufacturer for failing to report the safety defect in a timely manner and for failing to repair the defect. Our attorneys can assist you in recovering damages that may have occurred as a result of a manufacturer's negligence.
Determining who is liable for injuries or property damages involving inanimate objects is not always clear-cut, but the accomplished legal team of Auger & Auger can assist you in your pursuit. In some situations, it may be necessary to file a claim and determine the liability in court. If this is the case, our attorneys will represent you in court so that you will not have to handle this challenge alone.
We're Waiting To Hear From You
Auger & Auger Accident and Injury Lawyers offers a free initial legal consultation with one of our personal injury attorneys. Call today to schedule an appointment and find out how we can help you.