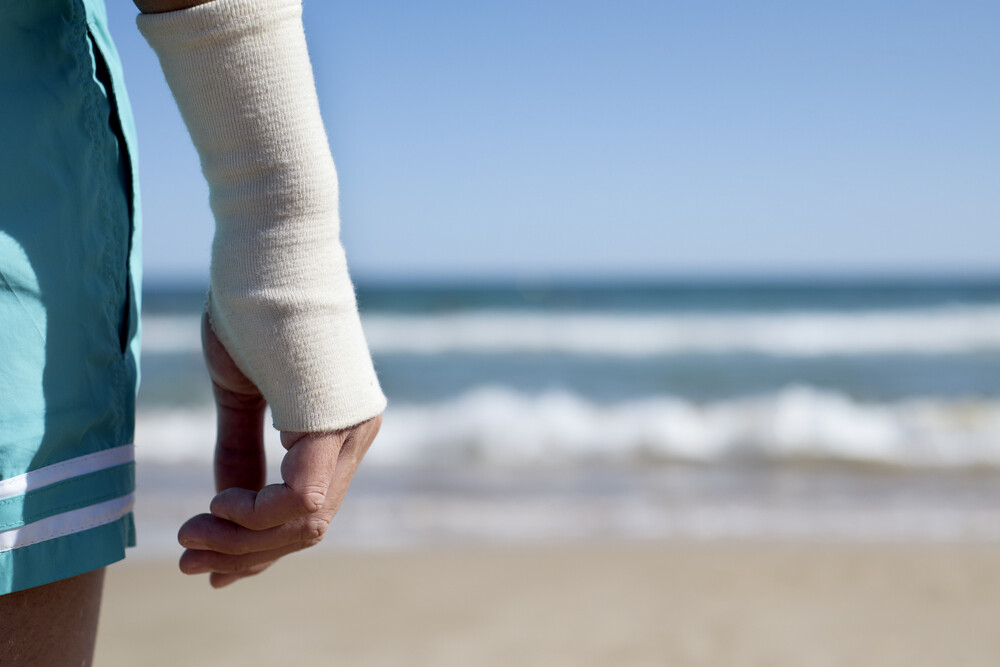 Tourist season is kicking into full gear. If you are in the Carolinas, chances are you may be heading to the beach for your much deserved vacation. No one ever wants to get sick or hurt; especially on a trip.  Knowing how to avoid common vacation injuries and accidents can help ensure that you and your family have a wonderful time from beginning to end. Keep you and your family safe and happy by protecting yourselves from the most common accident and injuries that occur during family vacations.
Allergies
You may know what you are allergic to in your own backyard, but flora and fauna that you aren't used to can make you a victim of hay fever, hives and plenty of other issues. Nobody wants to deal with allergies while on vacation. Before you take a trip out of your home city, research your destination and check out the allergy reports for where you are heading.  Knowing what you may encounter will help you know what to expect before you get there.
Once you arrive at your destination, pay attention to the weather reports. Chances are high that the forecaster will give you the expected pollen or other allergen count for the day. If the allergen or pollen count is going to be high, stay indoors until late afternoon or evening. Change your clothes when you come in from outdoors, and wipe your skin off with a baby wipe or wet towel. This will help get the pollen off of your body which may prevent your allergies from flairing up.
Car, Golf Cart and Bicycle Crashes
Driving on two or four wheels can be dangerous. Driving becomes even more dangerous when you are cruising along unfamiliar roads. Locals will drive the way they feel comfortable driving, and tourists will often drive in a hurried, rushed or distracted fashion. Often, these two driving styles don't match up and can lead to car accidents. If you are driving through unfamiliar territory, do not exceed the speed limit and be sure that you understand how to get where you are going before you set off on your journey.
If you are riding a bicycle through a tourist area, make sure you are wearing a helmet. Any bike rental stand or company should have them available for your use. If you are driving an unfamiliar vehicle, get to know the controls before you put it in drive and hit the accelerator.
Similar to bikes, most people consider golf carts to be relatively safe, it's important to remember that they are still vehicles and that accidents do happen. You can have a lot of fun on a golf cart, but you can also end up seriously injured or injuring someone else if you don't act responsibly.
Whether you are driving your golf cart on a city street or riding a bicycle down the side of the road, you are considered to be operating a vehicle. Golf carts and bicycles are often subject to the same traffic laws as typical passenger motor vehicles.  Make sure you know and obey the laws at all times! Say no to reckless driving, tailgating, speeding and operating ANY vehicle if you are under the influence of alcohol or drugs.
Swimming Accidents
Swimming is a fantastic part of summer. Whether you are in a hotel pool or the calming waves of the ocean, swimming accidents can happen in a split second. If you are a parent, keep an eye on your children at all times. If you are swimming in natural waters, heed any warning signs and obey the lifeguards at all times.
If you aren't a strong swimmer, wear a life vest. Your children should wear safety items like inner tube rings, arm floats or life vests. These things may inhibit your ability to actually swim in the water, but they can prevent you from drowning which is definitely more important.
Food Poisoning
Some may find it surprising that food poisoning is a main cause of injury and illness during vacation. It's completely normal to want to try a bit of the local cuisine if you are in a new place, but ask for a few tips before you do. The locals can tell you what restaurants are worth visiting and which are best to avoid. Also, if you decide to cookout, follow food safety rules to ensure that you don't make yourself or your family ill.
Sports Injuries
Sports related injuries while on vacation are all too common. Who hasn't enjoyed football or volleyball on the beach before?  If you decide to be active and play a game, ride a jet ski or jump in the hotel pool, make sure you are doing so with safety in mind.  
Before you participate in any kind of physical activity, take a moment to stretch and warm up your muscles, especially if you aren't quite used to exercise. This can be really important when you are traveling to warmer climates and haven't been able to get outside at home in the recent weeks before your trip. Also, know the rules of the game you are going to play and, if you are riding on any type of machinery or recreational vehicle, ask the rental agency or owner about safety rules and requirements before you hop on board. It is also the best practice to avoid mixing alcohol and athletic activities
If you or a member of your party gets ill or is injured on vacation, stay as calm as possible. If the issue is a minor one, take care of it and go about enjoying your vacation. If the injury or illness is severe, stay calm and seek emergency medical assistance as soon as possible.
Speak with a Carolina Injury Attorney Today
If you are injured in Charlotte or elsewhere in the Carolinas — whether you are visiting or a resident, know your rights and your options! If your injury was caused by someone else's negligence, call our office and schedule a free case evaluation. We will review the circumstances of your injury and advise you of your options and how we may be able to help.  We wish you a safe and fun time during your travels.
In Raleigh, North Carolina an elementary school child was pulled from the apartment complex pool by emergency officials after they received reports of a drowning. The boy had been swimming with his friends, and emergency workers attempted to resuscitate him before taking him to the hospital. There was no lifeguard on duty. The boy died the next morning at a university hospital.
North Carolina has a lot of tourist attractions and athletic facilities that provide swimming pools to guests and members. Several residential facilities, like the apartment in the story above, also offer indoor or outdoor pools for residents and guests of the residents. While a great pastime during the hot summer months, swimming pools and other bodies of water can readily become a dangerous environment for those who use them, especially children.
According to the National Center for Health Statistics (NCHS), drowning is the second most common cause of injury death for children age 5 and younger in the United States. A recent study published by Pediatrics, found out that around two-thirds of pediatricians, family physicians, and pediatric nurse practitioners who serve families with young children in Los Angeles County did not know that drowning caused more deaths among children than ingesting toxins or using firearms. This study shows that even medical professionals are unaware of the extensive risks that drowning poses to young children.
The North Carolina Administrative Codes (NCAC) thoroughly outlines the safety features pools must have for public use. Some important requirements include the placement and location of depth markings (for minimum and maximum depths), the placement of signs like "no diving" or "no lifeguard on duty", and the use of artificial lighting for pools open at night. Public pools are supposed to be enclosed by a fence, wall, building, or combination of the three to avoid accidental drownings of those who could not tell a swimming pool was present. The more communication there is of the pool, its depth, and how to get out, the safer the experience will be. Life saving equipment shall always be available in case an emergency does occur.
All institutions that provide public pools must follow these safety guidelines, as they are under a duty to provide safe premises for those they invite onto their property or reasonably expect, like guests of those who live in a residential complex or are members of the club with the pool. Failure to provide safe premises creates liability for the owners of the pool and property if their negligence results in injury or death.
The North Carolina Personal Injury attorneys, Arlene and Herbert Auger, have over 40 years of combined experience negotiating and litigating on behalf of injured clients. With several 6-figure settlements under their belts, they know how to maximize the compensation you are entitled to and need for your living and medical expenses. If you or someone you know has been injured in a swimming pool or drowning accident, contact one of our skilled attorneys at (888) 487-0835 for a free, confidential consultation.
Related Blog Posts:
Teenager Drowns in Public Pool, North Carolina Personal Injury Lawyer Blog, June 8, 2010
Is Your Local Swimming Pool Safe?, North Carolina Personal Injury Lawyer Blog, May 17, 2010
A teenager, who witnesses say could not swim, drowned Saturday in a public pool in High Point, NC. It is unknown why the 17 year old Anthony Hayes was in nearly 13 feet of water when it has been reported that he was unable to swim.
North Carolina law requires that there be a minimum of 24 square feet of water surface area, per person, in areas of the pool that are deeper than 5 feet. Investigators also report that there were 5 lifeguards on staff at the time of the incident. One of the lifeguards noticed the teen under water in the deep end and he retrieved the teen and immediately started CPR.
The American Academy of Pediatrics (AAP) reports that drowning is the second leading cause of death in children ages 1 through 19, with toddlers and teenage boys being the highest risk. The AAP recommends that children above the age of 4 learn how to swim.
Our North Carolina attorneys are familiar with the laws governing both public and private swimming pools.
The federal Pool and Safety Act went into effect in December 2008, yet hundreds of pool owners in North Carolina have still not complied with the law, and are at risk of having their pool closed. The federal law applies to public access pools, and state regulations that mirror the federal law have also been enacted.
These laws apply to public pools as well as those in hotels, gyms, apartment complexes, and subdivisions. They provide safety guidelines that require, among other things, that said pools be equipped with drain covers that prevent jewelry, hair, fingers, and toes from being sucked into a drain.
According to the NC Division of Environmental Health, as many as 1,000 pools statewide might be closed. Mecklenburg County has already received more than 1,000 public pool permit applications. While most have already been approved, some permits that were granted are now being revoked and pools are being closed, as random inspections are finding that the required changes were not actually made. Mecklenburg County Health Department will continue to conduct random inspections, and will close pools where necessary.
The Consumer Product Safety Commission reported 83 entrapments involving swimming pool drains from 1999 to 2008. Of those entrapments, 11 were fatalities, most involving children under the age of 15.
One of the most highly publicized swimming pool accidents in the country occurred right here in North Carolina. In that case, a young child sat on a drain at the bottom of the pool, as children often do, but the drain was missing its cover. The tremendous suction from the drain caused the child to lose a great portion of her intestines.
Our North Carolina injury attorneys are available to help if you or a family member is injured in a swimming pool accident.