Richard Angelo was killed by an alleged drunk driver in Matthews, NC on May 30, 2018.  The driver charged with DWI after she hit and killed a pedestrian, 22 year old Richard Angelo.  The Charlotte Observer reports that Mr. Angelo was pushing his bike down a road when he was hit.  The DWI charged driver was traveling in the same direction as Mr. Angelo and he was hit from behind.  He was pronounced dead at the scene.  The crash occurred at just before 1 a.m. on E. John Street at McKee Road in Matthews.
Besides DWI charges, the driver was also charged with possession of marijuana and driving with an open container of alcohol.  The driver was traveling in a Ford Mustang and a local news channel at the accident scene observed an officer removing a bottle of wine from the driver's vehicle.  The charged driver in this case is innocent until proven guilty.
Accidents and injuries related to drunk driving are preventable.  With public transportation and ride sharing options, there is no excuse for drinking and driving. Additionally, the simple act of not driving after having consumed alcohol prevents alcohol related car accidents. Alcohol related accidents in the United States are a very serious matter and are also a threat to public safety. Just in 2016, 10,497 people died in alcohol-impaired driving crashes, accounting for 28% of all traffic-related deaths in the United States.1 
Our law firm assists victims of alcohol related accidents.  We are consistently involved in such cases and we work hard to protect the rights of our clients.   Our firm is dedicated to helping people that have been injured because of someone else's negligence.  It never costs a thing to speak to one of our team members and our case evaluations can be done in person or on the phone.  If you or anyone you know has been injured in a car accident or a wreck involving a drunk driver please call our office at  855-971-0559.
DON'T DRINK AND DRIVE!
James Hampton, a North Carolina AAU youth basketball player collapsed during play and passed away as a result of a sudden medical emergency on May 26, 2018.  The 17 year old young man played for Team United, which is based out of Charlotte, North Carolina. The team was playing in Hampton, Virginia at a Nike Elite Youth Basketball League event in VA.
The Charlotte Observer reports that the team's director, Mr. Jacoby Davis as saying that James Hampton was running and turned to say something to a referee Saturday night when he collapsed.  Mr. Davis added that emergency paramedics did chest compressions on the young man on the court before he was taken to the hospital where he was pronounced dead. The James Hampton  was a student at Liberty Heights school in Charlotte and was scheduled to graduate after one more year at the school.
Based on reports it is not known whether an Automated External Defibrillator "AED" was available at the facility where the game was taking place.  These devices are able to save lives in certain situations and they can counter-act sudden cardiac arrest by delivering a shock to the heart that can normalize heart rhythms.
Is there a potential liability case?
In some jurisdictions there are requirements that AED machines must be on site at various types of businesses and facilities that are open to the general public.  Under certain circumstances a private business owner or other group or individual can be liable for injuries and or deaths that could have been treated or prevented by the correct use of a properly functioning and available AED machine.  These laws vary by state and before any conclusion of liability against such a business or individual can be made, a thorough investigation of the incident along with a thorough evaluation of the law (by a licensed attorney of that jurisdiction) must take place.
If you or someone you know has been injured or passed away because of the lack of a properly functioning AED machine being made available during a medical emergency, there may be potential compensation available to the injured person and or the estate of  a person that passed away.  Our lawyers proudly serve the Carolinas and if you or a loved one was injured because of someone else's negligence, we would like to speak to you. Consultations are always free and our phones are answered 24 hours a day, 7 days a week, 365 days a year. Call 1-855-969-5671 for your free case evaluation.
You can expect to see more people riding bicycles through your local neighborhood and urban streets as the weather heats up. People are more likely to ride a bicycle when the weather is warm than they are in the cold temperatures of fall and winter.
Besides warmer weather, more and more people are using bicycles to travel around town because of their cost and accessibility.  If you live in a larger city you may have even seen some of the bikes (bikeshares) that can be used by anyone with a few dollars and a corresponding app on their phone.  They are everywhere in Charlotte!  It's important to keep in mind that bicycle accidents can be very serious and that because of the limited protection that a bicyclist may have, their injuries can be catastrophic.
People don't leave their homes with the intention of being in or causing any type of accident. That is why they are called "accidents." Unfortunately, thousands of accidents happen every day across the Carolinas. Even though they may not be intentional, many are avoidable.
Focused drivers that are mindful of traffic laws and aware of their surroundings travel with fewer chances of causing an accident.  Be one of those drivers! Here are some summer bicycle safety tips for both cyclists and drivers.
Staying Safe on Your Bike
Safety Equipment
Any person riding a bicycle should be wearing a helmet. It is even a safer to wear elbow and knee pads. Very few people go to the extent of utilizing all of the safety equipment that they should! Studies have shown that wearing a helmet can reduce the risk of a traumatic brain injury by as much as 88 percent. With a helmet and pads you may not walk away from an accident unscathed, but you are significantly increasing your odds of surviving a car versus bicycle accident scenario.
Riding on the Street or Sidewalk
Many people believe that it is safer to ride a bicycle on the sidewalk and don't understand why some areas make it illegal to do so. Their theory is that it is safer to ride on the street with vehicles because drivers don't pay as much attention to what is on the sidewalk as they do to what is on the road. Others argue that riding away from the road is safer.  Either way, you should always follow your local traffic laws and know when it is appropriate to your bike on the sidewalk as opposed to riding on the street.
Ride with Traffic
When you were young, the adults in your life may have told you to ride against traffic so you could see what was coming at you. It makes sense, but isn't the right way to ride a bike. You should ride with traffic for the greatest amount of safety. In many cities it's actually the law.
Stay Alert
It's tempting to pop in your ear buds and pedal out of your driveway but you are putting yourself in danger. You shouldn't have anything in your ears or attached to your handle bars that could distract you from what is going on around you. Keep your focus on the road ahead and don't let your tunes distract you.
Be Predictable
A good safety tip that not everyone mentions is this: Be predictable. Don't swerve in and out of traffic, be sure to signal your turns and don't break suddenly if you don't have to. A vehicle driver doesn't expect you to make sudden maneuvers and may not be able to react to you with enough time to prevent.
Safety Tips for Drivers
Sharing the road with bicyclists is annoying to some drivers but the reality is that bicyclists have the same right to be on the road as others. Here are some things you can do as a driver to prevent colliding with a bicycle.
Pay Attention
Distracted driving is a leading cause of accidents across the country. While you may notice a vehicle out of the corner of your eye while you are paying attention to something else, you are less likely to see a bicycle. Stay focused and attentive when you are behind the wheel.
Yield
Too many accidents (especially those involving bicycles) could have been prevented with the simple act of letting someone go, or yielding.  There are specific rules that govern right of ways and when to yield. Besides failing to yield because of negligence, there are times when letting the other person go may not just be the friendly or lawful thing to do, it also may be the safest option.  Always use your best judgment but if you can prevent an accident why not?
Watch Your Door
Take a look over your left shoulder before you open a car door if you park on the street. There are hundreds of bicycle riders injured each year because they run into a car door that opened unexpectedly. It's a simple and quick thing to do to check your blind spot before you open your door into the street.
Keep the Radio Down
If you are the type of driver who loves to turn up the volume and rock out, reconsider your habits. There is no way you will be able to hear a cyclist yell for your attention if your radio is at full volume. Stay focused!
Be Careful At Corners
Keep a watchful eye on corners and near alleyway, driveways and road obstructions. A cyclist could dart out from any one of these places before you know it. If you can't see behind what is ahead of you, slow down a bit before you pass it.
No one wants to be involved in a bicycle versus car or truck collision. If it happens to you and you suffer an injury, you may have the right to compensation. After a bicycle accident in Charlotte, North Carolina or elsewhere, reach out to our team to learn more about your legal rights! Our consultations are free and it will never cost you any money to see if we can help you.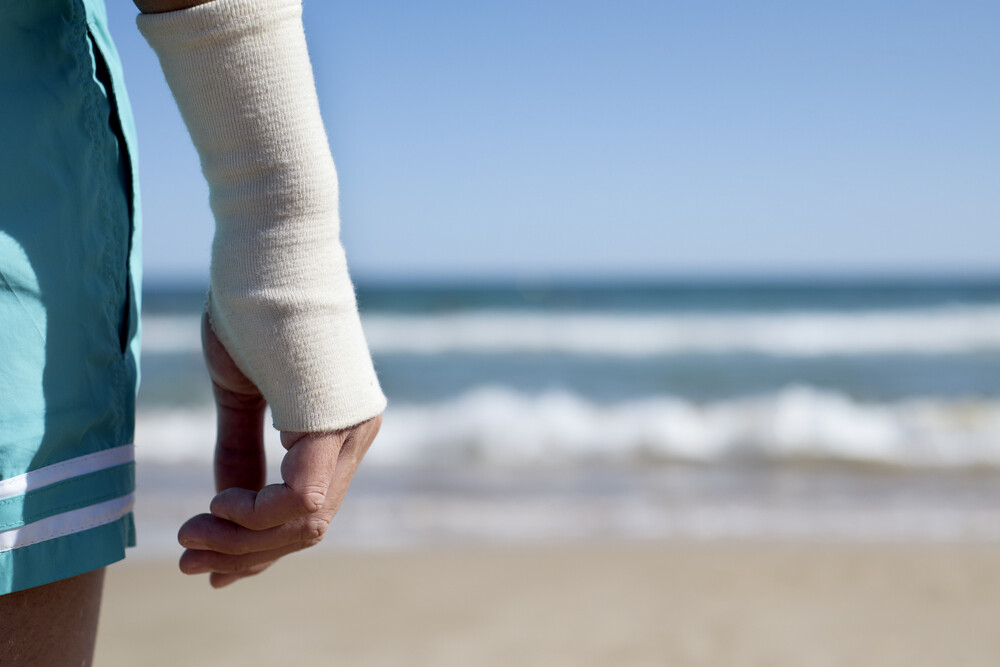 Tourist season is kicking into full gear. If you are in the Carolinas, chances are you may be heading to the beach for your much deserved vacation. No one ever wants to get sick or hurt; especially on a trip.  Knowing how to avoid common vacation injuries and accidents can help ensure that you and your family have a wonderful time from beginning to end. Keep you and your family safe and happy by protecting yourselves from the most common accident and injuries that occur during family vacations.
Allergies
You may know what you are allergic to in your own backyard, but flora and fauna that you aren't used to can make you a victim of hay fever, hives and plenty of other issues. Nobody wants to deal with allergies while on vacation. Before you take a trip out of your home city, research your destination and check out the allergy reports for where you are heading.  Knowing what you may encounter will help you know what to expect before you get there.
Once you arrive at your destination, pay attention to the weather reports. Chances are high that the forecaster will give you the expected pollen or other allergen count for the day. If the allergen or pollen count is going to be high, stay indoors until late afternoon or evening. Change your clothes when you come in from outdoors, and wipe your skin off with a baby wipe or wet towel. This will help get the pollen off of your body which may prevent your allergies from flairing up.
Car, Golf Cart and Bicycle Crashes
Driving on two or four wheels can be dangerous. Driving becomes even more dangerous when you are cruising along unfamiliar roads. Locals will drive the way they feel comfortable driving, and tourists will often drive in a hurried, rushed or distracted fashion. Often, these two driving styles don't match up and can lead to car accidents. If you are driving through unfamiliar territory, do not exceed the speed limit and be sure that you understand how to get where you are going before you set off on your journey.
If you are riding a bicycle through a tourist area, make sure you are wearing a helmet. Any bike rental stand or company should have them available for your use. If you are driving an unfamiliar vehicle, get to know the controls before you put it in drive and hit the accelerator.
Similar to bikes, most people consider golf carts to be relatively safe, it's important to remember that they are still vehicles and that accidents do happen. You can have a lot of fun on a golf cart, but you can also end up seriously injured or injuring someone else if you don't act responsibly.
Whether you are driving your golf cart on a city street or riding a bicycle down the side of the road, you are considered to be operating a vehicle. Golf carts and bicycles are often subject to the same traffic laws as typical passenger motor vehicles.  Make sure you know and obey the laws at all times! Say no to reckless driving, tailgating, speeding and operating ANY vehicle if you are under the influence of alcohol or drugs.
Swimming Accidents
Swimming is a fantastic part of summer. Whether you are in a hotel pool or the calming waves of the ocean, swimming accidents can happen in a split second. If you are a parent, keep an eye on your children at all times. If you are swimming in natural waters, heed any warning signs and obey the lifeguards at all times.
If you aren't a strong swimmer, wear a life vest. Your children should wear safety items like inner tube rings, arm floats or life vests. These things may inhibit your ability to actually swim in the water, but they can prevent you from drowning which is definitely more important.
Food Poisoning
Some may find it surprising that food poisoning is a main cause of injury and illness during vacation. It's completely normal to want to try a bit of the local cuisine if you are in a new place, but ask for a few tips before you do. The locals can tell you what restaurants are worth visiting and which are best to avoid. Also, if you decide to cookout, follow food safety rules to ensure that you don't make yourself or your family ill.
Sports Injuries
Sports related injuries while on vacation are all too common. Who hasn't enjoyed football or volleyball on the beach before?  If you decide to be active and play a game, ride a jet ski or jump in the hotel pool, make sure you are doing so with safety in mind.  
Before you participate in any kind of physical activity, take a moment to stretch and warm up your muscles, especially if you aren't quite used to exercise. This can be really important when you are traveling to warmer climates and haven't been able to get outside at home in the recent weeks before your trip. Also, know the rules of the game you are going to play and, if you are riding on any type of machinery or recreational vehicle, ask the rental agency or owner about safety rules and requirements before you hop on board. It is also the best practice to avoid mixing alcohol and athletic activities
If you or a member of your party gets ill or is injured on vacation, stay as calm as possible. If the issue is a minor one, take care of it and go about enjoying your vacation. If the injury or illness is severe, stay calm and seek emergency medical assistance as soon as possible.
Speak with a Carolina Injury Attorney Today
If you are injured in Charlotte or elsewhere in the Carolinas — whether you are visiting or a resident, know your rights and your options! If your injury was caused by someone else's negligence, call our office and schedule a free case evaluation. We will review the circumstances of your injury and advise you of your options and how we may be able to help.  We wish you a safe and fun time during your travels.
IVC filters are a medical device that have made the news in recent years. There have been warnings posted on the Internet and described in commercials. IVC filters, or inferior vena cava filters, are placed in the body as a way to prevent deep venous thrombosis. A clot caused by DVP can travel to the heart and lungs, causing serious complications or death. IVC filters are meant to stop this from happening.
There are approximately 50,000 people with IVC filters in America. The majority of these patients have already suffered a pulmonary embolism. Along with anticoagulation therapy, these filters have become the treatment of choice for some doctors. It wasn't until they became widely used that their effectiveness was questioned.
IVC Filter Dangers
When an IVC filter is placed in the body and works as it was designed to, they are quite helpful. It's when the filter migrates that the issues begin. A hook on the filter holds it in place within the vein. Some patients have experienced a migrating filter after the hook has failed. In some instances, the filter tips instead of migrating. The filter causes damage as it moves, puncturing organs and veins as it travels.
IVC filters have been known to fracture in some more serious cases. The small pieces of filter that break off travel through the body posing the same dangers as blood clots. The pieces can be so small that they can travel through the veins and into the brain, lungs or heart. They can then cause damage or conditions that can prove fatal.
Surgeons are aware that the IVC filters are potentially dangerous, prompting the creation of removable filters. The removable filters may be safer, but they can be difficult to remove. Some patients have been put under only to wake up and find out that their filters are still in place due to difficulty in their removal. To avoid complications during the removal process, some doctors choose to leave these removable filters right where they are. In fact, it has been reported that only about 1/3 of those filters that are implanted end up being removed. The longer the filter is left in the body, the harder it is to get it out.
Three Categories of Complications
There are procedural, retrieval and delayed complications associated with the use of IVC filters.
A procedural complication is one that includes damage to the access site, puncture of blood vessels, placement concerns and defective deployment.

A retrieval complication occurs when there is damage to the body during the removal of an IVC filter.

Delayed complications include device infection, migration, swelling in the lower limbs and deep vein thrombosis.
Warnings from the FDA
An official communication was released by the FDA in 2016 to medical professionals who utilize IVC filters. There was also a communication given to patients who had the filters implanted. The governmental body had determined that the filter should be considered for removal once a patient was not considered at risk for pulmonary embolism. The agency stated that removal should be considered between days 29 and 54 after implantation.
The FDA decided that removal of the filter during this time frame would help to eliminate complications such as difficulty in removal, filter fracture and filter migration. Manufacturers of the devices were ordered to research the use of the filters and to collect data regarding their efficacy and complications.
IVC Filter Recalls
IVC filters have been recalled in 2005, 2013 and 2018. The recalls have been issued for different reasons. The latest was considered to be urgent in nature, advising Boston Scientific to cease use of their Greenfield Vena Cava Filter immediately. The recalls listed possible adverse health conditions as its reason.
Lawsuits
A woman in Georgia was recently awarded more than $3 million in a lawsuit stating she suffered complications after having an IVC filter manufactured by C.R. Bard, Inc. implanted. It was the first of over 3,500 lawsuits filed in Arizona to be heard in court. It is expected that other lawsuits will follow this path and compensate patients who have been injured by the filters, their implantation or their removal.
Alternatives to IVC Filters
Like many medical procedures, there are alternatives to having an IVC filter implanted. Any patient who is told they need one of these filters should explore all their options before consenting to the procedure. Some patients have been able to avoid implantation by making lifestyle changes and taking certain prescription medications.
If an IVC filter is the only viable option, a patient should know the complications to watch for and when to contact their doctor. There should be a plan in place for the removal of the filter. Patients are urged to remember that they are their own advocate and need to speak up if they have questions about IVC filters and alternatives.
Call Our Office Today
If you have had an IVC filter implanted and sustained injury or suffered with complications , please reach out to our office. Our experienced team of attorneys will review the details of your case and advise you of your legal options. Your first consultation will be held at no cost to you and we will help you make decisions appropriate to your situation.
A common riding safety viewpoint often expressed to motorcyclists over the past decades has been to tell them to ride like they are a target for everyone. It is almost like saying to bikers that they should assume that other vehicles are out to get them (even thought that is not remotely true). The point of all of this kind of talk is to try to make bikers remember to always drive defensively. This advice is not new, but even with all of the technological advances in motor vehicles, it is still very relevant.
Motorcycle riders on today's highways and roadways are always vulnerable to potentially serious injuries. Motorcycles are frequently said to be difficult to see by other vehicles on the road. That is true under even the best driving conditions.  If you throw in the reality that there are many distracted drivers on the roads, the chances of a distracted drive not seeing a motorcycle on the road can are very high. Distracted driving has become a major problem in the United States, and it has put bikers at a higher risk than ever before. Motorcyclists must be prepared to drive defensively.
The Problems on the Roads
Most people haven driven distracted at one time or another. Cell phones are one of the most obvious distractions for drivers, but they aren't the only problem. People have conversations with other passengers in their vehicles, use their rearview mirror to check their appearance and eat, all while they should be completely focused on their driving. . All of these distractions can take a driver's focus away from the task at hand, and all are potentially dangerous things to do while driving.
Folks that ride (bikes) and people with family members and friends who also ride tend to be some of the most attentive drivers on the road. Even when paying attention, drivers don't always hear or see riders. Now imagine how much more hazardous it is for the person on a motorcycle when the people around them are performing a variety of other tasks behind the wheel while driving…It is so dangerous and not just for the bikers, but for everyone!
Knowing how to spot distracted driving can help you make important decisions. Getting ahead of a vehicle or hanging far back could be what saves your life. Here are some warning signs that may suggest a driver is distracted:
They are consistently slowing down or speeding up without cause.

It's not fair to say that anyone who slows or accelerates is distracted, but it's best to assume they are not focused when there is no apparent reason for their changes in speed. Be mindful that someone that is speeding up or slowing down for no reason may very well be a distracted driver.

They fail to signal turns or lane changes.

Unfortunately, some people have the bad and dangerous habit of never using their turn signals. However, if you are behind a driver who is only intermittently using their signal, the chances are high that they are distracted when they miss hitting their indicator. If you are near a vehicle that changes lanes or turns without signaling, they are a bad driver that also may be distracted. Stay a safe distance away from drivers that fail to use their signals as the law requires.

They do not move at a green light.

 Have you ever been behind that person who doesn't seem to realize that the light turned green? Most of us have experienced this at least once. Take a look at the position of their head while they are sitting there. If you see their head snap up before they quickly accelerate, there's a good chance that they were texting, reading, chatting or checking out their social media accounts.

They never move.

Look for a driver whose head never moves. They don't look left or right. Their head remains straight ahead or at an odd downward angle. If they stay in one constant position, it is likely that this driver is doing something else behind the wheel.  Remember, you don't have to be on a cell phone or actively doing something to be a distracted driver. Any driving where you are not focused (day dreaming, preocupised thoughts on something else) is distracted driving.
Keeping Yourself Safe
Sometimes noticing that a driver is distracted isn't enough. Additionally you may need to be able to make maneuvers to keep yourself safe. Some of these things may come naturally to you, and others may require some practice.  Either way, consider the following:
Signal to drivers with your headlight.

This is an easy way to show the driver your position. Move your bike in such a way that your headlight moves slightly back and forth, making other drivers look up and pay attention.

Use hand signals.

You may be surprised at how many people fail to learn the hand signals that go along with riding a motorcycle. Some people assume that they are unnecessary because of the lights that are on all bikes. It's simply a good idea to

also

use hand signals. Many people don't, so it is an action that will get you noticed.

Evaluate traffic.

You should be able to evaluate the flow of traffic, the vehicles on the road and the problems that may arise. The more information you gather through observation, the better chances you have of not being the victim of a distracted driver.
Distracted Driving Statistics.
3,450 were killed as a result of distracted driving in 2016

Approximately 481,000 drivers use cell phones while driving during daylight hours

Eating is a close 2nd to cell phone use when it comes to being the #1 distraction

Tens of thousands (or more) of people are injured annually due to distracted driving
While distracted driving is a problem for everyone, motorcyclists may be at a higher risk of fatality due to their lack of protection. Learning how to spot and stay away from a distracted driver can go a long way in keeping you safer on your journey.

If you have been injured in a motorcycle accident in Charlotte or elsewhere in the Carolinas that was caused by a distracted driver, reach out to our team. Call our office today to schedule a free case evaluation, and let us help you discover the options and rights that you have.
Auger & Auger is happy to announce that Sean Drum is one of the recipients of our 2018 Spring Semester Disabled Scholar Award. These scholarships are presented twice a year to high-achieving students across America who have worked hard to overcome the perceived limits of their disability. They have achieved excellence in and out of the classroom, and they have made a positive impact on their community. Recipients of the award receive $1,000 to assist them with their educational expenses.
Sean is a fantastic example of how someone with a learning disability can achieve their goals through persistence, dedication and hard work. As an Eagle Scout, Sean learned plenty of valuable life lessons while working on his Eagle Scout project. He created an accessible bird blind on the Trail of Hope in Lyons, NY. During this project, he had to work with many local business leaders and organize many different steps of the overall process.
Instead of worrying about his ADHD affecting his capability of leading this multifaceted project, Sean was able to use his ADHD to his advantage. He figured out creative solutions to the problems he encountered during his time working on this project, and he successfully made improvements to the bird blind that benefited the whole community.
Sean has never let his ADHD limit his learning capacity in the classroom either. He plans to become a successful welder at Alfred State College of Technology. He enjoys working with his hands and plans to fill a need in his community. He has ambitious goals for his welding career after college, wanting to gain as much work experience and learn as much about the profession as he can.
His ultimate goal is to restore historic aircraft in the Smithsonian National Air and Space Museum. Also, recognizing that he has an active mind, he wants to eventually return to school to study history.
Not only does Sean enjoy giving back to his community, he also wants to help others that suffer from ADHD. He believes the best way to combat the struggles of ADHD is to never give up, continue to try your hardest in all that you do and always believe in yourself. He suggests that if you struggle with studying or sitting still for hours, doing things with your hands can help you stay focused and avoid getting distracted.
Overall, Sean doesn't view his ADHD as a disability, but rather as a unique gift that helps him learn and have experiences that other people may not consider.
Boating is a wonderful pastime, whether it's out on the ocean or on one of the Carolina's many beautiful lakes. Spending a day on the water means abundant amounts of sunshine and having an opportunity to make memories. In most instances, an afternoon on the water ends without incident. However, there are some boaters that are not so fortunate. While boating can be an enjoyable event, it can also end in tragedy.
A boating accident can happen in a moment. You can control your own actions, but you certainly can't control the actions of anyone else. When another boater chooses to operate their vessel recklessly or while under the influence of drugs or alcohol, they are putting everyone at risk.
Common Reasons for Boating Accidents
Like any type of accident, there are some causes that are more common than others when it comes to collisions on the water. Some of the most common causes for boating accidents include:
Negligence on the part of the boat operator.

The person operating the boat may not be paying an adequate amount of attention or make a mistake behind the wheel.

Driving at speeds that are too high either for the craft or the conditions on the water.

When a boat is being operated at high speeds, it takes longer to maneuver and longer to stop. This means that an operator has a shorter amount of time in which they must react to hazardous conditions.

An inexperienced operator is also a danger on the water if they are operating a vessel that is too large for their skill level.

A new operator, much like a new driver of a vehicle, doesn't have the experience necessary to react appropriately to all dangerous situations.
Common Injuries Sustained in a Boating Accident
Some injuries are more likely sustained as the result of a boating accident than others due to the nature of the type of collision that occurs. Some of the most common injuries sustained include:
When a person is injured in a boating accident and the accident was caused by another person's error or negligence, the victim has a legal right to be compensated for medical bills, lost wages and more. Of course, no one wants to be in this position, so knowing how to stay safe on your boat should be a top priority before you ever set sail.
Avoiding Boat Accidents
You can avoid some car accidents by knowing how to respond to hazards and by operating your vehicle in a safe way. The same is true of boat accidents. While you can't prevent every accident from occurring, you can prevent some of the most common types of accidents if you understand a bit about safety before you head out on the water.
Know Your Depth
If you let your boat run aground, you're going to be a little red in the face. It's a rookie mistake but one that can cause more than embarrassment. Always know the depth of the water you are in to avoid this common accident. While it doesn't result in injury every time, running aground too quickly can easily cause you and your passengers to fall inside the cabin or be tossed overboard.
Stay On the Boat
Falling overboard could cause little to no injury. It could also result in a fatality. Stay seated in the boat while it is moving, and be very careful walking about and sitting on the edge when the boat is still. The boat doesn't have to be bumping across the waves for you to fall overboard. A simple slip in the cabin could send you careening out of the boat and into the water.
Keep a Safe Speed
Speeding at night is a leading cause of accidents. Traveling at speeds that are too high for the conditions on the water is another. Slow it down. You aren't in a race to get anywhere, and if you are in a hurry, remember that it is always better to arrive a little late than to have an accident. There is no reason to drive above the speed limit, and you should slow it down if the weather or conditions become unfavorable for your time on the water.
Safety Gear
Too often, people don't pay attention to the amount of safety gear they have stashed on their boat before they allow passengers into the cabin. You should have a properly-fitting life vest for each person on board as well as flares, an anchor, flashlights and a fire extinguisher. The more safety equipment you can store on board, the safer your passengers may be in the event of an accident.
Pay Attention to the Weather
Don't make the mistake of ignoring the weather before you leave the house. Keep an eye on weather reports a few days ahead of your planned outing, look at them again in the morning and then one more time as you board your vessel. The weather can change in an instant, as we all know. When it comes to your safety and the safety of your passengers, being unprepared for the weather is one of the biggest mistakes you can make.
While we certainly hope that every boating trip you take is enjoyable, we understand that accidents do happen. If you are injured in a boat accident in Charlotte or elsewhere in the Carolinas, reach out to our experienced team today. We are here for you and your family, and we are ready to fight for the compensation you have the legal right to. Call our office today to schedule a free case evaluation, and discover more about your options.
Auger & Auger is proud to announce that Jon Cowart is one of the recipients of our 2018 Spring Semester Disabled Scholar Award. Twice a year, these scholarships are presented to students throughout America who have overcome their disability and exceeded the limiting expectations placed upon them. Recipients of the award receive $1,000 to assist them with their educational expenses.
Jon Cowart exemplifies positivity and hard work in every aspect of his life. Growing up, Jon constantly dealt with pain in both of his feet due to a birth defect that left them deformed. However, he never let this slow him down, even for a moment. Instead of feeling defeated because he couldn't participate in all the activities that other boys his age were doing, Jon trusted in his motto — Philippians 4:13, "I can do all things through Christ who strengthens me" — and started actively pursuing his interest in engineering. He has always hoped to become a successful engineer, so he will be able to develop inventions and other innovations that will help others with birth defects avoid the suffering that he experienced.
As Jon entered high school in Pennsylvania, he was given the opportunity to have an experimental surgery performed on his feet to ease his pain. Instead of being afraid, he was excited about the prospect of being able to walk at a normal pace and potentially participate in athletic activities. After a successful surgery, Jon put his strong sense of determination and perseverance to work. Every single day he had to put forth 100% effort in his rehabilitation program to get to the level of movement that he wanted to reach.
Even setbacks couldn't slow him down. He suffered a fracture in one of his hands in a weightlifting accident, but quickly underwent surgery to replace the bone with a titanium implant and was back in the gym as soon as he was cleared. He now plays on various intramural sports teams at his college, Penn State University.
Jon's ambition is not only evident on a sports field or in a weight room, it is also clearly visible in the classroom. While he was undergoing an extensive rehabilitation program, he did not settle for taking the easiest classes he could find. Instead, he pushed himself to take AP and honors classes in order to prepare himself for his next goal of excelling in college. Now at Penn State, Jon is pursuing an engineering degree and continues to do his best in the classroom on a daily basis, never letting his disability be an excuse or hold him back.
Jon's story serves as an inspiration for anyone, but especially for others with physical disabilities who believe they can never achieve certain physical goals. However, Jon is not satisfied with only being an inspiration. He hopes to continue to pursue his engineering goals at Penn State and develop the technology that will help others born with a similar disability to his.