Hot summer temperatures mean that more people are outside enjoying activities. Sports, bicycling and even walking are popular near residential areas. Driving can be more hazardous in the summer than you may imagine.
People need to be on the lookout for one another in order for everyone to stay safe. When you slip behind the wheel in Charlotte or elsewhere this summer, keep in mind that you may be seeing more people out and about and this often means altering your driving habits.
It's not only drivers that need to be cautious. People on their feet and those on two wheels need to be careful as well. Safety is often a team effort. Here are some tips for both drivers and pedestrians that will keep everyone able to participate in their lives as normal.
Safety Tips for Drivers
Stay Aware
Keep your eyes peeled for pedestrians. Look for kids on bikes, people walking and little ones playing in front yards.
If you see children playing by the street, be prepared to stop. Kids can be unpredictable and, despite being told by parents to stay away from the road, children can dart out in front of a vehicle unexpectedly.
Pay Attention to the Elderly
If you see an elderly person on a sidewalk or in the street, slow down. An aging person may have difficulty seeing and hearing adequately and may not be aware of your presence.
Always attempt to make eye contact with an elderly person before you pass them to be sure that they see you.
Don't Assume
Assuming anything regarding pedestrians can be a mistake. Don't assume pedestrians will follow the rules of the road or obey traffic signals.
Don't assume that they see you. Don't assume that they will remain on the sidewalk. Be prepared for the unexpected.
Use Caution When Reversing
Always look in your rearview and utilize your back-up camera if you have one. Look around your vehicle before you get in it. Back out of your driveway or parking space slowly and carefully.  
Look Before You Open Your Door
If you park on a city street, look in your blind spot and behind you before you open your door. Too many people have been injured because a vehicle's driver opens a door unexpectedly and right into the path of a bicyclist.
Don't Rest at Night
People stay up late when the weather is warm. In fact, people are more apt to wait out the heat of the day and walk or cycle at dusk and in the dark when it is cooler.
Don't make the mistake of letting your guard down when the sun sets. Look for reflective materials when you are driving, especially ahead of you and along the side of the road.  Also drive with the knowledge that even though it isn't safe, some pedestrians, runners and bike riders are not always going to wear reflective clothing and in some cases they may even be wearing dark clothing that is hard to see at night.
Safety Tips for Pedestrians
Keep Your Eyes Up
Chances are you know that texting and driving is against the law. It may not be illegal to use your cell phone and walk, but it's rarely a good idea.
Put your phone in your pocket and keep your eyes up. Pay attention to your route and stay on the lookout for vehicles and cyclists.
Make Eye Contact
Don't assume that a vehicle is going to stop or yield to you, even if you are in a marked crosswalk. Make eye contact with drivers before you step into the street.
When you make eye contact, the driver may even wave for you to go. Don't take a chance, make sure that the driver sees you before entering the intersection.
Hold Hands
Small children should not be allowed to walk or cross streets by themselves.
If you are walking with your child on the sidewalk, you stay on the outside closest to the street and hold their hand for additional safety.
Wear the Right Clothes
Don't walk at night wearing dark clothing. In fact, don't walk during the day wearing dark clothing. Light, bright colors will help to make you visible.
You can increase your visibility by attaching reflective tape to your back and chest. If you are walking after dark, carry a flashlight or glow stick. You can even carry a backpack and attach a small, blinking light to it.
Use the Buddy System
Find someone to walk with. The more people you have in your group, the more likely you are to be spotted. The same goes for those riding bikes. Ride in groups. A vehicle driver is more likely to see multiple people than a single person.
The summer weather makes it great to get out and enjoy your favorite outdoor activities, but it also means that you may be at a heightened risk of being involved in an accident. Follow the tips above whether you are a driver or a pedestrian. Doing so could save someone's life.
Speak to a Charlotte, North Carolina Accident Attorney Today
If you are injured as a pedestrian in an accident, reach out to our experienced car and truck accident team. We can review the details of your accident during a free case evaluation and help you determine how we may be able to help you.

You may be entitled to compensation for the injuries you've incurred as a result of someone else's negligence. Call our office at (704) 364-3361 or fill out our online contact form to schedule your free case evaluation.
As many drivers know, texting and driving is illegal in North Carolina. Distracted driving causes thousands of injuries and deaths each year, and this law is meant to curb those incidents.
You may have heard that you can only be pulled over for texting and driving if you are seen by an officer to be doing such. For many alert drivers, simply keeping an eye on the road for patrol cars is enough to keep them from getting busted. No longer.
Troopers in North Carolina are stepping up their game. Plain-clothesed police officers have taken to riding the streets in North Carolina Department of Transportation (NCDOT) to spot testing drivers.
Here's what happens: A police officer in an NCDOT vehicle spots a driver texting. The officer radios to another officer in an unmarked vehicle further down the road. That officer, in turn, pulls over the offending driver and issues a ticket.
"We're thinking outside the box and stepping up our game on the highways," says 1st Sgt. Brett Snotherly.
Drivers may see this as a violation of their freedom of sorts or even entrapment, but this creative policing is simply meant to help save lives.
Texting and Driving Stats
According to Texting and Driving Safety there are statistics that every driver should be aware of.
In 2011, 1.3 million crashes in the United States were attributed to cell phones
At a minimum, your attention is taken away from the road for 5 seconds to read or respond to a text
At 55 mph, taking your eyes away from the road for 5 seconds means that you covered the distance of a football field blindly
You are 23 times more likely to be involved in a vehicle collision when texting
18-20 year old respondents admitted to texting or talking at the time of an accident at a rate of 13%
These are certainly not all of the statistics, but they are enough to be eye opening. Currently, 39 states plus D.C., including North Carolina, prohibit texting and driving. Additionally, 32 states plus D.C. prohibit new drivers from any cell phone use while driving.
Distracted driving is responsible for deaths each year. Even a single death is one too many. While some accidents are unavoidable, any that is caused by cell phone use, including texting, is 100% senseless.
If you have been injured in an automobile accident, contact the experienced vehicle collision attorneys at Auger & Auger as soon as possible. Each member of our knowledgeable team is here to ensure that you get the protection and compensation you deserve.
You have rights that you may be unaware of. First consultations are always free when you call our office. There is no reason to delay—call us now and let us review your case!
Since 2009, texting while driving has been illegal in North Carolina, but that did not stop one local woman. On February 8, a Belmont woman was charged with second-degree murder for the death of an elderly Belmont woman, and has been charged with texting while driving and driving while intoxicated, according to WCNC Charlotte. The driver was operating her 1999 GMC Jimmy SUV when she hit a 75 year-old pedestrian with. According to witnesses, the woman was dragged down the road by the truck until the vehicle finally came to a stop after hitting a row of trashcans. The elderly woman lay on the street and yelled for help. Her husband rushed to her side, but she later died at an area hospital.
The driver is also charged with reckless driving, driving while impaired, texting while driving, and driving without a valid license along with second-degree murder. Her license had been suspended for 12 months following a DWI conviction in October 2013. She was also charged in January 2011 for a Level 4 DWI. Her criminal record lists other previous drug and alcohol charges. She is being held in the Gaston County jail without bond.
Neighbors are angry, worried and upset. Not only was the driver intoxicated and texting while driving, she also admitted to consuming pain killers. Members of the community are concerned that our streets are becoming more dangerous because drivers are becoming more careless. Driving under the influence of marijuana or pain killers is just as serious as driving under the influence of alcohol. Texting while driving can be just as deadly. According to one statistic, at any given time during the day across the US, about 660,000 drivers are using cell phones or other electronic devices while driving. This statistic has held steady since 2012 as consumers purchase more smart phones, iPads, iPods, and other devices.
Distracted driving falls into three different categories: manual (taking your hands of the wheel), visual (taking your eyes off the road), and cognitive (taking your mind off the road). Cell phone use involves all three categories, making it a more dangerous than eating while driving or talking to other passengers in the vehicle while driving. And what is even more disconcerting is that cell phone use was reported in 18 percent of distracted driving fatalities in America.
North Carolina bans all cell phone use, both handheld and hands-free, for drivers under the age o 18 and prohibits texting while driving for all North Carolina drivers. According to a study conducted by the Virginia Tech Transportation Institute, you are three times more likely to be involved in a crash when you engage in visual and manual tasks such as reaching for a cell phone, dialing or texting. At Auger & Auger, we urge you to take the science seriously. Young drivers between the ages of 18 and 24 are most susceptible to texting while driving and, subsequently, being involved in an accident due to texting while driving. The National Highway Traffic Safety Administration reports that 44% of respondents between the ages of 18-20 admit to continuously texting while driving, and 49% of young adults between the ages of 21-24 admit to sending text messages and emails while driving. The research also shows those teens with parents who text and drive are more likely to mimic their parents' reckless behavior. Educate your teens about the dangers of texting and driving, and heed to the warnings yourself. If you were injured in a car accident because another driver was texting and driving, call the car accident attorneys at Auger & Auger to find out your rights and options under North Carolina law.
Recently, an 18 year old Asheville teen dropped his cell phone onto the floor board of his car. As he leaned down to retrieve it, he lost control of his car and plunged his vehicle 150 feet down a sharp slope. He and his 19 year old friend were ejected from the car, causing serious injury to the friend in the passenger's seat.
Teenage drivers can cause a great amount of stress to their family and the family members of the passengers they have in their cars. Teens in North Carolina are twice as likely to have a car accident during the first month of driving compared to adult drivers. Three teenage behaviors can lead to crashes: Failing to yield the right of way, failing to reduce speed, and not paying attention. Inattention is often caused by cell phone use, which includes texting, emailing, or performing internet searches while driving.
All drivers in North Carolina, regardless of age, are banned from texting while driving. Drivers under 18 are banned from any and all cell phone use while behind the wheel, unless they are dialing 911 for an emergency. Cell use can cause drivers to remove their eyes from the road, their hands from the wheel, and a level of mental distraction that results in slower reaction times and following distances.
In addition to a ban on cell phone use while driving while under the age of 18, North Carolina also implements a graduated license system. This system restricts unsupervised driving between the hours of 9PM and 5AM. A teen may drive unsupervised during the day for limited purposes like going to and from work or in response to a medical emergency. If driving with a supervisor, the teen driver must be overseen by a driver that has been licensed for at least five years.
For those who have been injured as a result of a teen car accident, several options are available for recovery under North Carolina law. A teen may be driving a friend's, parent's, or employer's car, as teens are generally unable to purchase their own vehicle. If the teenager drove negligently and failed in their duty to drive safely, damages may be available under the teenager's auto insurance policy, the teenager's parents' policy, or the employer's policy. If the teen was driving with the permission of his or her parents and using the car for the good of the family, larger amounts of compensation and coverage under a family policy may be available. If the teen was driving a vehicle while working, then the coverage under the business policy may be available for recovery.
The North Carolina teen car accident attorneys at Auger & Auger understand the financial hardships clients face after an auto collision. Lost wages and mounting bills can make it difficult to concentrate on recovery. We have successfully litigated and negotiated personal injury claims across the state of North Carolina. If you have been injured in a car accident with a teenager and would like to work with experienced attorneys who understand the intricacies of insurance policies, then call our office today for a free, confidential consultation at (704) 364-3361 or (800) 559-5741.
More Blog Posts:
North Carolina Texters May Need to Refrain From Texting Friends On the Road, North Carolina Car Accident Attorney Blog, May 20, 2013
Are You Prepared For The $5,000 Prom Ride, North Carolina Car Accident Attorney Blog, May 2, 2013
It is well established that talking on the phone or texting is a major distraction to drivers that is dangerous and likely to lead to accidents. As a matter of fact, there have been studies saying that a texting driver is more likely to be involved in an accident than a drunk driver.
Now a study conducted at the University of Washington has revealed that 30% of all pedestrians crossing a street are distracted by some mobile communication device. It also concluded that pedestrians who are texting were four times less likely to look before entering the street, follow pedestrian traffic control devices or cross streets at designated cross walks.
After monitoring some of Seattle's busiest intersections, researchers found that pedestrians who are texting took two seconds or more longer to cross the road than people who are not texting. Other past studies have documented pedestrians taking more risks crossing streets when talking on their cellphones or while wearing headsets.
Dr. Beth Ebel, who led the team conducting the research, said they observed over 1,100 people crossing Seattle's busiest streets at random times. The result was astounding. Nearly 30% of all pedestrians were distracted in some way while crossing busy streets. Some of the primary distractions included listening to music (11.2%), texting (7.3%) and talking on a cellphone (6.2%).
Interestingly, those pedestrians using I-phones or some other smart phones walked even more slowly than others using other mobile devices and were more likely to walk into the street without looking or cross against the pedestrian traffic control device.
According to the Centers for Disease Control and Prevention (CDC), some 60,000 pedestrians are injured and 4,000 killed each year.
Dr. Ebel says that this is much like Pavlov's experiment in behavioral psychology in which he would ring a bell and give them food. After a while, the dogs would begin to salivate after the ringing of the bell, even when there was no food. She compared getting a text message to the ringing of the bell, knowing that we are about to receive the treat of a message.
Pedestrians in many states could possibly recover damages from the driver of a vehicle that struck them, even if the pedestrian was partially negligent for not paying attention. Those jurisdictions have some form of comparative negligence. However, since North Carolina is a pure contributory negligence state, pedestrians cannot recover if their negligence in any way contributed to the cause of the accident and resulting injuries.
Nevertheless, drivers need to be on the lookout for distracted pedestrians who are not paying attention when crossing busy streets in front of them.
If you or a family member have suffered any type of personal injury or lost loved ones in a fatal accident, it is best that you seek advice from a North Carolina attorney experienced in handling personal injury cases.
Auger & Auger has devoted 100% of its practice to nothing but serious personal injury and wrongful death cases. Our attorneys have over 40 years of combined experience and are highly regarded in the legal community. Let us help you.
Contact us through our website or call directly at (704) 364-3361 to set up an appointment for your no obligation consultation.
You will never owe us anything unless we make a recovery for you.
Other Resources:

Texting pedestrians asking for trouble, study finds, NBC News, Article by Maggie Fox, December 12, 2012
Related Blog Posts:

Pedestrians and Cyclists Are No Match For Any Kind of Vehicle, North Carolina Car Accident Attorney Blog, August 10, 2012
Dangerous School Crossings in North Carolina Result in 3 Major Accidents, North Carolina Car Accident Attorney Blog, March 26, 2012
North Carolina Highway Patrol has found that 16 year old Taylor Clark was texting when she caused a head-on collision, killing 17 year old passenger, Seth Beaver. Clark has been charged with misdemeanor death by a motor vehicle, failing to yield, and texting while driving.
It has been illegal for drivers in North Carolina under the age of 18 to use a cell phone while driving since 2006, and for any driver to text while driving since December 1, 2009, but drivers such as Clark continue to ignore this law. In fact, a study by the Insurance Institute for Highway Safety has reported that even though North Carolina bans cell phone use by drivers under 18 years of age, cell phone use by this group actually increased since the law went into effect.
There are currently three bills pending in North Carolina, all aimed at curtailing the use of cell phones by all drivers. If passed, House Bill 31 will make it illegal to use a cell phone while driving, and House Bill 44, would allow use of hands free devices only. Senate Bill 36 is nearly identical to House Bill 31. If passed, these laws will go into effect on December 1, 2011.
Our experienced car accident attorneys encourage you to talk to your teen. Reinforce the rules. Sit down with your child and watch "Faces of Distracted Driving". Real stories, about real teens, who paid the ultimate price when someone was texting while driving.
An informal study conducted by State Farm Insurance found that nearly 1 out of 5 drivers use the internet while driving. Due to these alarming results, State Farm has expressed plans to conduct a more thorough study later this year.
The director of Auto Technology Research at State Farm, Cindy Garretson, believes these figures to be underestimated. According to Ms. Garretson, the survey respondents were in the mid 30's age group, but the majority of smart phone users fall into a younger demographic.
The National Highway Traffic Safety Administration reports that from 2005 to 2009, traffic fatalities attributed to driver distraction increased from 10% to 16%, and that drivers under the age of 20 years old made up 16% of distracted driver fatalities. This was followed by the 20-29 year old population which made up 13% of all distracted driver fatalities. Although the 30-39 year old age group did not represent the highest number of distracted driver fatalities, it was the group that had the highest number of drivers that were distracted due to cell phone use.
If you or a loved one has been involved in a car accident caused by a distracted driver, call the experience car accident lawyers at Auger & Auger for a free consultation.
In our North Carolina Car Accident Attorney Blog, we recently wrote an article, New Approach to Teach Teens Danger of Texting While Driving. In that article, we described a video that was shown to teens participating in the program, illustrating the danger of texting while driving. AAA Carolinas has announced that it will be airing the video over the upcoming July 4th holiday weekend. That video can be seen by clicking here. WARNING: This video is graphic.
North Carolina State Highway Patrol Officers acknowledge the difficulty of enforcing North Carolina's ban on texting while driving. In their efforts to teach teens the danger of texting while driving, troopers are visiting North Carolina high schools with a program designed to deter the illegal act.
The students watch a video that re-enacts a traffic fatality involving a teenage girl texting while driving, and then drifting into oncoming traffic, ultimately killing the occupants of her vehicle, as well as those in the oncoming vehicle.
Following the video, the students participate in an obstacle course while driving a golf cart. On the first run, students navigated through orange traffic cones without texting. During their second run through the course, they were instructed to read and respond to a text message while driving through the course. One of the teens hit 15 cones while texting and driving through the course.
The results were no different in White River Junction, Vermont, where troopers, following the program initated in North Carolina, ran students through a similar program. One of the Vermont students readily admitted to striking 11 cones while texting and driving.
The aim of the program, of course, is to save lives. The captain of the Vermont Department of Motor Vehicle enforcement found a 400% average increase in driving errors and dramatically decreased reaction time.
The National Safety Council (NSC) estimates that cellphone use, whether talking or texting, is responsible for 1.6 million crashes, or 28%, per year. They also report that people who text while driving are 8 to 23 times more likely to crash. These are exactly the statistics troopers hope to reduce through their "dnt txt & drv" program.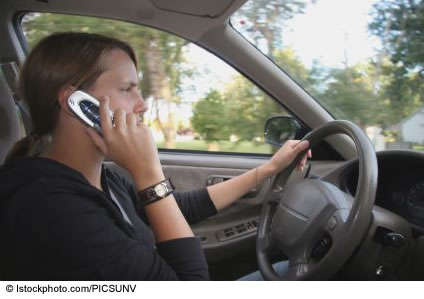 North Carolina law prohibits motorists under the age of 18 to use a cellphone, yet a study by the Insurance Institute for Highway Safety (IIHS) has found that since the enactment of this law, teen cellphone use in North Carolina has actually increased.
As part of its study, IIHS watched teen drivers as they drove away after school in the afternoon. Before the law went into effect, researchers noted that 11% of teen drivers were using their cellphones as they drove away from school. A few months after the law took effect, researchers found that almost 12% of the teen drivers were using their cellphones as they drove away from school.
Ironically, the study also found that teenagers were more likely to even be aware of the ban on cellphone use for drivers under the age of 18, than their parents. The study reported that 39% of parents knew of the ban, while 64% of their teens knew about it.
Not surprisingly, however, teenagers did not support the ban as strongly as their parents. Of the parents and teens that were aware of the ban on teen cellphone use while driving, 95% of parents supported the ban, while only 74% of teens supported it. Eighty-eight percent of the parents surveyed reported that they restricted their teenager's cell phone use, but only 66% of teens admitted that their parents restricted their cellphone use.
Despite the ban on cellphone use for teens under the age of 18, almost half of the teens surveyed by IIHS admitted that they still used their cellphone while driving.
With enforcement nearly non-existent, teens are likely to continue to use their cellphones while driving. If you have been injured due to a driver who was distracted by cellphone use, you may be entitled to recover damages. Contact our North Carolina accident and injury lawyers today for more information.