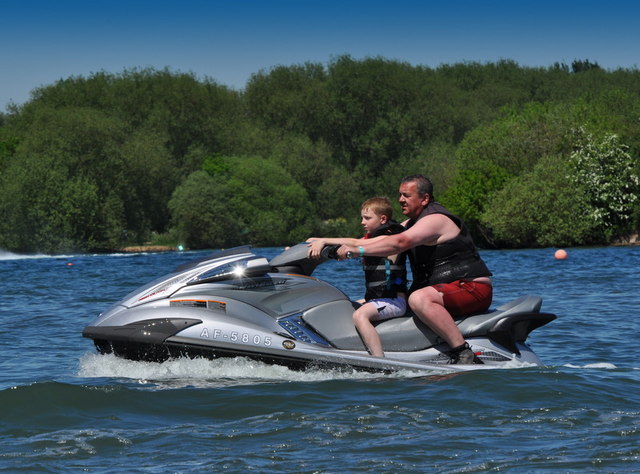 Riding a jet ski is an exciting way to spend an afternoon. The salt water spraying your face, the wind whistling past your ears…there may be nothing better. Scratch that. Better would be sharing the experience with a friend.
When you ride your jet ski with a passenger, a few things change. Much like riding a motorcycle with someone on the back, you have to be more aware of the added weight as you accelerate, brake, and turn. If you decide to drive a jet ski with a passenger on board, take these tips into consideration.
Life Jackets
Both you and your passenger should be wearing life jackets. If your passenger doesn't have one, and you don't have one they can borrow, they don't get to ride. It really is that simple.
Knowledge
Does your friend know what to do if something were to happen to you? If not, be sure to give them a brief safety lesson before you take off. Your friend should, at a minimum, know how to power the ski, steer it, and put the brakes on.
Face Forward
The time for tricks is not when you have a passenger on board. Make sure your friend knows that they are expected to face forward at all times. Ask that they hold on to you in a way that is comfortable for the both of you.
Go Slow
Don't take off full throttle. Give your passenger time to get used to the ski. Driving slowly will also give you an opportunity to determine how the ski is going to handle with a second person on board. Do not speed up without telling your friend your plans. The ride is supposed to be fun for both of you.
Pay Attention
Your passenger's body language will tell you a lot about how comfortable they are and how much fun they are having. If your passenger seems to be frightened or worse, ill, bring the ski to a stop and find out what is wrong. Communication is key.
Jet skis are fun for people of all ages. If you decide to take a passenger along for the ride, follow the tips above. You are both sure to have a better time if you do.
If you have been injured in a jet ski accident, our experienced attorneys are here to help you. Call our offices today for a free initial consultation.
In just over a week, there have been four drownings in the state, and officials are looking hard for a reason. As the summer season kicks into high gear, the powers that be in North Carolina are urging people to remain vigilant as they head on and into the waters across the state. Officials have made note that each incident had very little in common, something that is raising even more concern.
On June 14, a woman lost her life after drowning in 2 feet of water.
On June 20, a kayaker died on the Catawba River.
One more person drowned after jumping from a bridge. Another's body was found by a fisherman.
Even though drownings are raising a concern, law enforcement officials are quick to point out that there has been much more safety compliance as of late than in years past. There were very few citations written over the past holiday weekends, proving that people are taking safety more seriously.
According to Officer William Laton of the North Caroina Wildlife Resources Commission, "Education is key". More safety checks will be conducted this year aboard vessels prior to them being allowed to head out to open waters. This is not to hinder anyone's good time, but to help people understand what they are doing right and where they can improve in terms of safety.
If you plan on venturing to local shores and beaches this summer, or even out on a boat or jet ski, keep in mind that it is easier to drown than you may think. Accidents happen and the best way to prevent them is to be prepared.
Even if you know how to swim, never swim alone. The buddy system has been known to save countless lives. If you will be going out on a boat or jet ski, wear a properly-fitting life vest. A vest will keep your head above water, even after you tire of swimming or treading.
Before you leave for the beach, let people know your plans. Many people have been saved after boating accidents simply because they took the time to tell someone where they would be traveling. The "lake" or "river" is a big place…never assume that telling someone which body of water you will be on is enough.
If you are injured or have been injured in a boating or jet ski accident, you need a compassionate attorney on your side. Call our offices today for a free initial consultation. We will fight to get you the compensation that you may be entitled to.
Jet skis are exciting and time spent on the open water is a fantastic way to waste a beautiful day away. Unfortunately, fun and excitement turned to fear and tragedy for three siblings on Lake Norman.
Two jet skis crashed into one another on the lake Wednesday afternoon. A jet ski carrying only its driver crashed into a second jet ski being ridden by a driver and a passenger. The passenger on the second jet ski suffered injuries to his back and leg. The three people involved in the crash are siblings.
Neighbors close to the lake heard the crash and the siblings screaming and called emergency services. The injured 18-year-old passenger was brought to shore by the driver of the opposite jet ski, also 18. Paramedics rushed the injured teen to Carolinas Medical Center.
The male teenager suffered a broken pelvis, a broken femur, and injuries to his back. North Carolina Wildlife Officer Scott Strickland said the boy should not have permanent damage to any part of his body. Strickland added that the injured male is lucky as the accident could have been fatal.
The jet skis crashed into one another around 6 p.m. according to first responders from Troutman Fire Department. Each person involved was wearing a life vest and it is known that no alcohol was involved in the collision. Life vests are required by law in North Carolina for all jet ski and boat passengers.
Executive director of The Lake Norman Marine Commission said, "Boating safety is our number one concern. We always recommend some kind of boater education class has been taken and passed the test."
One jet ski-rental facility in Lake Norman goes so far as to send all customers a safety video and checklist prior to renting a jet ski. Information includes how to find safety equipment and how to operate the jet ski properly. Alex Bobyarchick, of Lake Norman Jet Ski Rentals, says that the most important jet ski safety tips is to always wear a life vest, drive as slowly as possible, and abide by the 150-foot wake law. The same goes for boaters.
If you have been injured on the water, you need an attorney you can trust. We are here for you and your family. Contact our offices as soon as possible for your free initial consultation. We will work hard to get you any compensation that you are entitled to by law.