Common Vacation Injuries to Avoid
Author: Auger Law | May 16th, 2018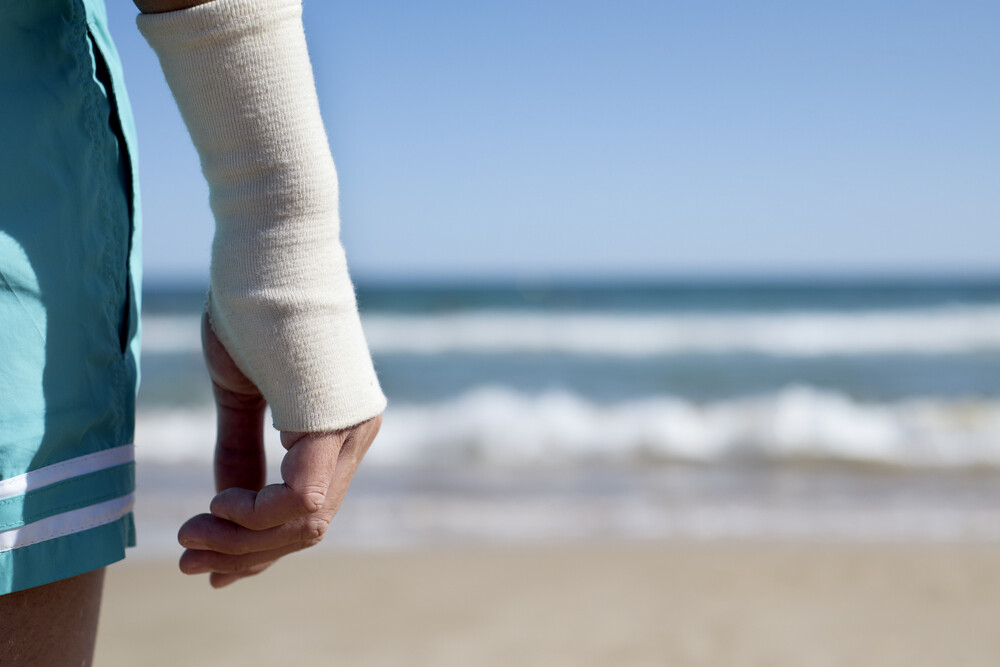 Tourist season is kicking into full gear. If you are in the Carolinas, chances are you may be heading to the beach for your much deserved vacation. No one ever wants to get sick or hurt; especially on a trip.  Knowing how to avoid common vacation injuries and accidents can help ensure that you and your family have a wonderful time from beginning to end. Keep you and your family safe and happy by protecting yourselves from the most common accident and injuries that occur during family vacations.
Allergies
You may know what you are allergic to in your own backyard, but flora and fauna that you aren't used to can make you a victim of hay fever, hives and plenty of other issues. Nobody wants to deal with allergies while on vacation. Before you take a trip out of your home city, research your destination and check out the allergy reports for where you are heading.  Knowing what you may encounter will help you know what to expect before you get there.
Once you arrive at your destination, pay attention to the weather reports. Chances are high that the forecaster will give you the expected pollen or other allergen count for the day. If the allergen or pollen count is going to be high, stay indoors until late afternoon or evening. Change your clothes when you come in from outdoors, and wipe your skin off with a baby wipe or wet towel. This will help get the pollen off of your body which may prevent your allergies from flairing up.
Car, Golf Cart and Bicycle Crashes
Driving on two or four wheels can be dangerous. Driving becomes even more dangerous when you are cruising along unfamiliar roads. Locals will drive the way they feel comfortable driving, and tourists will often drive in a hurried, rushed or distracted fashion. Often, these two driving styles don't match up and can lead to car accidents. If you are driving through unfamiliar territory, do not exceed the speed limit and be sure that you understand how to get where you are going before you set off on your journey.
If you are riding a bicycle through a tourist area, make sure you are wearing a helmet. Any bike rental stand or company should have them available for your use. If you are driving an unfamiliar vehicle, get to know the controls before you put it in drive and hit the accelerator.
Similar to bikes, most people consider golf carts to be relatively safe, it's important to remember that they are still vehicles and that accidents do happen. You can have a lot of fun on a golf cart, but you can also end up seriously injured or injuring someone else if you don't act responsibly.
Whether you are driving your golf cart on a city street or riding a bicycle down the side of the road, you are considered to be operating a vehicle. Golf carts and bicycles are often subject to the same traffic laws as typical passenger motor vehicles.  Make sure you know and obey the laws at all times! Say no to reckless driving, tailgating, speeding and operating ANY vehicle if you are under the influence of alcohol or drugs.
Swimming Accidents
Swimming is a fantastic part of summer. Whether you are in a hotel pool or the calming waves of the ocean, swimming accidents can happen in a split second. If you are a parent, keep an eye on your children at all times. If you are swimming in natural waters, heed any warning signs and obey the lifeguards at all times.
If you aren't a strong swimmer, wear a life vest. Your children should wear safety items like inner tube rings, arm floats or life vests. These things may inhibit your ability to actually swim in the water, but they can prevent you from drowning which is definitely more important.
Food Poisoning
Some may find it surprising that food poisoning is a main cause of injury and illness during vacation. It's completely normal to want to try a bit of the local cuisine if you are in a new place, but ask for a few tips before you do. The locals can tell you what restaurants are worth visiting and which are best to avoid. Also, if you decide to cookout, follow food safety rules to ensure that you don't make yourself or your family ill.
Sports Injuries
Sports related injuries while on vacation are all too common. Who hasn't enjoyed football or volleyball on the beach before?  If you decide to be active and play a game, ride a jet ski or jump in the hotel pool, make sure you are doing so with safety in mind.  
Before you participate in any kind of physical activity, take a moment to stretch and warm up your muscles, especially if you aren't quite used to exercise. This can be really important when you are traveling to warmer climates and haven't been able to get outside at home in the recent weeks before your trip. Also, know the rules of the game you are going to play and, if you are riding on any type of machinery or recreational vehicle, ask the rental agency or owner about safety rules and requirements before you hop on board. It is also the best practice to avoid mixing alcohol and athletic activities
If you or a member of your party gets ill or is injured on vacation, stay as calm as possible. If the issue is a minor one, take care of it and go about enjoying your vacation. If the injury or illness is severe, stay calm and seek emergency medical assistance as soon as possible.
Speak with a Carolina Injury Attorney Today
If you are injured in Charlotte or elsewhere in the Carolinas — whether you are visiting or a resident, know your rights and your options! If your injury was caused by someone else's negligence, call our office and schedule a free case evaluation. We will review the circumstances of your injury and advise you of your options and how we may be able to help.  We wish you a safe and fun time during your travels.