4,976 motorcyclists lost their lives in accidents in 2016.

These fatalities comprised 13% of all traffic deaths that year.

27% of motorcycle drivers who died as the result of an accident in 2016 were unlicensed.
Link: http://www.iihs.org/iihs/topics/t/motorcycles/fatalityfacts/motorcycles

The state of North Carolina has many laws on the books that relate to motorcycles. In general, these laws are enforced to keep motorcyclists safe. They also serve to keep passengers and other drivers on the road out of harm's way. These laws pertain to licensure, the use of roadways, and inspections. Here is a brief rundown of the laws every motorcycle operator must know.
Definition
A motorcycle, as defined by law, is a vehicle designed to travel on three or fewer wheels. Motor scooters and motorized bicycles are included in this definition. Mopeds are defined under their own category in some states but are considered to be the same type of vehicle in North Carolina. According to the letter of the law, if you are driving a motorized vehicle that has either two or three wheels, you are operating a motorcycle.
Licensure
If you want to drive a motorcycle on any road in the state, you must have one of the following:
A provisional license with a motorcycle learner's permit

A driver's license with a motorcycle learner's permit

A provisional license with a motorcycle endorsement

A driver's license with a motorcycle endorsement
Additionally, your motorcycle must have a license plate securely attached in a horizontal fashion.
There are two different avenues you may choose from to obtain a motorcycle license in the state, and which you choose will depend on whether you are licensed out of state or will be obtaining a motorcycle license for the first time.
Out-of-State Motorcyclists
If you move to North Carolina and want to maintain your valid motorcycle license, you will need to do so within 60 days of establishing residency. You will go to the DMV and provide proof of your name, date of birth, residency, citizenship and Social Security number. You will take a vision test, pass both written and road exams if your license is no longer valid, and pay an endorsement fee. Once you obtain your North Carolina motorcycle endorsement, you will surrender your out-of-state license.
New Endorsement
In order to receive your North Carolina motorcycle endorsement, you have to be at least 16 years old and have a standard state-issued driver's license, provisional license or commercial driver's license. You will have to pass a written test and an on-road test and pay an endorsement fee. More information can be found on the DMV's site.
3. Lights, Horns and Mirrors
Every motorcycle on the road must be equipped with a working brake light. The brake may be operated by hand or foot. Under normal conditions, your bike's horn must be audible from no less than 200 feet away. Your bike must also be equipped with a rearview mirror that allows you to see at least 2,000 feet behind you.
Your motorcycle must also have at least one headlamp that is lit at all times, no matter if it is day or night. Your license plate must also be well lit.
4. Helmets
North Carolina is among several states in the country that require that a driver wears a helmet. Your passengers must also have protection on their heads. Your helmet must be "compliant" with the Federal Motor Vehicle Safety Standard (FMVSS) 218.
5. Insurance
State law dictates that anyone who owns a motorcycle must have their vehicle insured. You must have a minimum amount of coverage to be considered legal in the state. You can, of course, purchase a greater amount of coverage if you choose to do so. You must carry at least:
Bodily injury or death to a single person in a single accident in the amount of $30,000.

Bodily injury or death to more than one person in a single accident in the amount of $60,000.

Property damage in a single accident in the amount of $25,000.
It is up to you whether you carry collision or comprehensive coverage, but both are a good idea. Other optional coverages include medical payments and towing and labor.
Failing to purchase or maintain insurance coverage is considered against the law. If you do not carry insurance or let it lapse, you will be fined and your license could be suspended. In North Carolina, insurance companies are required to alert the DMV when someone purchases insurance and when that insurance is allowed to lapse.
Beginner Bikes
While you are certainly not bound by law to purchase any specific motorcycle, the DMV has recommendations when it comes to buying your first bike. People who are new to riding may want to choose bikes that are of lighter weight and have a lower seat height. They may also want to purchase a bike that is at the more cost-effective range and is non-specialized. Consider that your first bike will likely be your starter bike. Choosing something you can learn on in order to gain experience will prepare you for a larger, more expensive bike later.
Motorcyclists are also ruled by the same laws as those operating four-wheeled vehicles. You are bound to the same laws regarding speeding, stop lights and the like. If you have any questions as to the laws pertaining to motorcycles in our state, you can click here for more information.
If you have been involved in a motorcycle accident in North Carolina, we want to assist you. Reach out to our team of personal injury attorneys today for a free case evaluation. We are here to help you and your family. Call now.
Part of the thrill of riding a motorcycle is being able to cruise over the open road and take in beautiful scenery. There may be no other better way to take in your surroundings than a bike ride. On a bike there is nothing separating you and your location and some people say that is the freedom they love and feel when they are on their motorcycle. If you are looking for some info on cool motorcycle routes in North Carolina, you are in luck. Here are some great rides to take if you are looking for some new ideas.
1. Deal's Gap
This route is also known by its other, perhaps more popular, name: Dragon's Tail. If you start in North Carolina, you will be in Tennessee before your ride is over. You can catch the road in Tapoco, NC and take it all the way into Tallahassee, TN. You'll drive near the Smoky Mountains, beautiful forests and navigate no fewer than 318 curves. The road is a challenge that is better left to someone who has experience on their bike; new riders beware.
2. Blue Ridge Parkway
This is another two-state route. The Blue Ridge Parkway will take you from North Carolina into Virginia. There are two places to start the route in North Carolina: Asheville and Cherokee. As you are riding, you will be able to take in the sights of the Smoky Mountains in the south and several historic sites to the north.
3. The Copperhead Loop
Look for the beginning of the loop near the Asheville Regional Airport on Interstate 26. Take Exit 40 towards the airport, head toward Brevard and make your way to the Pisgah Forest. You'll only travel three roads on this loop, making it an easy one to remember. Riders on the loop will see Davidson River, Looking Glass Falls and Sliding Rock, just to name a few sites. There are several places to stop along the route if you are feeling like a shutter bug.
4. The Cherokee Run
Take US 19 South and then one of three choices: U.S. Highway 441 North, U.S. Highway 441 South or U.S. Highway 74 west. Any of the choices will lead you down roads that are full of scenic and beautiful roads. Keep an eye on your speed because of the road quality! This ride is a good one for someone gearing up for the Tail of the Dragon route.
5. Devil's Whip
Find Pleasant Gardens, NC and you can start this ride which will have you climbing to 2500-ft elevation. As you ride, be sure to take in the beautiful water and lovely views of Mt. Mitchell. Riders enjoy this route because once you get past residential areas; there isn't much else but plenty of road. If you are looking for a ride that has you feeling like it's just you and the road, this is the one for you. Get something to drink and gas up because there is nowhere to stop past the golf course.
6. Full Day of North Carolina Twisties Loop
This ride will take you through 133 miles of some of the most challenging asphalt in the state. You will find yourself on Highways 23, 107, 64, 281 and 276 during your ride. You will ride through the Nantahala National Forest and be pleasantly surprised at how well the roads are kept. Your smooth ride will take you down Highway 276 which is full of some of the most twists available on any loop.
7. The Coastal Huggin' NC 12
If you want to do this ride from one end to the other, you'll have to use the Ocracoke Ferry. If you don't want to maneuver your bike onto the ferry, you can start in the middle and head either north or south. The middle point is in Whalebone. As you ride along NC 12, you'll be treated to the sight of the Atlantic Ocean and the Intercoastal Waterway. You'll see tourists enjoying what our state has to offer as well as some gorgeous sand dunes. There are a ton of tourist attractions along this route which means you can easily make a day of it.
8. Old Liberty Road
Sometimes you don't want to ride for hundreds of miles and you don't want to be gone for hours. If you are looking for a fun little ride, this is the one. Old Liberty Road stretches for only 17 miles, making it perfect for a jaunt in the evening after a long day at work. If you're in the mood for farmland and pastures, take this ride. Take Old 220 north from Asheboro and turn right onto Old Liberty Road. Enjoy the ride to Liberty, NC and back.
9. Back Country Church Roads
53 miles packed with scenery is what you will find on this route. In Durham, you'll take Erwin Road, W. Cornwallis Road and Walnut Grove Church Road. W. Cornwallis Road changes names a few times so don't be alarmed thinking you made a wrong turn. You'll see several churches along the way as well as forests, fields and little towns. Take the ride when the weather is clear and you'll be treated to dozens of pleasant sights.
10. Quiet Country Ride
Here's another route to take if you are looking for a relaxing ride through the countryside. 77 miles along Route 157 north and through the towns of Elfland and Cedar Grove and up to Roxboro. You'll eventually loop back to your starting point in Durham. Streams, small lakes and twisting farm roads highlight this route through the sleepy countryside.
Speak to a North Carolina Motorcycle Accident Attorney Today
If you are looking for a new route, any of the above are well worth a try. You might just find a new favorite. If you are injured in a motorcycle accident in Charlotte or elsewhere in the state, call our office. When an accident is caused by someone's negligence or error, victims have the right to compensation.
A common riding safety viewpoint often expressed to motorcyclists over the past decades has been to tell them to ride like they are a target for everyone. It is almost like saying to bikers that they should assume that other vehicles are out to get them (even thought that is not remotely true). The point of all of this kind of talk is to try to make bikers remember to always drive defensively. This advice is not new, but even with all of the technological advances in motor vehicles, it is still very relevant.
Motorcycle riders on today's highways and roadways are always vulnerable to potentially serious injuries. Motorcycles are frequently said to be difficult to see by other vehicles on the road. That is true under even the best driving conditions.  If you throw in the reality that there are many distracted drivers on the roads, the chances of a distracted drive not seeing a motorcycle on the road can are very high. Distracted driving has become a major problem in the United States, and it has put bikers at a higher risk than ever before. Motorcyclists must be prepared to drive defensively.
The Problems on the Roads
Most people haven driven distracted at one time or another. Cell phones are one of the most obvious distractions for drivers, but they aren't the only problem. People have conversations with other passengers in their vehicles, use their rearview mirror to check their appearance and eat, all while they should be completely focused on their driving. . All of these distractions can take a driver's focus away from the task at hand, and all are potentially dangerous things to do while driving.
Folks that ride (bikes) and people with family members and friends who also ride tend to be some of the most attentive drivers on the road. Even when paying attention, drivers don't always hear or see riders. Now imagine how much more hazardous it is for the person on a motorcycle when the people around them are performing a variety of other tasks behind the wheel while driving…It is so dangerous and not just for the bikers, but for everyone!
Knowing how to spot distracted driving can help you make important decisions. Getting ahead of a vehicle or hanging far back could be what saves your life. Here are some warning signs that may suggest a driver is distracted:
They are consistently slowing down or speeding up without cause.

It's not fair to say that anyone who slows or accelerates is distracted, but it's best to assume they are not focused when there is no apparent reason for their changes in speed. Be mindful that someone that is speeding up or slowing down for no reason may very well be a distracted driver.

They fail to signal turns or lane changes.

Unfortunately, some people have the bad and dangerous habit of never using their turn signals. However, if you are behind a driver who is only intermittently using their signal, the chances are high that they are distracted when they miss hitting their indicator. If you are near a vehicle that changes lanes or turns without signaling, they are a bad driver that also may be distracted. Stay a safe distance away from drivers that fail to use their signals as the law requires.

They do not move at a green light.

 Have you ever been behind that person who doesn't seem to realize that the light turned green? Most of us have experienced this at least once. Take a look at the position of their head while they are sitting there. If you see their head snap up before they quickly accelerate, there's a good chance that they were texting, reading, chatting or checking out their social media accounts.

They never move.

Look for a driver whose head never moves. They don't look left or right. Their head remains straight ahead or at an odd downward angle. If they stay in one constant position, it is likely that this driver is doing something else behind the wheel.  Remember, you don't have to be on a cell phone or actively doing something to be a distracted driver. Any driving where you are not focused (day dreaming, preocupised thoughts on something else) is distracted driving.
Keeping Yourself Safe
Sometimes noticing that a driver is distracted isn't enough. Additionally you may need to be able to make maneuvers to keep yourself safe. Some of these things may come naturally to you, and others may require some practice.  Either way, consider the following:
Signal to drivers with your headlight.

This is an easy way to show the driver your position. Move your bike in such a way that your headlight moves slightly back and forth, making other drivers look up and pay attention.

Use hand signals.

You may be surprised at how many people fail to learn the hand signals that go along with riding a motorcycle. Some people assume that they are unnecessary because of the lights that are on all bikes. It's simply a good idea to

also

use hand signals. Many people don't, so it is an action that will get you noticed.

Evaluate traffic.

You should be able to evaluate the flow of traffic, the vehicles on the road and the problems that may arise. The more information you gather through observation, the better chances you have of not being the victim of a distracted driver.
Distracted Driving Statistics.
3,450 were killed as a result of distracted driving in 2016

Approximately 481,000 drivers use cell phones while driving during daylight hours

Eating is a close 2nd to cell phone use when it comes to being the #1 distraction

Tens of thousands (or more) of people are injured annually due to distracted driving
While distracted driving is a problem for everyone, motorcyclists may be at a higher risk of fatality due to their lack of protection. Learning how to spot and stay away from a distracted driver can go a long way in keeping you safer on your journey.

If you have been injured in a motorcycle accident in Charlotte or elsewhere in the Carolinas that was caused by a distracted driver, reach out to our team. Call our office today to schedule a free case evaluation, and let us help you discover the options and rights that you have.
Do you think you know everything there is to know about riding motorcycles? Even if you are a seasoned rider, there may still be things you are not aware of regarding motorcycle safety. There is no shortage of myth and misconception surrounding bikes, their riders and their safe operation.
Here are 10 of those myths and misconceptions, many of which you may have believed in at one point or another.
Loud Pipes Make You Safe
Many people believe that a louder exhaust pipe on a bike leads to more safety for the rider. When you think about it, it makes sense. If you can make your motorcycle as loud as possible, other drivers on the road are more likely to notice you.
Research has shown that this actually isn't the case. In fact, bikes with modified exhaust systems are involved in more crashes. If you want to be noticed, wear a bright helmet and light-colored clothing.
Helmets Do More Harm Than Good
Some people don't wear a helmet because they believe head protection does more harm than good. People believe that the added weight on their head makes it more likely for them to break their neck in an accident.
This isn't true. People who wear helmets sustain fewer head and neck injuries than those who don't. This is because a helmet is made to absorb the force of an accident.
Helmets Hinder Vision
This one may have some basis in truth. A helmet that doesn't fit properly could potentially make it more difficult for you to see, if it slips and slides. On the other hand, a properly-fitting helmet will not hinder your vision or your hearing.
Helmets Fail at High Speeds
The simple fact is that a rider is more likely to survive a crash if they are wearing a helmet, no matter the speed.
Skill Makes You Safer
Some riders believe that if they have enough skill, they can handle anything. Of course, the more experienced you are, the safer you are, but it doesn't mean you are invincible.
Do not believe the lie your experience will keep you out of harm's way. An enhanced sense of skill may have you operating your bike more recklessly than you would otherwise.
Younger Riders are Reckless
Out of all motorcycle deaths, nearly half occur in the over-40 age bracket. In the last decade, fatalities among riders over 50 years old have risen by 400 percent. Researchers attribute this fact to inexperience and more powerful motorcycles on the market.
Just because someone is young doesn't mean they are more dangerous. Someone's age doesn't relate to their probability of getting into an accident.
Side Streets are Safer
Some riders stick to side streets, believing that they are safer than highways. In some instances, this could be true, but in most, it isn't.
Think about your nearest highway. All drivers are traveling in the same direction and there are no added dangers of cyclists, pedestrians, stop signs and other objects on the side of the road. If you look at the statistics, motorcyclists are much safer on the highway than they are on a neighborhood street.
One Drink Is Okay
You may not feel intoxicated after one drink and think you are okay to hop on your bike and ride wherever you like. This isn't the case. Even one drink can slow down your reaction time.
The faster you react to a situation, the better off you are — perhaps even more so on a motorcycle than in a car or truck. If you are out on your motorcycle, you should not consume any alcohol under any circumstances.
Other Drivers Don't Care
This is simply untrue. If you ride your motorcycle, try not to get a chip on your shoulder about drivers in cars and trucks. They do care about you; it's just that many may not understand how to treat a motorcycle rider safely.
It's often easy to tell the drivers who are riders themselves or who have riders in their family. They will stop further behind you, give you wider berth and look over both shoulders before turning lanes. Be sure to give a wave of thanks to these people. They may be the ones to educate others.
Non-Motorcycle Drivers Don't Want to Share the Road
Yes, there are some bad and selfish drivers out there that act like they own the road.  However, no one wants to be in an accident. As more and more people use motorcycles for transportation, the general driving public is becoming more accustomed to driving with more and more bikes on the road.  Just continue to be a safe driver that is focused on the road!
Speak with a North Carolina Motorcycle Accident Attorney Today
The aftermath of a motorcycle collision can be very serious. You may suffer head trauma, broken bones or even spinal injuries. If you are one of the lucky ones, you'll walk away with a bit of road rash and live to tell the tale. If you are involved in a catastrophic accident, you could lose your life. Knowing the facts about motorcycles, their riders and how to safely use them can help you avoid some of the most common collisions.
If you are involved in a motorcycle accident in Charlotte, you have legal rights. Call our office today to schedule a free case evaluation. If another driver is responsible for causing your accident, we will help you hold them accountable. You may be entitled to compensation for medical bills, lost wages and more. Reach out to our team today to schedule your consultation and get the help you need.
The pull of the open road is something that motorcyclists understand. Riding a motorcycle is a freeing feeling and a way to relax for hundreds of thousands of people. For others, it's also a way to commute, saving money on gas they would otherwise be putting into their more traditional vehicle.
In North Carolina, there are approximately 200,000 registered bikers. While motorcycles can be found on the road at any time of year, they are more prevalent in the warmer months because more bikers are on the road. These accidents aren't always fatal, but most do result in at least some type of injury. There's just not much protection when you are on a motorcycle, even if you are wearing all of the right safety gear.
The state requires that all motorcyclists wear a helmet in order to protect riders from some of the most serious injuries. Even though wearing a helmet may protect your head, it doesn't stop accidents from happening. You can protect yourself better by knowing which accidents are the most common, and what you can do to try and prevent them.
1. A Vehicle Turns Left In Front of You
A vehicle driver turning left is one of the top causes of motorcycle accidents. A driver may not see you or could judge your speed incorrectly. They then turn in front of you, essentially cutting off your path, giving you no choice but to either lay your bike down or hit the vehicle.
To avoid this type of accident, you need to see it coming. You should look for any indicators that a vehicle in front of you may turn left. Be cautious at intersections, near driveways and close to parking lots. Be ready to take action if you need to.
2. Gravel and Debris
You're out riding the curves and, without warning, you round a bend and find a patch of loose debris in your path. It may be sand, gravel or leaves. It doesn't really matter what it is, because it causes you to lose control and wipe out.
You can avoid this type of accident by avoiding the situation altogether. Ride at speeds that are right for the road conditions and your range of vision. Enter turns slowly and accelerate as you ride out of them.
3. Cornering Too Fast
The general rule of thumb for curves is slow in, fast out. If you enter a curve at high speeds, you may find that you lose control of your bike. Once you've figured out that you aren't going to be able to make the corner, it's usually too late to do anything about it.
Avoid this by entering corners slowly. If you do enter a corner too fast, take as much lean off the bike as you can and let it do its job. Don't slam on your brakes, and don't hit the accelerator. Do your best to maintain control of your bike and coast through the corner.
4. Vehicles Changing Lanes
Another common reason for accidents are cars changing lanes in front of you. Keep in mind that if you are riding next to a car, you may be in their blind spot. As far as they know, the way is clear to move over into your lane.
Keep yourself safe by not riding next to a vehicle if you can help it. Always look for signs that a vehicle may be getting ready to change lanes, and be extra vigilant in slow-moving traffic where people may be getting impatient.
5. Rear-Ended by a Car
You stop like you should at an intersection, but the car behind you isn't paying attention. You are plowed into from behind at a high speed and thrown from your bike. There isn't much you can do about other driver's attention spans, but you can make sure that you are positioning yourself in such a way that a rear-end accident will have less impact.
If you can stop to the side of the lane instead of the center, especially with the front part of your bike next to another car, you're better off.
6. People In Your Group Don't Ride Well
No matter how experienced a rider you are, you can't speak for the people in your riding group. When people don't understand proper riding etiquette, they are more likely to cause an accident within their own group.
Avoid accidents by ensuring that everyone you are riding with is aware of how to ride in a group. Staggered formation is the way to go. It gives everyone a better line of site and can prevent one bike from crashing into another. If you find that one of your friends just can't get it together when you all ride together, don't ride with them.
7. Front Brake Locks Up
Sometimes we just aren't paying attention. We've all been guilty of it. You may see something in the road or along the side and squeeze your front brake without really realizing what you are doing. The next thing you know, you're on the pavement.
Before you use your front brake, you need how to use it. Practice makes perfect in this case. Know what your front brake will do to your bike at different speeds. You can practice in an open parking lot without posing a threat to yourself or other people.
8. Open Car Doors
This is a problem for people pedaling a bike and those riding motorcycle. You are moving down the road when a car door suddenly opens. This is actually an easy accident to avoid if you just stay out of the lane that is next to parked cars.
9. Slippery Pavement
It's raining or snowing and the road is slippery. If you knew that it was raining and your motorcycle doesn't have the best tires, stay off of slick pavement.
If you run into inclement weather suddenly, slow down and be prepared to make evasive maneuvers if necessary. Know that the visibility of other drivers on the road may be limited and drive accordingly.
10. Drunk Riding
In 2016, about 26 percent of riders killed in fatal motorcycle accidents had a blood alcohol content of 0.08% or higher — in other words, they were legally drunk. This one is simple: Don't drink and ride.
If you are injured in a motorcycle accident in Charlotte or elsewhere and are interested in pursuing compensation from the at-fault driver, reach out to our team for a free consultation. We will discuss your accident with you and advise you as to your best course of action.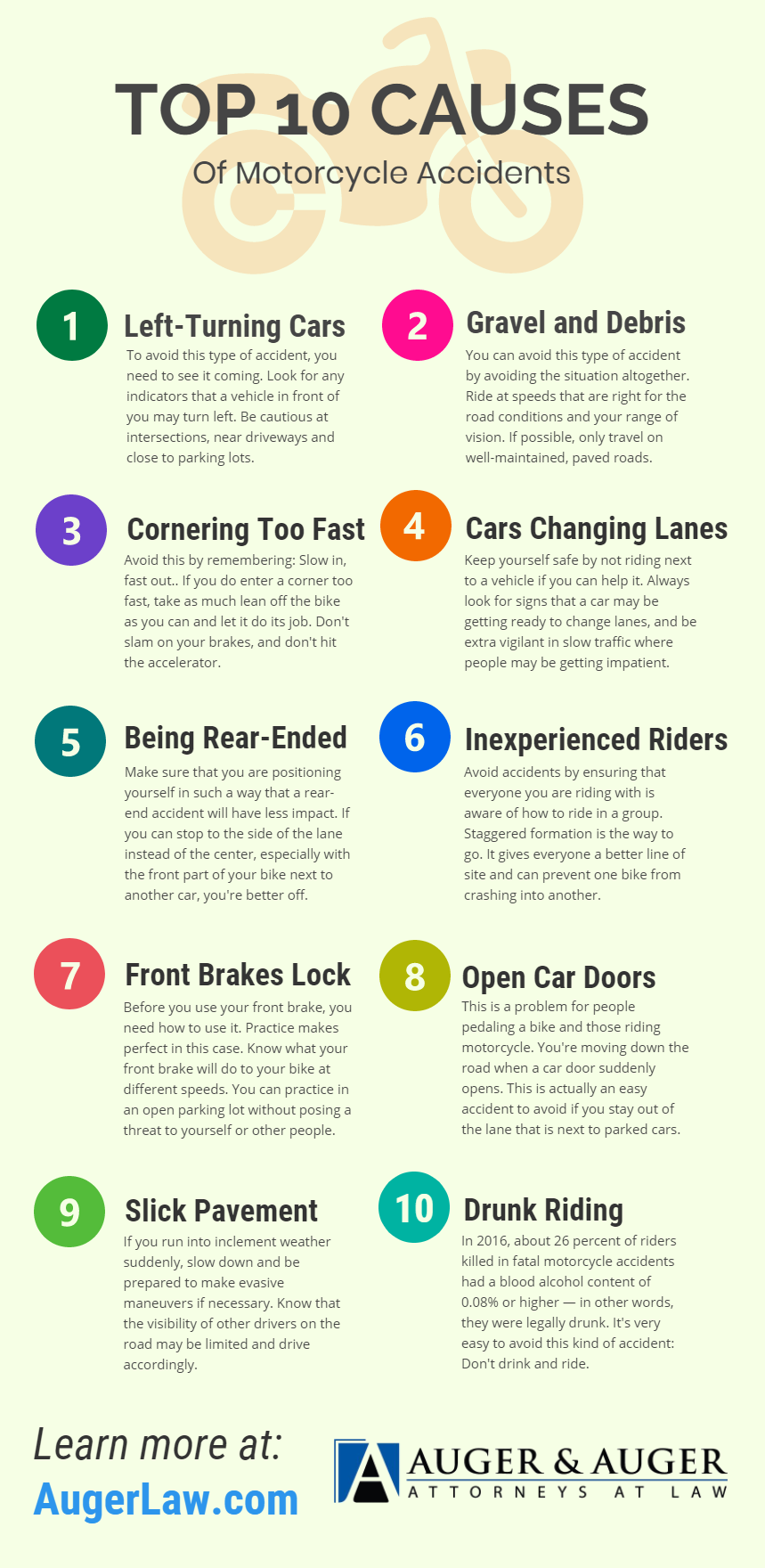 Whether it's the freedom of the open road calling your name or just something you've always wanted to do, you have decided to by a motorcycle. You're going to have a great time once you finally choose one, but the important part is choosing the right one. Not only that, but picking out all of the right gear.
There is more than purchasing a bike than a make and then there's the necessary safety gear that comes with it. Here are some tips on buying your first motorcycle, and everything else you need, in the hopes of helping you stay safe.
The Gear
As important as choosing the right motorcycle is choosing the right protective equipment. At a minimum, you'll need:
Helmet: Look for one that is federally approved, free of defects and fits appropriately.
Eye protection: If you don't choose a helmet with a face shield, you should invest in a good pair of goggles or riding glasses to protect your eyes from road debris and insects.
Jacket: A hoodie isn't going to offer you much protection. Look for a jacket made specifically for motorcycle riders.
Pants: You already own pants, so you don't need to spend money on new ones. You may, however, want to invest in a pair of chaps for added protection.
Boots: Sandals are a definite "no" when it comes to motorcycle riding. Invest in a pair of sturdy boots that cover your ankles and have a slip-resistant sole.
Gloves: A pair of leather gloves specifically made for riding will allow your hands to breathe while protecting them from flying bits of debris from the roadway.
Wearing the right gear is going to help keep you safe while riding, but it could also save your life should you be involved in an accident.
The Motorcycle
The motorcycle you choose will depend on your wants and needs. Most experts recommend that someone just starting out looks for a bike with a single or twin cylinder engine. These are the commonly recommended makes for beginners:
Honda single cylinder engine
Honda twin cylinder engine
Kawasaki twin cylinder engine
Suzuki twin cylinder engine
Yamaha single cylinder engine
If you do happen to be involved in a motorcycle accident in Charlotte or the surrounding area, you have rights. Reach out to our team today to schedule an appointment for a free case evaluation. We will review the details of your accident and talk to you more about your legal options. Call our office today or browse our website at your convenience to learn more about our firm and the types of cases we handle.
Driving a car requires little physical fitness. You get behind the wheel, you start your engine and you go where you need to go. Driving a motorcycle isn't so simple. A motorcycle requires balance, and balance requires strength. A person who can't control their bike is a danger to themselves and others on the road.
Picture this scenario: You are driving your motorcycle and feel it begin to tip. You plant your foot and do what you can to stabilize your bike. You lack the physical strength to hold it up, and you lay it down. Could it have been avoided? Quite possibly.
Getting into better shape can help keep you on two wheels longer. For many people, age-related declines in physical fitness have them giving up riding before they are ready. By staying fit, you will be able to enjoy the open road for years to come.
1. Work Out
How and when you workout is up to you. Some people find that they don't have the time or desire to join a gym. The good news is that there are DVDs and even apps that can help you develop your fitness. If you don't want to workout in your living room, hop on a bike and take a ride. Put the leash on the dog and go for a walk. There are a variety of ways that you can put a workout routine together.
2. Build Endurance
Building endurance will allow you to ride your motorcycle for longer periods of time. How you develop that endurance depends on your current state of health, but it should include increasing your heart rate. Start slow and increase your exercise over a period of weeks and months. Take your pulse and count your heartbeats per minute. A good goal is between 65 and 75 percent of your resting rate. Try to maintain this range for 10 minutes during your first workouts and longer in your subsequent ones.
3. Strength
You want to build the strength in your core, thighs and forearms. Weight training is the easiest way to build muscle, but any resistance activity will do. Yard work, swimming and even playing sports will help to build your strength. Here's a good rule of thumb: When you take on resistance training, you will feel it in your muscles. It's time to increase your weights when you don't feel the burn any longer.
Anyone who has not been involved in any type of fitness program should speak with their doctor before undertaking a new regimen. Your medical provider can help you determine the healthiest amount of exercise for your age, body type and current state of health.
If you are involved in a motorcycle accident in Charlotte, reach out to our team of experienced accident attorneys. We will review the details of your accident at no cost to you and advise you of your legal options. Call today to schedule your free case evaluation.
When you are out riding your motorcycle, chances are that you are paying close attention to the behaviors of others around you. You worry about other vehicles seeing you, and you stay out of the blind spots of truckers. Do you worry about road hazards?
Most motorcyclists know to avoid potholes and loose gravel, but those who are less experienced might not consider other hazards that are on the roads. Read on to discover how to stay safe on your bike when out on the open road.
1. Slick Surfaces
When rain or snow falls, it makes sense that the roads may be slick. Some don't consider that slick roads can also be caused by heavy fog or even early-morning dew. Regardless of the reason for the slippery roadway, there are things you can do to maneuver safely.
The first thing you want to do on slick surfaces is reduce your speed. It will take you longer to stop when the roads are slick so slow down. Your front brake is responsible for most of the braking power of your motorcycle, but on slick surfaces you should use both brakes equally.
As far as your path of driving, stick to the areas that are most clear. Water tends to build up on the side of the road and, in many areas, the center of the lane can be just as dangerous. Keep this in mind when you are deciding where to drive.
2. High Winds
Strong winds can come up suddenly and be difficult to drive through. A strong gust of wind can push your bike over faster than you can react. When the winds are high, follow these tips to stay upright.
Stick to the side of the lane that allows you the most room to maneuver. Stay far enough behind and away from other vehicles that you can steer safely should you be pushed by the wind. Sit upright on your motorcycle, hold onto both hand grips, and keep your feet firmly planted on the pegs. If you have the ability to do so, steer into the wind.
3. Riding Over Objects
You may find yourself in a situation where you have no choice but to ride over an object in the road. If this is the case, hold onto the hand grips, keep your front wheel straight, and rise up slightly. These things will help you absorb the shock of driving over the object.
There are some things that you cannot prepare for when you are driving a motorcycle. Weather can change quickly and hazards can appear seemingly out of nowhere. You will be better prepared for these things if you know how to react ahead of time.
If you are involved in a motorcycle accident in Charlotte or the surrounding areas, reach out to our team of experienced motorcycle accident attorneys for a free case evaluation. We will advise you of your legal options and help you make the best decisions for your unique situation.
Even as summer has come to a close, motorcycles are still all over the roads of North Carolina. The weather has cooled off just a bit, making it that much more enjoyable for this state's nearly 200,000 registered bikers to hit the open roads. But, as more choppers flood the roads, motorcycle accidents become much more prevalent. While these aren't always fatal, they do generally result in injury, as there's not much protecting a rider from other vehicles — and the road itself.
North Carolina has taken measures to prevent some of the most serious injuries by requiring all riders to wear a helmet. However much protection helmets and other equipment provide, however, they do not prevent accidents from happening. Here are the most common causes of wrecks, caused by both other drivers and motorcyclists themselves, and how to prevent them.
1. Car Ahead Makes a Left Turn
Whether on your bike or in a car, few nuisances are more aggravating than the vehicle in front of you stopping to make a left turn. If you are traveling at a relatively high speed, you may not have time to slow down, and end up crashing into stopped car. You can blame any number of factors, but at the end of the day, the accident will almost always be considered your fault. To avoid this accident, always be attentive to your surroundings. On single-lane roads with many left-hand turns, leave plenty of room between yourself and the car ahead of you.
2. Loose Road Surface on a Curve
Imperfect surface conditions are especially prevalent on back roads. When the roads are winding, you may suddenly find yourself hitting a corner where you find gravel, sand, fallen leaves or any other obstacles. The moment you run into it, you lose control and wipe out. To avoid this kind of crash, remember: slow in, fast out. Don't take turns so quickly that you can't react to whatever is in the road. Your survival may depend on your reaction time. If you are going to go into turns at higher speeds, be sure to incorporate trail braking into your riding.
3. Coming into a Curve Too Hot
You're enjoying time on your bike, speeding down the road and enjoying the fresh air. All the sudden a curve comes up in the road. You try to slow down, but it's not enough; you wipe out. This is one of the easiest accidents to prevent. You should never ride faster than your reaction time. Even if you are on a highway or on a road you have traveled a thousand times, conditions can change in an instant. If you are in this situation, don't slam on the brakes, which can cause you to flip. Instead, use trail braking and other techniques to safely slow down and maintain control.
4. Sudden Lane Changes
Highway traffic is usually a mess. Drivers are weaving in and out of lanes, trying to get to their destination seconds earlier than the cars in front of them. While this is often little more than an aggravation for car drivers, motorcyclists are potentially in danger on the highway. If you are on the highway or any multi-lane road, watch out for cars suddenly changing lanes. Stay out of blind spots, and look for signs like turning signals and wheels turning to avoid being collided with. If one lane is moving faster, be careful if you are driving in it, as that's where other drivers will try to be as well.
5. Being Rear-Ended
Whether you are stopped at a traffic light or a deer ran in front of you, causing you to suddenly stop, there is always the chance of you being rear-ended. Unlike other causes of wrecks on this list, there simply aren't many things you can do to prevent this from happening, since you usually aren't at fault. However, there are a few preventative steps you can take. If you can, stop in front of another car is that already slowing down. It allows you to have a buffer if someone comes speeding along behind you. If you can't, pull over to the side of the lane; don't stop in the center. Be prepared to move if danger approaches.
6. Taking Unnecessary Risks
If you can avoid it, don't ride during foul weather. It's not always avoidable; rain and storms can pop up at any time. If you have decent brakes and good tires, you can make it through. However, if it is raining when you leave, simply find another way to get where you're going. There is no need to purposefully going out on your bike when the roads are going to be slippery.
The number one cause of motorcycle wrecks is alcohol use. According to the Insurance Institute for Highway Safety, about one third of all motorcycle accident fatalities involve a rider with a blood alcohol content level of 0.08 percent or higher. Though the most common, these accidents are also the easiest to prevent. If you've been driving, do not get on your motorcycle.
Every time you get on your bike, you take your life, and potentially the lives of those around you, into your own hands. By driving safely and avoiding reckless driving, you have enjoy many wonderful years atop your motorcycle.
Pfc. Emmanuel Pickett, age 20, died from injuries sustained in a motorcycle accident. The soldier, originally from Smackover, Arkansas, was stationed at Fort Bragg, North Carolina. He was assigned to E Battery, 3rd Battalion, 4th Air Defense Artillery Regiment, 108th Air Defense Artillery Brigade.
Pfc. Pickett's accident occurred in his home state near the city of El Dorado. Details of his accident were not immediately released. It is known that he joined the army in 2013 and trained at Fort Sill in Oklahoma. He was assigned to Fort Bragg and his brigade in 2014.
While in the Army, Pfc. Pickett received several awards and decorations, including the Army Achievement Medal, the Global War on Terrorism Service medal, the Parachutist Badge, and the National Defense Service Medal. He is survived by his wife, mother and stepfather.
Even though the facts surrounding the accident have not been released, the accident should serve as a reminder to everyone. The weather is heating up and motorcycles will be on the road in greater numbers. If you are behind the wheel of a car, stay extra vigilant for these two-wheeled vehicles. Here are just a few safety tips:
1. Windows
Keep your windows rolled down at least part of the way when you can. This makes it easier to hear motorcycles that you may not be able to see.
2. Radio
Keep your radio turned down. This not only allows you to hear motorcycles, but emergency vehicles as well.
3. Surroundings
Stay aware of your surroundings. Don't rely on your mirrors when switching lanes or backing up. Always turn your head to look. Even though most are loud, you may not be aware that a motorcycle is nearby unless you look.
4. Distance
Do not tailgate a motorcycle. If the rider in front of you has an accident or falls off their bike, riding too closely could mean disaster.
If you are involved in a motorcycle accident in North Carolina, you may be entitled to compensation for property damage and injury. Call our office today and let us provide you with a free case evaluation. We will tell you what compensation you may file a claim for. Call now.